Appendix: Treatment for HBV Monoinfection
There are many treatment guidelines published by doctors and researchers advising when to start HBV treatment. There are some minor variations, but they generally recommend treatment for people with a high viral load and elevated ALT levels, and for people with moderate-to-severe fibrosis or any cirrhosis.
Treatment Guidelines Comparison Table

HBeAg Status
Positive
Negative
Tests
HBV DNA
ALT
HBV DNA
ALT
EASL1
2,000 IU/mL
>ULN
2,000 IU/mL
>ULN
U.S. Panel2
20,000 IU/mL
>ULN
2,000 IU/mL
>ULN
Asian-Pacific Panel3
20,000 IU/mL
>2X
ULN 2,000 IU/mL
>2X ULN
AASLD4
20,000 IU/mL
>2X
ULN 2,000 IU/mL
>2X ULN
Sources:
Deciding when to start treatment is rarely easy; there are many considerations that may influence your decision. For most people with chronic HBV, especially those who are HBeAgnegative, starting treatment means taking medications for the rest of their lives, because the virus will likely reactivate once they stop. This can be a hard pill to swallow, especially considering the expense of these therapies. The potential for long-term drug toxicities is also an unknown risk.
On the other hand, currently available treatments are highly effective, are generally well tolerated, and have been shown to provide long-term benefits. The pendulum also swings towards favoring treatment when you have other risk factors that can lead to liver damage, such as:
Being infected for a long time (at birth vs. as an adult);
Being male over 40-year-old or female over 50-year-old;
Being overweight, and/or drinking a lot of alcohol;
Having a family history of liver disease, abnormal cholesterol, or diabetes; and
Having a weakened immune system (this includes people who are HIV-positive with low CD4 cell counts (<200/mm3); people with other conditions that suppress the immune system; or people taking immunosuppressive drugs).
Goals of HBV Treatment
The primary goal of HBV treatment is to bring viral load down and to keep it suppressed, which can prevent, delay, stop, and in some cases reverse liver damage. Another goal is to stimulate the immune system to control the infection. Here are some measureable goals based on test results:
Undetectable HBV Viral Load: When the amount of virus in your blood drops to a level that cannot be detected, it means the virus is under control, even though a small amount of HBV may still be present. Viral suppression starts to happen anytime within the first three months after starting treatment, and may take more than a year to reach the undetectable level. While any drop in viral load is good, having a detectable viral load after one year of treatment increases the risk of developing HBV drug resistance.

Normalization of ALT: After the viral load becomes undetectable, the immune system will stop killing infected liver cells, and ALT levels will fall back within the normal range; at this point, the disease has stabilized. Sometimes when people begin HBV treatment, their ALT level may rise while their viral load drops. This can be an indication that the treatment is working and HBV is being cleared; ALT levels should eventually return to normal.

HBeAg Seroconversion: In people who are HBeAg-positive, HBV treatment can stimulate the immune system to eliminate HBeAg in the blood and produce HBeAg antibodies (anti-HBe); this is called HBeAg seroconversion. When a person seroconverts and has an undetectable hepatitis B viral load and normal ALT after one to two years on treatment, he/she may be able to stop treatment. Unfortunately, there have not been enough long-term studies to determine how long the benefit of HBV treatment lasts after a person has stopped, or even if stopping can be done safely. It is still important to regularly monitor HBV viral load and ALT every six to twelve months to watch for reactivation, or for the development of pre-core and basal-core mutations.

HBsAg Seroconversion: After HBeAg seroconversion, some people can go on to achieve HBsAg seroconversion. Even with treatment, however, only a very small percentage of people (<10%) will develop antibodies to HBV surface antigen (anti-HBs) and become HBsAg-negative. HBsAg seroconversion provides the strongest control of the virus and is the closest thing to a cure at present, but there remains a risk of HBV reactivation. People on HBV treatment should check their HBsAg every one to two years and may safely stop treatment if they've seroconverted.
Current HBV treatment cannot get rid of the virus completely. This is because HBV hides small pieces of its DNA (cccDNA) inside liver cells, where drugs cannot reach. People with chronic HBV need lifelong monitoring with HBV viral-load and ALT tests.
HBV treatment works better when the baseline (meaning pretreatment) viral load is lower and when there is less liver damage. Doctors recommend starting HBV treatment before the development of serious liver damage.
There are two types of HBV treatment:
Antivirals:
These are drugs that help control the virus by interfering with the HBV life cycle, so the virus cannot make more copies of itself. These drugs are taken once a day by mouth. Treatment period is at least one or two years for HBeAg-positive people; most HBeAg-negative people will need to stay on treatment indefinitely, possibly for life.
Pegylated Interferon (Peg-IFN):
Interferon is a man-made form of a natural protein that stimulates the immune system to fight against HBV. Pegylation is a process that keeps the drug in the body longer. Pegylated interferon is taken once a week by injection; the recommended treatment duration is one year.
Antiviral Drugs
There are currently six HBV antivirals:
Lamivudine (Epivir HBV), approved in 1989;
Adefovir (Hepsera), approved in 2002;
Entecavir (Baraclude), approved in 2005;
Telbivudine (Tyzeka), approved in 2006;
Tenofovir (Viread), approved in 2008; and
Tenofovir/emtricitabine (Truvada) (not yet approved as a treatment for HIV/HBV coinfection; it is currently being tested as a combination therapy drug).
When these drugs are effective in controlling HBV, they bring the viral load down to undetectable levels and keep it there. Once the virus is under control, people usually will see their ALT levels return to normal. These drugs work equally well regardless of your HBV genotype; some are more potent than others in bringing down HBV viral load.
Antivirals are better at controlling the virus in HBeAg-negative people than in people who are HBeAg-positive, but they are not very effective in achieving HBsAg seroconversion (<2% after one year of treatment). Nonetheless, new data on long-term treatment outcomes are still emerging, and there are encouraging signs about a possible increased rate of HBsAg seroconversion after several years on therapy.
Comparison of Effectiveness of HBV Drugs
Percentage of people who have undetectable HBV viral load after one year on treatment
Response Rates for HBeAg-Positive People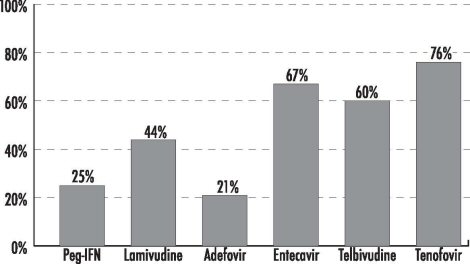 Click image to enlarge.
Response Rates for HBeAg-Negative People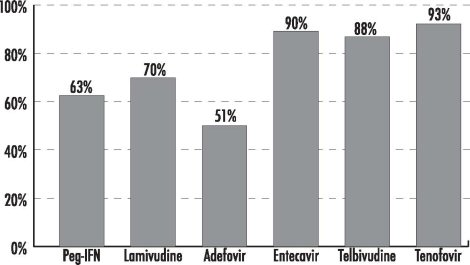 Click image to enlarge.
HBV Drug Resistance
One major limitation of HBV treatment with antiviral drugs is the development of drug resistance. Drug resistance can happen because HBV makes billions of copies of new virus each day (when the disease is active) and can make many mistakes in the process; these mistakes are called mutations. Unfortunately, some HBV mutations can prevent drugs from blocking HBV replication. When people start on HBV treatment, the drugs will be able to stop most of the normal HBV (called wild-type virus) from reproducing. Over time, the drugs can control wild-type HBV; however, some mutated strains of HBV can still replicate during treatment, and these mutated viruses will eventually take over, causing the viral load to increase. This is called drug resistance. Most people taking oral drugs will likely develop drug-resistant HBV eventually, but some drugs are harder to develop resistance to than others (called having a higher resistance barrier).
Drug resistance can also develop when there is not enough HBV drug in the body to control the virus. This happens when people don't take the pills every day or skip doses; as a result, drug levels become too low to block HBV replication. It is very important to take HBV drugs as they are prescribed to avoid drug resistance.
Comparison of Development of Drug Resistance

Drug
Year 1
Year 2
Year 3
Year 4
Year 5
Lamivudine
24%
38%
49%
67%
NA
Adefovir
0%
3%
11%
18%
29%
Entecavir
<1%
<1%
<1%
<1%
<1%
Telbivudine
5%
22%
NA
NA
NA
Tenofovir
0%
0%
0%
NA
NA
Choosing the Right Drug When You First Start Treatment
Treatment guidelines recommend the use of drugs that are both potent in controlling the virus by lowering hepatitis B viral load, and have a high drug-resistance barrier to development of HBV mutations. Using these criteria, tenofovir and entecavir are the two optimal drugs at present. Adefovir is the least effective in lowering viral load, and lamivudine and telbivudine have the lowest drug-resistance barrier.
All the current HBV drugs interfere with viral replication in very similar ways. This means that once drug-resistant mutations develop, the same mutation might also be resistant to other HBV drugs, or make it easier for a person to develop resistance to the new drug. If people start treatment using a drug with a low resistance barrier, the next drug might also become less effective; this effect is called cross resistance.
Many people who began HBV treatment with weaker drugs like lamivudine or adefovir will have fewer treatment options after developing resistance to these drugs, because stronger and newer drugs are not as effective against the mutated HBV. This is why it is very important to start treatment with the strongest drugs first, so they will control HBV and prevent the development of drug resistance for as long as possible.
Managing Drug Resistance
When people develop drug resistance, they will need to either switch to a newer, more potent drug or add on a second drug. Studies have shown that using two drugs instead of one can prevent or delay the development of new resistant mutations, but combination therapy does not make the treatment more effective in bringing down viral load. The decision to switch or add depends on which drug the person has already developed resistance to, and if there is another drug to which it does not have cross-resistance.
Cross Resistance and Drug Sequencing

Drug Resistance
Switch to a Different Drug or a Different Combination
Add a Second Drug
Lamivudine resistance
Switch to emtricitabine+tenofovir
Add adefovir or tenofovir
Adefovir resistance
Switch to entecavir
Add entecavir
Lamivudine+adefovir resistance
Switch to emtricitabine+tenofovir
Add lamivudine or telbivudine
Entecavir resistance
Switch to adefovir or tenofovir; Switch to emtricitabine+tenofovir
Add adefovir or tenofovir
Telbivudine resistance
Switch to emtricitabine+tenofovir
Add adefovir or tenofovir
Stopping Treatment
There is a risk of severe HBV flares when people stop taking oral antivirals. Flares occur when the drugs are no longer controlling the virus and the immune system reacts by mounting an intense response to the sudden spike in HBV viral load. HBV flares can be very dangerous, so people should be closely monitored for elevated ALT levels for several months after stopping treatment.
Long-Term Outcomes of Antiviral Treatment
Given the slow progression of chronic HBV disease, the long-term benefits of antiviral therapy are hard to measure. Since all of these drugs were approved within the last decade, longterm follow-up is limited. Some small studies of older drugs are reporting that long-term use can prevent, and in some cases reverse, liver damage from HBV; however, the ability of antiviral drugs to prevent the development of liver cancer is still unclear (this is especially true of the newer and more potent antivirals). More long-term and large-scale studies are needed to provide this vital information.
Antiviral Treatment Side Effects
Side effects from HBV drugs are usually mild; many people don't have any. Common side effects include: dizziness, nausea, vomiting, headache, fatigue, stomach pain, itchiness, weakness, diarrhea, and indigestion.
In rare cases, there may be some serious side effects, especially if the person has serious HBV-related liver damage or has kidney disease, since HBV antivirals are broken down by the kidneys. Most of these drugs are very new, so potential long-term side effects are not known yet.
Some of these rare side effects can be halted and sometimes reversed when you stop taking the drug, but going off the drug can itself be a serious problem because of the risk of HBV reactivation and the lack of alternative treatment options. If you experience these symptoms, do not stop taking the drug without consulting your doctor.
These rare but serious side effects may include:
Peripheral neuropathy: damage to the nerves in the hands and feet. Symptoms are burning, tingling, or numbing sensations in the hands and feet; these can be very painful. This condition can be debilitating and irreversible, so it is very important to change your treatment regimen as soon as you start to experience symptoms.
Lactic acidosis: an abnormal buildup of lactic acid in the bloodstream. People with liver damage -- especially cirrhosis -- are most susceptible. Symptoms include weakness and fatigue; muscle weakness or tenderness; trouble breathing; stomach and/or liver pain; nausea and vomiting; feeling cold (especially in your arms and legs); dizziness or lightheadedness; and fast or irregular heartbeat. If you are experiencing any of these symptoms, contact your doctor immediately; you may need to stop taking medication right away. A blood test can confirm whether you have lactic acidosis.
Kidney damage: All approved HBV drugs are eliminated from the body by the kidney. Tenofovir and adefovir in particular can cause severe kidney damage (nephrotoxicity), especially in people who already have kidney problems. Kidney damage can be reversed quickly when the drug is stopped or the dose is reduced. Kidney function should be checked before starting treatment with any HBV drug and monitored regularly during treatment by assessing creatinine clearance rate. Creatinine is a natural waste product produced by the body and processed by the kidney. A low creatinine clearance rate can mean the kidney is not functioning properly.
Bone loss: There is a concern about potential loss of bone density from longterm use of tenofovir and adefovir. In clinical trials, HIV-positive people taking tenofovir have been observed to experience bone loss, but it is still unclear if this loss is due to the drug itself. There are ongoing studies examining this issue in HIV-negative people with chronic HBV.
Myopathy: Telbivudine can cause myopathy (muscle weakness) in some people during the first few months on therapy. Myopathy is reversible when you stop taking telbivudine. If you experience muscle tenderness or weakness, telbivudine might have to be discontinued.
Pegylated Interferon (Peg-IFN)
Interferon is a protein made by the human body. It sends virus-fighting messages to the immune system. HBV treatment involves a large dose of man-made interferon, much more than the human body produces on its own. Pegylation is a process that keeps interferon in the body longer, making it more effective. Before interferon was pegylated, people had to inject it three times per week (for up to 48 weeks). Peg-IFN is given once a week by injection for 12-72 weeks.
There are two different brands of Peg-IFN, but only one is currently approved for the treatment of HBV (Pegasys, by Roche, approved in 2005). Peg-IFN needs to be refrigerated. It is contraindicated for people with decompensated cirrhosis. Standard, non-pegylated interferon is no longer the standard of care and should not be used.
Peg-IFN is more effective for people who are HBeAg-positive with an elevated ALT level at the start of treatment. It has not been studied in people coinfected with HIV, but about one in ten people who are HIV/HBV-coinfected can achieve HBeAg seroconversion using the older form of interferon, according to one study.
The major advantages of this treatment are the short duration (one year) and lack of drug resistance. Studies have shown that some people who have achieved HBeAg seroconversion and maintain it are able to keep the virus under control, and some can even achieve HBsAg seroconversion several years after the end of treatment. For these lucky few, it is still important to keep monitoring HBV every six to twelve months to make sure it doesn't reactivate.
Peg-IFN treatment is more likely to work in some people than in others. Before choosing this treatment, people should talk to their doctor and decide if this treatment is right for them. Peg-IFN works better for people who:
Are younger than 40;
Are HBeAg-positive;
Are infected with HBV genotype A;
Have a lower viral load (<2 million IU/mL); and
Have higher ALT levels (>3 times ULN) at the start of treatment.
About one in three people with chronic HBV can achieve HBeAg seroconversion with Peg-IFN. This treatment effect has been found to be sustainable in about 80% of people three years after treatment. The sustained rate is higher in people with genotype A, at about 96%.
Peg-IFN is more effective than antivirals in achieving HBsAg seroconversion. Response rates are different according HBV genotype: 14% for genotype A, 9% for genotype B, 3% for genotype C, and 2% for genotype D. This response rate is sustained in about 30% of people three years after treatment. The sustained rate is higher in people with genotype A, at about 60% after three years.
Early Predictors of Response to Treatment with Peg-IFN
If hepatitis B viral load does not drop by at least 1 log (a ten-fold decrease; for example, from 20,000 down to 2,000) after three months of treatment with Peg-IFN, it is not likely to be effective, and treatment should be switched to oral drugs.
Measuring the amount of HBsAg (quantitative testing) may help predict a person's response to Peg-IFN. In people who are HBeAg-positive, those with a lower level of pretreatment HBsAg are more likely to achieve HBeAg seroconversion. After three months of treatment, people with the lowest HBsAg levels are more likely to have HBsAg clearance at the end of full year of treatment.
Long-Term Outcomes of Peg-IFN Treatment
Since Peg-IFN was not approved until 2005 for treating chronic HBV, there are no long-term follow-up data, but information from older trials using standard interferon can shed some light. In Western studies, people who achieved HBeAg seroconversion while on interferon treatment have improved survival and lower rates of liver damage than untreated people. In a study conducted in China, however, no improvements were seen after nine years. This might be due to the study's Chinese volunteers having different HBV genotypes, or to other factors. It is not clear whether Peg-IFN treatment will prevent development of liver cancer.
Peg-IFN Side Effects
The major disadvantages of Peg-IFN are serious side effects and cost. In the beginning, most people will experience symptoms that can make it difficult for them to stay on treatment, but symptoms usually get better after the first few months. People have found it helpful to know the side effects they may experience before they start treatment, and to take steps that can help lessen the symptoms.
Peg-IFN side effects include:
Flulike symptoms (feeling weak or feverish; having muscle and joint pain);
Headache, nausea, and appetite loss;
Fatigue/low energy;
Anxiety, irritability, insomnia, mania, and mood swings;
Mild-to-serious depression, including (in rare case) suicidal thoughts;
Low white blood cell counts (neutropenia);
Low red blood cell counts (anemia);
Low platelets (thrombocytopenia);
Weight loss; and
Emergence of autoimmune disease (e.g., thyroid disease).
These side effects can be uncomfortable, sometimes debilitating, and -- rarely -- even lifethreatening. People who are coinfected with HIV and HBV may have more severe side effects. There are ways to manage these side effects, which will be discussed below.
It can be very helpful to talk with people who have been on Peg-IFN, and to ask your doctor how he/she will treat your side effects. With the right planning and support, many side effects can be managed. Support from other people with HBV, friends, and family before and during treatment plays a key role in coping with side effects.
Depression, Anxiety, and Other Psychiatric Side Effects
Depression and anxiety are commonly reported side effects of interferon treatment. In rare cases, people have reported that they've felt like taking their own lives, and a few people have committed suicide during their treatment. People with a history of depression are at greater risk for developing these side effects, although depression and anxiety have also been reported in people who never experienced them before. Interferon can also cause irritability, insomnia, mania, mood swings, and psychosis.
It's important to have access to mental health care before and during treatment so that, if it becomes necessary, psychiatric side effects can be treated promptly and appropriately.
Starting an antidepressant before going on Peg-IFN can help to prevent depression. Antidepressants and other psychiatric medications have their own side effects, however, so some experts think it is better to provide these drugs only if and when people need them. It is important to correctly diagnose and properly address these treatment-related psychiatric symptoms.
Flulike symptoms (fever, aches and pains, headache, chills, and nausea) are common side effects of interferon. Taking the pegylated interferon shot in the evening helps. You can also reduce your symptoms by taking a low dose of acetaminophen or a non-steroidal antinflammatory agent, as well as an anti-nausea medication and/or dronabinol (also called Marinol, a derivative of marijuana). Drinking plenty of water also helps to lessen flulike symptoms.
Weight loss often occurs during treatment because people on Peg-IFN may lose their appetite, have diarrhea, and/or feel nauseated. People who experience these symptoms should try to eat many small, light meals to keep their energy up. Dronabinol may also help by stimulating the appetite.
Fatigue is also common during HCV treatment; napping, and doing regular, light exercise (when possible), can help. Some doctors are treating fatigue with methylphenidate (Ritalin).
HIV-positive people may have low white and/or red blood cell counts; anemia, neutropenia, and thrombocytopenia sometimes develop in persons with advanced HIV disease. Regular monitoring of white and red blood cell counts during Peg-IFN treatment is especially important for coinfected people, since they are at greater risk for anemia, neutropenia, and thrombocytopenia.
Anemia (an abnormally low red blood cell count) is a side effect of Peg-IFN because it suppresses the growth of bone marrow, where blood cells develop. The most common symptom of anemia is fatigue. Anemia is a common problem for HIV-positive people, and can be caused by AZT. If possible, coinfected people should avoid taking AZT, especially during Peg-IFN treatment. Combivir and Trizivir both contain AZT.
It is possible to treat anemia with injections of a red-cell growth factor called Epogen, which improves fatigue and helps people to stay on treatment.
Neutropenia is an abnormally low amount of neutrophils in the blood; neutrophils are the white blood cells that fight bacterial infections. Peg-IFN can cause neutropenia. The risk of developing bacterial infections is higher in people with neutropenia. If the neutrophil count drops during treatment, the dose of Peg-IFN may be reduced. Neutropenia is treated with injections of a white-cell growth factor called Neupogen.
Thrombocytes are platelets that help stop bleeding by clotting the blood.
Thrombocytopenia (low platelet count) can be caused by serious liver damage (because platelets are made in the liver). It can also be caused by other medical conditions, including HIV itself, and by pegylated interferon. Severe thrombocytopenia can have life-threatening consequences, such as intracranial hemorrhage. If severe thrombocytopenia develops, Peg-IFN treatment is usually discontinued.