Body Shape and HIV
By River Huston

June 24, 2009
The first thing I did after I found out I was HIV positive was eat. I decided that if I was going to die, I was going to die fat. Fuck 'em, I thought; let 'em buy an extra large coffin.
For the first time in my life, I let myself eat without recrimination. Anything glazed, cream filled and deep-fried. I put vanilla ice cream into the microwave and used it as dip for Doritos.
Some people have alcohol or drug addiction. I have those as well, but my first addiction was food. I came from a long line of women with issues around food and their bodies.
Advertisement
I remember picking up my grandmother at the airport. I hadn't seen her in a year. She was in her 90s. When she got off the plane, there was no, "Hello darling, how are you?" The first thing she whispered to me was, "I didn't gain weight, it's just my diapers."
My mother was another one. She was one of the first people in our neighborhood to jog. Every night she'd put on her little Keds and go running around and around the block, chain-smoking her Lark cigarettes.
So I grew up with refined ability to despise my body, no matter how good it looked, and baby it looked good! You ever take an aerobics class? You know the woman in the front of the class in a thong? You hate that bitch, don't you? That was me and I loved it!
It was a perfect career choice because it fit so nicely with my eating disorder; I'd been anorexic for years. I didn't eat 15 days out of the month. I called it cleansing.
You'd never suspect it. My genes prevent it; I'm a Lithuanian Jew. Peasant stock: short, round and close to the ground. Ready to drop 'em and get back to work in the field. My only goal in life was to make sure I had a nice ass. I was never satisfied -- more than that, I was starved.
I grew up starved. When I went to friends' houses, I would be stunned that they would have Pop-Tarts right on the counter and they could have one any time they asked!
I didn't have a childhood. I was too busy stealing Oreos and stuffing them down my pants to eat later. My mother could never figure out how her daughter managed to get so big. It pained her to the point of constant reproach.
"River, no one will love you if you are fat, not even me!" That message became hardwired into every cell of my being. I spent a lifetime obsessed with how I looked and what I ate. Managing my weight was a full-time job. HIV gave me the excuse to quit and I did!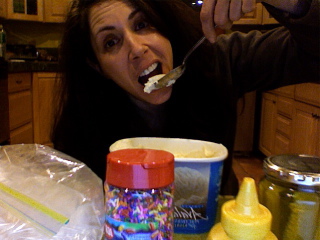 Once I opened the floodgate of donuts, I went from 100 pounds to 200 pounds and didn't even notice. That was until a friend came over. She had pictures from a party we had gone to. (It was before the digital age when your illusions are shattered instantly.) As I was looking through the photos, I saw Anita, Cindy and Amy, then I come to a picture of a very large woman with a piece of chocolate cake in her hand that I didn't recognize.
"Who is that?"
"That's you, silly."
"Oh, my God, I am huge!" I realized that I was not only diseased but I was as big as a house!
What to do? I know all the diets by heart: Atkins, the cabbage soup diet, Weight Watchers, the Zone, 30/30/40/, 90/10, 0/0/0, grapefruit diet, cigarettes and martini diet. I can tell you the calorie count of a chair. But did I want my last meal on this earth to be Egg Beaters? NO, give me the Krispy Kremes! When I was dying, I made a tentative peace with my body. I even went so far as to love my body just the way it was.
I started the Goddess Flesh Club. The only requirement was to celebrate your cellulite. No one joined. I didn't care. Soon I could look in the mirror and see a goddess. I declared it's all in the attitude, regardless of girth or the fact that my vagina has the destructive capabilities of a Trident missile. I could have a fulfilling life that included sex, relationships and love.
After 15 years of "dying" I realized I was going to live and the battle began once more. As I watched my body go through changes from aging to skinny to fat in all the wrong places, I began to hate my body all over again. I became an obsessive shopper looking for that outfit that would transform me.
My vision was distorted by family, media and culture. The message I heard, saw, believed and implemented was, "If you buy this outfit you will be beautiful."
Each retail adventure ended with bags of clothes that were meant for a different body and did me no service except to send me on another binge to kill the feelings of worthlessness which were so closely tied to how I perceived myself.
Recently, I had to do a video shoot and had to face my newly acquired 20 pounds.
I frantically went through my closet and nothing fit. I could not bear another visit to the mall.
I lamented this fact to a friend who told me about personal shoppers. She said in some of the big department stores such as at Macy's and Bloomingdale's, it is a free service. At first I thought I would have to buy everything the personal shopper picked out, but in desperation, I gave it a try.
It was the best thing I have ever done for myself and my body image. Here was a woman I had never met. She looked at my body objectively and we went through the store filling a rack with clothes I would have never picked in a million years. I put my judgment aside and tried them all on and it was amazing!
Some of the patterns and colors I didn't like, but she explained why each piece worked and how important it was to find the right size, not the one you wanted to be or will be in some future date. The most important lesson was becoming a partner with the body I had and finding things to flatter it. It wasn't about finding clothes to make me look attractive. I was attractive and needed to find the clothes to accentuate this.
It might sound like a simplistic shift, but when I shopped previously, I only saw a defective body, one that did not fit into any category. I tried to fit it into a mold and was always disappointed when I couldn't even get a thigh in.
This adventure made me see my body objectively, through someone else's eyes. They did not see AIDS or middle age. They saw logistics, proportions and skin tone. Then with that information, they could find clothes that worked for me. I was the ideal, the template to be dressed.
I bought five pieces that I could mix and match. I went home, emptied my closet of everything that did not fit. Now there are only things I know work together and getting dressed is a piece of cake.
Each time I get closer to accepting myself the way I am, the more room I have for all the other things life has to offer. The time I waste concerned about the way I look takes up a lot of space and never includes the recognition of the whole me.
I am only feeding this one part of myself that I have chosen to believe is so important, while all my other parts start to starve, wither and fade.
When you hate your body, you hate yourself. The messages I give myself have an enormous effect on my emotional well-being. Through a total stranger, I was able to form a genuine vision of myself and see once again, I am not HIV, age, fat, I am a goddess!
To contact River, click here.
---
Add Your Comment:
(Please note: Your name and comment will be public, and may even show up in
Internet search results. Be careful when providing personal information! Before
adding your comment, please
read TheBody.com's Comment Policy
.)