Formulated as anti-HIV gels, creams, or films, or loaded into vaginal rings or onto barrier devices such as diaphragms, microbicides are currently being developed to provide an HIV prevention tool that women can control directly and use without necessarily informing their sex partners. Rectal applications are also in the early stages of development to help reduce HIV risk for women and men who have anal sex.
Microbicides have the potential to save the lives of many people who are unable to rely on consistent use of male or female condoms to protect themselves. HIV negative women are the main target group for microbicide development, but when microbicide products finally reach the market, HIV positive people and individuals who do not know their HIV status are likely to use them. This article describes current microbicides research and discusses some of the concerns raised by HIV positive women about the development of microbicides and their ultimate distribution and use.
Microbicide Development
Microbicides represent an entirely new HIV prevention approach, and their development has proven difficult and more protracted than anyone would like. The field has been challenged in the past two years by the inability of three large-scale clinical trials to produce evidence of efficacy (that is, to see if they protect against HIV under the controlled conditions of a research study). This is a routine occurrence in the drug development arena, in which as many as a hundred candidate products are tested for each one that emerges as safe, efficacious, and suitable for public distribution. The candidate products that fail are simply dropped and replaced with the next most promising products.
Trial participants are never deliberately exposed to HIV to see whether a potential microbicide protects them. Researchers follow two groups -- women who receive the candidate microbicide and women receive a placebo product -- to see whether the rate of new HIV infections is lower among those who received the microbicide. If it is, then this difference is used as a measure of the microbicide's efficacy.
Advertisement
Approximately 50 compounds are currently under consideration as potential microbicides. Of these, 12 have advanced to Phase I clinical trials to test their safety and acceptability for human use, and four of these have produced substantial data suggesting they are safe (see table, page 47). These four microbicide candidates are now in Phase II and III trials to test their efficacy. Although the primary user group targeted by microbicide developers is HIV negative women, microbicides are also likely to benefit HIV positive people by helping reduce their risk of infection with new strains of HIV, as well as other sexually transmitted infections (STIs). Access to such tools could be vitally important to women who find it difficult or impossible to negotiate condom use with their male partners or who do not wish to use condoms (for example, those who are trying to conceive). In addition, microbicide products may end up being used by people who do not know they have HIV, and many women who do know they are HIV positive may use microbicides in the hope of protecting their sexual partners.
For these reasons, ongoing and targeted research is needed to ensure that promising microbicide candidates are not only safe, affordable, and accessible, but also responsive to the needs of HIV positive women and men. In 2002, the Global Campaign for Microbicides (GCM) began working with the International Community of Women Living with HIV/AIDS (ICW) to identify and help voice positive women's concerns around microbicides, recognizing that the research field has both an ethical responsibility and a pragmatic need to tap these women's knowledge, perceptions, and preferences and to gather information that can inform the future advocacy priorities for research and product introduction.
GCM and ICW jointly unveiled an HIV Positive Women's Microbicides Advocacy Agenda at the international Microbicides 2006 conference in Cape Town. The document was subsequently endorsed by several other networks representing people living with HIV/AIDS as an important tool for ensuring that the voices of positive women are included in setting the microbicide research and introduction agenda. Since it necessarily evolves as the microbicides field progresses, a draft 2008 Agenda was presented by GCM and ICW at the 2008 International AIDS Conference in Mexico City and is now being circulated for input and potential endorsement by organizations advocating for people living with HIV/AIDS.
Testing for Primary Prevention First in HIV Negative Women
HIV positive people have been involved in the safety testing of all four of the advanced microbicide candidates that are now in late-stage clinical trials, but only HIV negative women are being enrolled in the trials to test their efficacy. Why?
The microbicide trials currently underway are designed to answer the question of whether the test product works for primary prevention -- that is, preventing the HIV negative user of a microbicide from acquiring the virus from an HIV positive partner. Once a product is proven to help protect HIV negative women (and men who have anal sex), the next question will be whether it also works for secondary prevention -- that is, preventing an HIV positive microbicide user from transmitting the virus during sex.
Some candidate microbicides now in development may prove to be bi-directional -- capable of disabling HIV in the vaginal or anal secretions of a receptive partner and the semen of the insertive partner. Such a product could give positive women (and men) a way to reduce their male partners' risk of infection in the absence of condoms. (Microbicides are not expected to be as protective as condoms, but even a partially effective microbicide will be far more protective than nothing at all.)
The clinical trials to determine whether a product has bi-directional efficacy are very different from those used to test its efficacy in preventing infection among HIV negative women, and they will be more complicated and expensive to conduct. For example, secondary-prevention trials will need to enroll not single participants but couples -- specifically, couples in which the woman is HIV positive and the man is negative. Researchers cannot enroll only negative men to answer questions about secondary prevention because it will be their female partners, the HIV positive women, who will be inserting the candidate products vaginally. It is essential that these women be active participants in the trial; they must be well informed about the test product -- including the fact that it may or may not protect against HIV -- and they must give their informed consent before using it.
Currently, funders will only support secondary-prevention research on products that have succeeded in primary-prevention trials. While waiting for a successful product that works for primary prevention, the microbicides research field can and should prepare itself for secondary-prevention trials by investing more money in gathering vital background data on vaginal immunology (how the vagina reacts to and protects itself against viruses and bacteria), vaginal ecology (including the naturally occurring bacterial "micro-flora" that help keep the vagina healthy), viral shedding in cervical and vaginal secretions, and the mechanisms by which HIV transmission from women to men occurs.
How Do Microbicide Candidates Work?
A microbicide candidate's "mechanism of action" is its way of preventing HIV infection. Candidates with four different mechanisms of action are currently in clinical trials:
Entry or fusion inhibitors prevent HIV from infecting the body's immune system cells by blocking the co-receptors that the virus relies on to attach to and enter those cells.
Replication inhibitors prevent the virus from reproducing itself once it is inside a human cell.
Vaginal defense enhancers maintain or alter the natural vaginal environment, making it inhospitable to HIV and other sexually transmitted infections.
Surfactants kill or inactivate HIV by breaking up the protective cell membrane that surrounds the virus.
Some surfactant candidates have been shown to damage vaginal tissue, thereby increasing a woman's susceptibility to HIV infection. Only one surfactant microbicide, ethanol in emollient gel (see table, page 47), is currently being evaluated, and only as a topical product for men as part of a "genital hygiene" routine: men in the trial use the product to clean their genitals once in the morning and after having sex. The product is not intended for use during sex (although the possibility that couples may use the gel as a lubricant is a legitimate concern).
Will Microbicides Be Safe for Positive Women?
Some of the candidate products being tested are non-specific microbicides, meaning that they target a broad range of viral and bacterial pathogens, not just HIV. Some may even promote vaginal health by warding off yeast infections or bacterial vaginosis. Other candidates are made from antiretroviral drugs (ARVs) such as tenofovir, which is marketed widely in pill form under the brand name Viread and as part of the combination pill Truvada. ARV-based microbicides have the potential to be more effective in reducing HIV risk than are the non-specific candidates. However, if an ARV-based microbicide is proven to be both safe and efficacious for HIV negative women, the threat of drug resistance may make it inappropriate for use by HIV positive women.
TABLE 1. Microbicide Candidates in Ongoing Clinical Trials and Past Research with HIV Positive Participants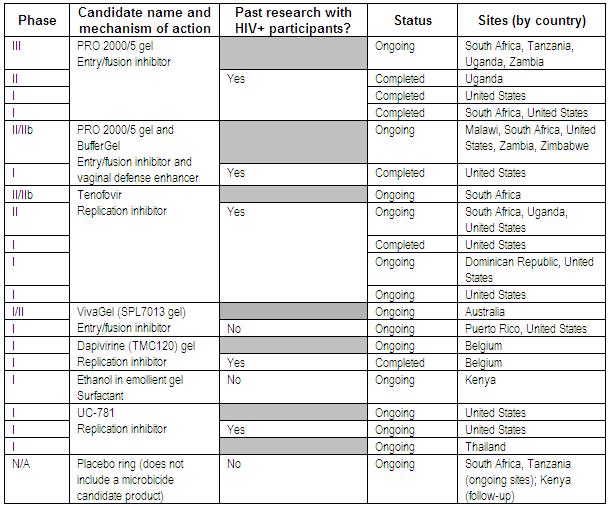 Table courtesy of Stephanie Tillman, Alliance for Microbicide Development.

Even small amounts of ARVs absorbed through the vaginal tissue and into the bloodstream may cause a woman's HIV to mutate and become resistant to those particular ARVs. This drug resistance may then compromise her options for future antiretroviral treatment. Researchers have not yet determined whether the small amount of ARV drug contained in these candidate products is likely to cause drug-resistant virus to develop. If it does, then ARV-based microbicides might only be safe for use by women who know they are HIV negative. This limitation poses an obvious problem: how to educate potential microbicide users so that HIV positive people and those who don't know their HIV status do not use a product that is unsafe for them.
Drug resistance is not the only potential safety concern that positive women have raised. Some are asking why the early safety trials on two candidate microbicides, Savvy and cellulose sulfate, did not predict the potential for harm that was later suggested in efficacy trials. In the efficacy trials of both products, more new HIV infections occurred among women using the test product than among women using the placebo, suggesting that these products might increase women's HIV risk. The cellulose sulfate trials were halted (well ahead of schedule) as soon as these data appeared. The Savvy trial was actually stopped due to futility (it appeared that the trial would not yield meaningful data on efficacy), and the data suggesting safety problems were not identified until post-trial analysis. Both candidates have now been discarded from consideration as potential microbicides. These negative results were completely unexpected; products are not permitted to enter large-scale efficacy trials if any data from extensive pretrial safety screenings suggest that they might increase HIV risk.
Debate is ongoing among researchers about the strengths and limitations of the methods currently used to evaluate the safety of microbicide candidates. Positive women's concerns around safety are compounded by the fact that very little background data exist on their natural vaginal ecology and how various factors -- including pregnancy, use of hormonal contraceptives, and use of the candidate microbicides themselves -- may affect HIV positive women's bodies differently.
Meanwhile, researchers across the microbicides field are working to develop better tools for measuring product safety in clinical trials, and some progress is evident. Colposcopy, a technique that employs a microscope to examine vaginal tissue, used to be a primary tool used to see whether damage to the vaginal lining was occurring. Now researchers agree that colposcopy does not look deeply enough into the cell layers, and better methods are being developed.
One of the new approaches under consideration involves looking for biomarkers of suggested harm. When the body is injured and the immune system is activated, it produces a number of substances, known as biomarkers, which can be detected in body tissues. These biomarkers of injury can be measured by researchers during a trial to see if they have been changed in any way by use of the microbicide candidate. Substances normally present in the vagina, such as naturally occurring, healthful bacteria, can also be measured for changes in response to a candidate product.
The difficulty with this approach is that scientists do not yet know exactly which (if any) biomarkers accurately indicate whether a candidate microbicide is causing harm. Larger and lengthier safety trials are needed to gather the data that will enable scientists to determine which biomarker changes actually signal safety concerns. Women living with HIV are likely to have different needs for, and responses to, various microbicide products than HIV negative women. We must understand these factors before microbicides become widely available, both because positive women will likely be using them, and because many women may not know their HIV status before using a microbicide. Candidate microbicides must go through early trials to asses their safety for HIV positive, as well as HIV negative, women. These early safety trials must be followed by more trials which generate data on the long-term use of microbicides by HIV positive women.
Why are Large-Scale Trials Done in Low-Income Countries?
Efficacy trials must be done among women who have a high risk of acquiring HIV sexually, rather than through injecting drugs, as microbicides are only designed to fight sexually transmitted HIV infection. These trials also must enroll a very large number of women -- several thousand per trial, in fact.
Large-scale efficacy trials are therefore conducted primarily in regions where a large proportion of women are at risk of contracting HIV only through sex, such as in parts of sub-Saharan Africa and in some communities in India and Southeast Asia. Some communities in North America and Europe have high HIV infection rates among women, but they also tend to have high rates of injecting drug use, which could confuse the trial results by introducing another source of exposure to HIV.
Positive Women in Microbicide Trials
At present, HIV positive people are enrolled only in small-scale safety trials of candidate microbicides. But large-scale microbicide trials do touch the lives of HIV positive women in two important ways: testing during screening for trial enrollment may inform a woman that she is HIV positive, and a woman may become infected during the trial, even though she is provided with free condoms and risk-reduction counseling (the "standard of prevention" offered in all biomedical trials of HIV-prevention products).
Regardless of when they test positive, all trial participants need post-test counseling and psychosocial support in accepting their diagnosis and managing disclosure of their HIV status. They also need guidance on risk-reduction and positive living, information and services for staying healthy, screening for tuberculosis, and a range of other services. All women enrolled in microbicide trials, whether positive or negative, also need to receive sexual health services. The services provided at most trial sites (and that should be available at all sites) include:
laboratory screening and treatment (if needed) for STIs,
cervical screening (Pap tests) for participants where publicly supported cervical cancer prevention services exist in the trial location, and
contraceptive and sexual health counseling by appropriately trained staff and provision of safe, appropriate contraception to women who want it.
In terms of HIV care, researchers have a stronger ethical obligation to provide care for women who actively participate in the study (and seroconvert during the trial) than those who are screened for study participation but do not enroll. Clinical trial sponsors and researchers are responsible for ensuring that women who seroconvert during a microbicide trial have both the psychosocial support and medical evaluation they need when they test positive, and access to comprehensive HIV care, including ARVs when appropriate, even if medication is not needed until long after the trial has ended.
Currently, women who are HIV positive at screening are offered extra post-test counseling and referred to antiretroviral therapy programs and other support services. Most trial sites monitor whether women follow through on these referrals. Some provide trial staff to help women schedule appointments; staff may also accompany women to the first few appointments to make sure they get connected to the medical and psychosocial support they need. And some trial sites go beyond these measures by providing other psychosocial, medical, and nutritional services.
Non-Contraceptive Microbicides
Some microbicides may be contraceptive, while others will reduce risk of HIV infection without diminishing the likelihood of pregnancy. Since condoms are necessarily contraceptive, HIV positive women who want to conceive currently have limited options. One is alternative insemination, in which semen is inserted into the vagina or cervix by a medical provider using sterile equipment, or by the woman herself via a tube (such as a turkey baster) or inside a diaphragm or cervical cap. A positive woman can also reduce (but by no means eliminate) a partner's risk by having unprotected sex only immediately after ovulation, thus maximizing her chances of becoming pregnant while reducing the number of times her partner is exposed. She can also take antiretroviral medications to suppress her viral load and reduce the amount of HIV in her vaginal fluids. But alternative insemination remains the only method currently available for introducing sperm into the vagina without any risk of transmission to a male partner.
A non-contraceptive, bi-directional microbicide would give HIV positive women who want to have children another option for getting pregnant without putting a partner at risk. A contraceptive microbicide, on the other hand, could offer positive women a non-condom method of avoiding an unwanted pregnancy while also reducing their partners' risk of HIV exposure.
The Roles of Positive Women in Microbicides Research and Advocacy
Trial participation is just one role that HIV positive women can play in microbicide research. Positive women also play vital roles when they work with researchers, trial sponsors, and other community members to:
assess the acceptability and usefulness (or lack thereof) of a trial to their community and advise the researchers and trial sponsors accordingly before the trial is started;
craft accurate and appropriate messages for the community about trials;
develop informed consent processes that enable participants to fully understand trial-related information;
help researchers learn about when, where, and how people will access care in a given community -- and adjust the trial's care provision plans accordingly;
guide the planning of services to support women who seroconvert during the trial;
pinpoint problems and concerns arising during trial implementation;
negotiate for the development of solutions acceptable to the broader community; and
if the product is effective, develop strategies for safe and appropriate product introduction and join in deliberations on "next steps" (including efforts to transition the product into secondary-prevention research).
Community voices, including the voices of positive women, must be amplified and integrated into trial design, implementation, and planning of eventual product roll-out if the field is to progress as efficiently and effectively as possible. Here are some of the critical advocacy areas identified by positive women and articulated in the HIV Positive Women's Microbicides Advocacy Agenda, 2008.
All candidate microbicides must be tested for safety among positive women and men before advancing to large-scale efficacy trials. Large-scale efficacy trials enrolling HIV negative women must also enroll enough HIV positive women to yield valid safety data. The microbicide field must invest now in gathering information on vaginal immunology, ecology, viral shedding, and the mechanisms by which HIV is transmitted from women to men.The field (including donors, research institutions, and investigators) must commit to conducting secondary-prevention trials that assess the potential bi-directional efficacy of any non-ARV-based candidate microbicides shown to work for primary prevention. They must not abandon the search for non-ARV based candidates. An alternative for HIV positive women must be available if ARV-based microbicides prove to be inappropriate for their use.
HIV positive women, along with other civil society and community representatives, must be involved in increased numbers across the entire arc of research, development, and product introduction. Positive women must be included in community advisory boards, national research planning bodies, and donor proposal review processes and other decision-making venues. All microbicide trials must be designed to fully protect participant confidentiality and privacy, meet the sexual and reproductive health needs of all participants, and ensure that women who seroconvert during the trial have access to comprehensive HIV care. Those who seroconvert during an ARV-based microbicide trial must receive resistance monitoring to determine whether drug-resistant virus has developed as a result of their trial participation. If so, they must be guaranteed access to second-line therapies (ARVs that are effective against their particular drug-resistant virus), as needed.
Conclusion
Since 1992, the microbicides advocacy movement has been evolving at the intersection of the women's health movement and AIDS activism -- the common core of which is the demand for the right to set one's own health agenda. For positive women, this agenda may include the desire to conceive or the need to protect sexual partners from HIV without compromising their own health and safety.
For these reasons, the search for a microbicide must address the concerns and employ the knowledge and experience of women living with HIV. In the words of HIV positive activist Louise Binder of the Canadian Treatment Action Council, "Do not make the same mistake that was made with treatment 15 years ago -- failing to take us up on our offer to get involved with shaping trials. Get us involved at all levels!"
Anna Forbes is the Deputy Director of the Global Campaign for Microbicides.
Selected Sources
Global Campaign for Microbicides. HIV Positive Women's Microbicides Advocacy Agenda, 2008. November 2008. www.global-campaign.org/clientfiles/FS7-Positive-Women2[E]08.pdf.
Peterson, L. and others. SAVVY (C31G) gel for prevention of HIV infection in women: A Phase 3, double-blind, randomized, placebo-controlled trial in Ghana. PLoS ONE 2(12):e1312. December 2007.
Poynten, M. and others. Microbicide safety and effectiveness: An overview of recent clinical trials. Current Opinion in HIV and AIDS 3(5):574-80. September 2008.
Van Damme, L. and others. Lack of effectiveness of cellulose sulfate gel for the prevention of vaginal HIV transmission. New England Journal of Medicine 359(5):463-72. July 31, 2008.
Want to read more articles in the Winter/Spring 2009 issue of BETA? Click here.