You Can Have a Healthy Pregnancy if You Are HIV Positive
2009
Your Baby's Health
Babies born to mothers with HIV usually get special care during the first few months of life. Your baby will likely receive anti-HIV drugs to further reduce the risk of vertical transmission of HIV. Doctors will also regularly test the HIV status of your baby during this time.
Does Your Baby Have to Take Treatment?
Treatment during pregnancy is the best way to reduce the risk of HIV transmission to your baby. Giving medicine to the baby after it is born can further reduce the risk of vertical transmission. If you take anti-HIV drugs during pregnancy, AZT will likely be given to your baby within 6 to 12 hours after delivery and be continued for 6 weeks. If you did not receive anti-HIV drugs during pregnancy or delivery, or if your viral load was high before delivery, your doctor may recommend combination anti-HIV therapy for your baby.
You might not want to think about it, but it's important to know that if you refuse to treat your baby with anti-HIV drugs, the authorities may intervene. If they believe the baby's health is in serious jeopardy, they may take your baby away from you.
How Will the Medications Affect Your Baby?
"I can't tell you how scary it was waiting until I found out my child was negative. I could have used some emotional support for that."
Many women worry about how the HIV medications they take during pregnancy will affect their children as they grow. The Antiretroviral Pregnancy Registry, a program run by US health authorities, has been monitoring children born to HIV positive mothers since 1994. So far, they have found no evidence of long-term side effects in children of mothers who took anti-HIV therapy during pregnancy.
How Will You Know Whether Your Baby Is HIV Positive?
In most regions of Canada, tests such as PCR (polymerase chain reaction), which look for virus in the blood, are used as a rapid and very accurate way of finding out the HIV status of your baby. These tests are typically done at birth, 1 to 2 months, and 2 to 4 months of life. With this test it is possible to be fairly certain whether or not your baby has HIV by the age of 2 to 4 months.
What If Your Baby Is Positive?
"I would like to know how to care for an HIV positive baby. Even though it scares me sometimes, it would prepare me to adjust my routine so it was all basic and normal."
Very few children are now born HIV positive in Canada to mothers who take anti-HIV drugs. But rest assured that most children who are born HIV positive can lead healthy, active lives. Much of their care is the same as for other children. If your child is HIV positive, it will be necessary for you to make decisions about his or her health, as well as your own. This can be stressful and it is important that you build a strong support network that includes knowledgeable healthcare providers and social and community services, as well as emotional and practical support. The resources listed at the end of this booklet can link you to services in your area.
Breast-Feeding
In Canada, doctors recommend that you do not breast-feed your baby if you are HIV positive. Since there is a 25 to 50 percent chance that a baby can be infected through breast milk, guidelines strongly encourage HIV positive mothers to use baby formula.
"My son took really quickly to bottle feeding, which kept his weight in check. I found that I could still bond with him by letting him sleep on my chest."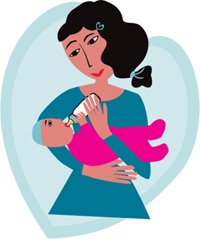 If you cannot afford baby formula, some provinces provide it free of charge. It is important not to feed your baby both formula and breast milk. Feeding both can increase the chance of your baby becoming HIV positive. Donor breast milk is an alternative to formula, but it may not be affordable or available in your area. As well, you must be certain that the woman donating the breast milk is not infected with HIV or other germs.
Several studies are underway to find ways to reduce the amount of HIV in breast milk. These studies are especially important in places where women cannot afford formula or do not have clean water. Although research has shown that it is possible to reduce the amount of HIV in breast milk by heating it or by having the mother stay on anti-HIV drugs for 6 months after birth, these methods do not eliminate HIV and are therefore NOT safe and are NOT recommended in Canada.
You may need extra support, especially if breast-feeding is an expectation among your family, friends and community.
Building a Support Network
"I have met so many women who had given birth to children after testing positive. They encouraged me to have a baby if I wanted. That was when things turned around for me."
Many HIV positive women rely on their friends and family for support. Some look to other HIV positive women, community workers and healthcare providers for information and practical help. You can ask your family doctor or local AIDS service organization for help finding people in your area. Many of the organizations listed here can also help you build your support network.
We encourage you to seek out other sources of information about HIV and pregnancy. Treatment guidelines can change over time and it is important to discuss your options with your healthcare team.
Your local AIDS service organization is a good place to start looking for information and emotional and practical support as you make decisions around pregnancy and HIV. The organizations listed below can help HIV positive women with their pregnancy and fertility needs. You can also contact CATIE to find out about treatments or for a referral to an organization in your area. Call toll-free 1-800-263-1638 or visit www.catie.ca. Finally, for a list of fertility clinics in your province, you can contact the Canadian Fertility and Andrology Society at www.cfasonline.ca or by phoning 514-524-9009. (Not all fertility clinics provide services to people with HIV.)
A partial list of AIDS service organizations that help HIV positive women with their pregnancy and fertility needs: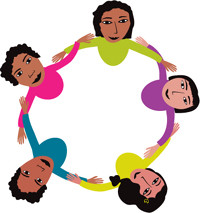 Voices of Positive Women
Toronto, Ontario
416-324-8703
1-800-263-0961
voices@vopw.org
www.vopw.org
The AIDS Coalition of Nova Scotia
Halifax, Nova Scotia
902-425-4882 x225
1-800-566-2437
sc@acns.ns.ca
www.acns.ns.ca
Centre for AIDS Services Montreal (Women)
Montreal, Quebec
514-495-0990
direction@casm-mtl.org
netrover.com/~casm
Ontario Aboriginal HIV/AIDS Strategy
Toronto, Ontario
416-944-9481
1-800-743-8851
info@oahas.org
www.oahas.org
The Teresa Group
Toronto, Ontario
416-596-7703
info@teresagroup.ca
www.teresagroup.ca
Women's Health in Women's Hands
Toronto, Ontario
416-593-7655
whiwh@web.net
www.whiwh.com
Nine Circles Community Health Centre
Winnipeg, Manitoba
204-940-6000
1-888-305-8647
ninecircles@ninecircles.ca
www.ninecircles.ca
Positive Women's Network
Vancouver, British Columbia
604-692-3000
1-866-692-3001
pwn@pwn.bc.ca
www.pwn.bc.ca
Credits and Acknowledgements
Voices of Positive Women
66 Isabella Street, Suite 104
Toronto, ON M4Y 1N3
416-324-8703
1-800-263-0961 (toll-free in Ontario)
www.vopw.org
CATIE
Canadian AIDS Treatment Information Exchange
555 Richmond Street West, Suite 505, Box 1104
Toronto, ON M5V 3B1
1-800-263-1638
www.catie.ca
This publication, originally developed by Voices of Positive Women, has been adapted and reprinted in partnership with CATIE.
Thanks to the many community and medical reviewers who provided input on this booklet.
Illustration: Beverly Deutsch
Disclaimer
Voices of Positive Women and CATIE in good faith provide information resources to help people living with HIV/AIDS who wish to manage their own health care in partnership with their care providers. Information accessed through or published or provided by Voices of Positive Women or CATIE, however, is not to be considered medical advice. We do not guarantee the accuracy or completeness of any information published by Voices of Positive Women or CATIE. Users relying on this information do so entirely at their own risk.
More From This Resource Center
---

This article was provided by
Canadian AIDS Treatment Information Exchange
. Visit
CATIE's Web site
to find out more about their activities, publications and services.