You Can Have a Healthy Pregnancy if You Are HIV Positive
2009
Staying Healthy While Pregnant
"Getting support from a good doctor and a support group is important for any HIV positive pregnant woman."
Good health is very important while you are pregnant, and there are many things you can do to help you have a healthy pregnancy. Being pregnant and having HIV needs special medical care, so it is important to try to find a good doctor. As well, there are many things you can do to have a healthy pregnancy.
Getting good medical care is very important. Try to find an obstetrician (a doctor who specializes in pregnancy and childbirth) who is familiar with HIV care. It is best to do this before you get pregnant or soon after. Your family doctor or HIV doctor can help you. Remember that you have the right to the same level of care that is available to any woman who is pregnant or thinking about having a baby.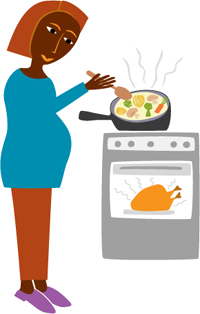 Research shows that pregnancy itself does not make your HIV disease worse and HIV does not change how your pregnancy proceeds. Still, doctors say that a pregnancy is high risk if there is any illness or infection, including HIV. This means that you may have more frequent visits to the doctor to monitor your health and the health of the fetus.
Treating your HIV infection and reducing the amount of virus in your blood (your viral load) during pregnancy is one of the most important ways to reduce vertical transmission. Your doctor will talk with you about taking drugs that slow down HIV. These anti-HIV drugs are called antiretrovirals, and you take a combination of them. When choosing your drugs, you should consider a combination that is tailored to your health and needs and that will reduce the risk of vertical transmission.
In addition to taking anti-HIV drugs, there are many things you can do to have a healthy pregnancy, such as:
making sure that your doctor tests and treats you for sexually transmitted infections
making sure that your doctor tests you for hepatitis B, syphilis, group B streptococcus status and rubella immunity
making sure you eat well; during pregnancy, your body has special nutritional needs, so you should talk to your doctor about the following:

taking a daily prenatal multivitamin (prenatal vitamins are different from regular multivitamins; make sure you get the right one)
taking 1 to 5 milligrams of folic acid once a day for one to three months before getting pregnant and during your pregnancy
getting 1,500 milligrams of calcium every day either from foods such as milk, cheese and yogurt or from a supplement
"I am a former drug user. When I was pregnant, everyone put their moral judgments on my life about whether I should even be allowed to have children. Moral judgments prevent women from getting the chance to learn healthy baby and self-care skills."
reducing or stopping smoking, drinking alcohol and using street drugs
finding healthy ways to deal with stress
putting together a support network
If you are pregnant and drinking alcohol or using drugs, cutting down or stopping will increase your chances of a healthy pregnancy. Some women may not be able to stop completely or without help. Speak to your doctor or someone you trust to help you find the resources you need to keep you and the fetus as healthy as possible.
HIV Treatment Options
Canadian guidelines recommend that all pregnant HIV positive women take combination anti-HIV therapy. You and your doctor will decide what's right for you based on your particular situation, including the stage of your pregnancy and whether or not you are already on anti-HIV therapy.
What Anti-HIV Drugs Are Recommended During Pregnancy?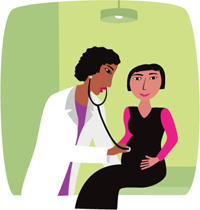 The combination of anti-HIV drugs that you take during pregnancy depends on many factors, including the drugs you have taken in the past. As well, certain drugs are known to cause side effects in pregnancy and others may harm the fetus and so should be avoided. Drugs to avoid include efavirenz (Sustiva), delavirdine (Rescriptor), nelfinavir (Viracept) and the combination of ddI (Videx) and d4T (Zerit). Also, nevirapine (Viramune) should not be started when your CD4 count is above 250 cells. Fortunately, there are many other options, so check with your doctor for the most up-to-date information.
When Should You Start Anti-HIV Drugs?
"Nothing is worse than morning sickness right after you've swallowed your meds."
If you are not already taking anti-HIV drugs, doctors generally recommend starting treatment after 12 to 14 weeks of pregnancy, unless there is a medical reason to start earlier, such as a very high viral load. The main reason for waiting is to avoid any possible negative effects of the drugs on the fetus during the early stages of its development. Another reason for waiting is to avoid taking pills during the first trimester, when you are most likely to have morning sickness.
Some side effects of anti-HIV drugs, especially high blood sugar, low red blood cell count (anemia) and stress on the kidneys and liver, can be made worse by being pregnant. It is important to monitor for these side effects carefully. Your viral load and CD4 counts should also be tracked. Usually, your doctor will order blood tests one month after you start treatment and then every one to three months.
You're Already on Anti-HIV Drugs
"Since I tested positive I have been thinking about becoming pregnant. I have now been on meds for over a year and if I choose to get pregnant I might have to change my meds."
If you are pregnant and already on anti-HIV drugs, you and your doctor may decide to switch the drugs you are taking. As we mentioned above, some drugs should be avoided during pregnancy. Talk with your doctor about what is best for you as soon as possible after finding out you are pregnant. If you are planning to become pregnant it's a good idea to discuss drug choices with your doctor in order to reduce the chance of harming the fetus.
Stopping or Changing Your Anti-HIV Drugs
It is not a good idea to stop or change your drugs without first seeing your doctor. If you stop your treatment suddenly, your viral load will likely increase and there will be a higher risk of transmitting HIV to your baby. You may also increase the risk of developing drug resistance, which could limit your treatment options in the future.
What if You Haven't Taken Anti-HIV Drugs During Your Pregnancy?
Canadian guidelines recommend that all HIV positive women take anti-HIV drugs during pregnancy. If you do not take treatment while you are pregnant, the chance that your baby will be HIV positive is about one in four. If you are diagnosed late in your pregnancy or during labour and delivery, medication can still be given to you and your baby to reduce the risk of infection.
Other Treatments While Pregnant
Some drugs and vaccines for the treatment and prevention of certain conditions that are common in HIV positive women are safe to use in pregnancy, while others are not. Talk with your doctor about the risks and benefits of these treatments to you and the fetus.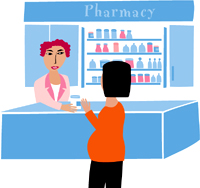 It is safe to use preventative medication for Pneumocystis pneumonia (PCP), Mycobacterium avium complex (MAC) and tuberculosis (TB). You may also take treatment for active tuberculosis when you are pregnant. As well, it appears to be relatively safe to take acyclovir to prevent or treat herpes outbreaks, though you should talk with your doctor about the risks and benefits of this drug.
Methadone is safe to use during your pregnancy, but be aware that your baby may be dependent on (addicted to) methadone and will need to be weaned off. If you are on methadone and become pregnant, you should not stop taking methadone without first speaking with your doctor.
Some HIV positive women use medicinal marijuana. There is no evidence that marijuana causes birth defects, however, smoking of any kind is not recommended during pregnancy. The risks and benefits of smoking marijuana should be weighed carefully.
You should avoid drugs like fluconazole, itraconazole and ketoconazole, which are used to stop candidiasis and other fungal infections. Other medications you may be taking for depression, pain, diabetes or other conditions might not be safe during pregnancy. Speak to your doctor and pharmacist about which drugs are safe for you and the fetus.
You may need to have some vaccines if you have not already received them. After the first three months of your pregnancy, it is safe to receive pneumococcal, tetanus-diphtheria, hepatitis A, hepatitis B and flu vaccines. However, you should avoid live virus vaccines such as those for measles, mumps and rubella, varicella zoster (chicken pox) and yellow fever.
For women who have hepatitis C virus (HCV) alone, there is a small chance of passing on HCV to the baby. Having both HIV and hepatitis C can increase the risk of vertical transmission of HCV. There is no known treatment to prevent vertical transmission of HCV; however, studies have shown that there is a lower risk of HCV transmission if a co-infected woman is on HIV treatment during pregnancy. This is because a high HIV viral load stimulates HCV to make more copies of itself and leads to a higher HCV viral load.
It is important to be aware that some of the drugs commonly used to treat hepatitis C and hepatitis B can cause severe birth defects and should not be taken during pregnancy. Women should stop taking these drugs for at least 6 months before they become pregnant and during pregnancy. Male partners should also not use these drugs for at least 6 months before they decide with their partner to get pregnant. Speak with your doctor and pharmacist to find out more about which drugs are safe and which are not.
Delivery
During labour and delivery, there are ways to reduce the risk of vertical transmission, including taking anti-HIV drugs and choosing the type of delivery. In many cases, natural (vaginal) delivery is safe and preferable.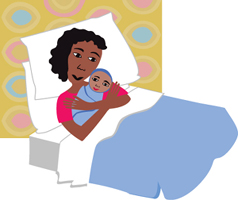 Most HIV positive women give birth in a hospital, where they can receive appropriate care. For mothers with HIV, Canadian guidelines recommend that during labour and delivery, the anti-HIV drug AZT (zidovudine, Retrovir) be given to the mother to reduce the risk of vertical transmission.
There are two types of delivery: 1) natural (vaginal) delivery and 2) a surgery to remove the baby from the mother called a C-section (cesarean section). If your viral load is less than 1,000 copies, a C-section is not likely to further reduce your risk of transmitting HIV to your baby. If your viral load is over 1,000 copies or you are not on anti-HIV drugs at the time of your delivery, a C-section may reduce the risk of infection. It is your choice whether to have a C-section, though sometimes C-sections are performed as emergency surgery because vaginal birth is not possible.
"As for the C-section, I found it so strange and weird. But now that I think about it, it was just a moment of discomfort leading to a long, wonderful life with my beautiful boy."
In women with risk factors, like a high viral load at delivery or co-infection with hepatitis C, the chance of vertical transmission can be further reduced with the following precautions: limiting the use of forceps and vacuum, no use of fetal scalp electrodes and no fetal scalp sampling. Doctors can explain these precautions in more detail.
You Have Been Circumcised
Some women were circumcised as girls or young women. This means that the clitoris and/or the inner and outer labia have been partially or completely removed. Depending on the severity, this cutting of the genitals can cause great difficulties during intercourse, pregnancy and childbirth.
Especially for HIV positive women who have had all outer genitals removed (infibulation), a vaginal birth can increase the risk of transmitting HIV to the baby. A C-section is safer for both you and your child.
More From This Resource Center
---

This article was provided by
Canadian AIDS Treatment Information Exchange
. Visit
CATIE's Web site
to find out more about their activities, publications and services.