You Can Have a Healthy Pregnancy if You Are HIV Positive
2009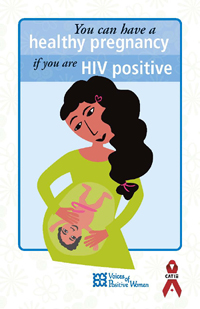 You Can Have a Healthy Pregnancy if You Are HIV Positive
Are you HIV positive and pregnant or considering having a baby? You are not alone. Living with HIV does not necessarily take away your desire or your ability to have children. The good news is that advances in HIV treatment have allowed many HIV positive women to have healthy pregnancies and healthy babies.
"HIV positive women should know that they can get pregnant."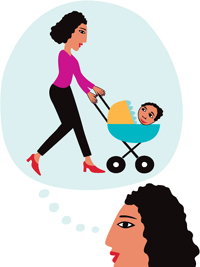 Let's be honest. Dealing with HIV can be difficult, and dealing with pregnancy can be difficult. But having the facts about how to get pregnant safely and how to prevent your baby from becoming HIV positive may help you overcome some of your fears and make you feel more confident in your decision about whether or not to have a child.
"I must have asked a million questions -- most of them over and over again. My healthcare providers didn't mind. I liked that."
You probably have many questions. Asking questions is an important step in making choices. This booklet is meant to help you make informed decisions about your health during pregnancy as well as the health of your baby. As well, it includes words of support and inspiration from HIV positive women from across Canada.
Maybe you are pregnant and have just found out that you are living with HIV. That can be a lot to deal with at once. In addition to the information provided in this booklet, you may want more information about HIV and its treatment, as well as whom to tell about having HIV. The most important thing right now is to find a doctor who can help you get this information and support your choices around your pregnancy and your HIV. The resources listed at the end of this booklet can link you to services in your area.
"I found out I was pregnant and HIV positive at the same time. It was scary not knowing what to do."
You may be thinking about ending your pregnancy because you may feel you cannot care for a child right now, or maybe there are other reasons. Having an abortion is a very personal choice. Only you can decide whether or not to continue your pregnancy. No one can force you to have a baby or force you to end your pregnancy. You may want to know more about abortion. You can discuss your options with a doctor or nurse. Some women worry that having an abortion will make it harder to get pregnant again, but most women go on to have normal, healthy pregnancies after an abortion.
Some HIV positive women face stigma and discrimination because of choices they make about having children. Stigma is the negative judgment some people make about you because they think your choice is wrong. Stigma about HIV can limit the services available to you. This is called discrimination. Stigma and discrimination are often based on fear and can happen when people don't know all the facts about HIV and pregnancy.
You may face stigma because you choose to have a child.
"In my culture everyone really pressures you to have children."
You may face stigma because you choose to not have a child.
Whatever you are facing, you might want to talk with people you trust -- friends, family members or healthcare providers. They can give you support while you make your choices. If you decide pregnancy is right for you, your network can also play an important part of helping you to stay healthy and to have a healthy baby.
You Can Have an HIV-Negative Baby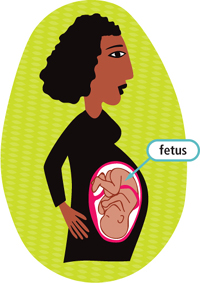 When HIV passes to a fetus or baby from an HIV positive mother, this is called vertical transmission. When HIV passes between sexual partners or people who share needles, this is called horizontal transmission.
In the time before effective treatment for HIV, about one in four babies born to HIV positive mothers was also HIV positive. However, we now know a lot about how to prevent vertical transmission, and with proper care the risk of your child becoming infected with HIV can be less than 2 percent. Experts have written treatment guidelines that outline the best practices to reduce the risk of vertical transmission. These guidelines recommend:
anti-HIV drugs for the mother during pregnancy and during labour
delivery by C-section (cesarean section), when appropriate
a short course of anti-HIV drugs for the baby after birth
no breast-feeding
Guidelines are a starting point. You and your doctor should fully discuss all decisions about your treatment, pregnancy and delivery.
Building a Relationship With Your Healthcare Providers
Some HIV positive women may feel nervous about talking to their healthcare provider about having a baby because they have heard that not all doctors support women with HIV to have babies. While this may be true, know that you have the right to have a child just like any other woman.
Some doctors are not experienced with HIV and pregnancy, but you can help them find information about having a healthy positive pregnancy. Let your doctor know that guidelines exist for the care of HIV positive women during pregnancy. CATIE (Canadian AIDS Treatment Information Exchange, www.catie.ca or 1-800-263-1638) can direct your doctor to the most up-to-date guidelines. Some women choose to have their babies closer to large cities where doctors are more experienced with HIV and pregnancy.
You may also wish to have a midwife assist during your pregnancy. In Canada, most provinces have laws that regulate midwife services, but only some provinces cover the cost. You can find more information at www.canadianmidwives.org.
Getting Pregnant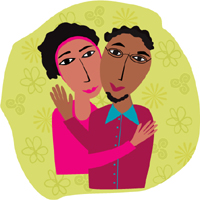 Many HIV positive women have no trouble getting pregnant. However, there is some research that shows that HIV disease, anti-HIV drugs or co-infection with other sexually transmitted infections may make it harder for HIV positive women to become pregnant. If you are having trouble getting pregnant, ask your doctor for a referral to a fertility clinic. There are guidelines to assist in the pregnancy planning and fertility needs of people with HIV.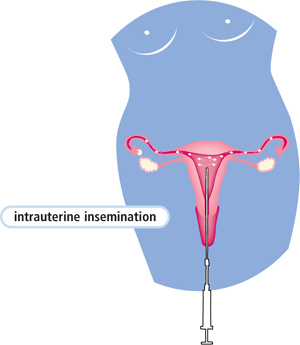 An HIV positive woman can pass on HIV to her male partner(s) while trying to get pregnant. To avoid this, one option is alternative insemination. This can be done at home or may require medical assistance, such as from a fertility clinic. At home, sperm is placed into the vagina with a syringe or eye dropper. Some women have their partner provide sperm; others use the services of a sperm bank. Medically assisted insemination places the sperm directly into the uterus (intrauterine insemination) and can increase the chance of getting pregnant. This medical procedure is more expensive and is not available in every province and territory. (If you're thinking about using a fertility clinic, be sure to get information about all the services you will need and their costs.)
"I ruled out intrauterine insemination because of the cost, but it is an option."
If you and your partner(s) are both HIV positive, it's a good idea to discuss with your doctor the risk of re-infection (doctors often call it superinfection). Re-infection occurs when you become infected with your partner's virus, or the other way round. Your doctor may recommend a procedure called sperm washing. Sperm washing separates the sperm from the semen. (It is the semen that carries most of the HIV.) The sperm is then used to inseminate the woman. Sperm washing is also an option for HIV positive men who have HIV negative female partners. Sperm washing is done at a fertility clinic and is not available in every province and territory.
More From This Resource Center
---

This article was provided by
Canadian AIDS Treatment Information Exchange
. Visit
CATIE's Web site
to find out more about their activities, publications and services.