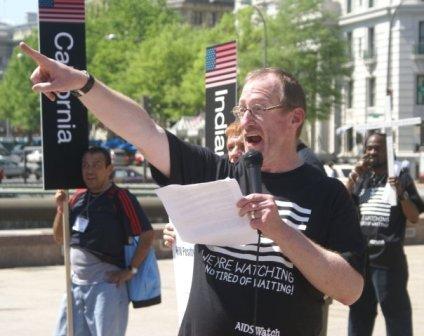 Randy Allgaier of California is watching and tired of waiting
In a town hall-style meeting Monday, the ever-accessible White House Director of Domestic AIDS Policy Jeffrey Crowley answered lots of questions and expressed a desire for feedback from people with AIDS; however, he didn't have much to show on the AIDS front from Obama's first 98 days in office.
The meeting with Crowley was one part of the National Association of People with AIDS (NAPWA) annual AIDSWatch lobby day. More than 300 people with HIV/AIDS from throughout the country came to D.C. to lobby Congress and learn about AIDS policy issues.
Advertisement
"We're off to a good start," Crowley told the group that gathered at the town hall meeting to ask questions about health care, housing, stigma, syringe exchange and other important AIDS policy issues. But in terms of specific AIDS accomplishments, Obama's only concrete effort was the
Act Against AIDS Campaign
coordinated by the CDC in conjunction with the White House.
What Are We Waiting For?
Most AIDS advocates are willing to give Obama the benefit of the doubt and agreed with Crowley's decision to focus on health care reform before launching into developing a National AIDS Strategy and Ryan White reauthorization.
"We've seen some good movement going forward, but 100 days is not a lot of time," said Coordinator of the U.S. Positive Women's Network Naina Khanna. "We look forward to seeing more progress on all fronts, including the National AIDS Strategy and health care reform."
However, in the world of strange bedfellows, the AIDS Healthcare Foundation and Housing Works both agreed that Obama needs to step up commitment to tackling the HIV/AIDS epidemic.
"We're asking for leadership," said AHF Executive Director Michael Weinstein. "We're concerned this is kicking the can down the road." AHF has launched a video campaign discussing presidential inaction on HIV/AIDS and orchestrating a write-in letter campaign.
Said Housing Works President and CEO Charles King. "Jeff [Crowley] was acting as an apologist for the Obama administration and he said to be patient. But I don't think think this is the time to be patient and just wait for things to happen." King also expressed frustration with Crowley's statement at the meeting about non-AIDS related causes Obama has championed, such as closing Guantanamo Bay. "While I'm happy Obama is championing progressive causes, this isn't going to end the AIDS epidemic."
Housing Works had called for a completed National AIDS Strategy within the first 100 days of Obama's presidency, a deadline that passed this Wednesday. Housing Works is also against extending the flawed Ryan White CARE Act another three years. Housing Works is also calling on the Obama administration to put pressure on Congress to lift the federal ban on syringe exchange.
The White House website calls for an end to the federal ban on syringe exchange, but Obama has never spoken publicly about lifting the ban, and hasn't urged Congress to take the rider out of the 2010 appropriations bill.
"I understand where the White House is coming from and where Congress is coming from, but in terms of patience for people's lives there's only so much patience you can have. What other population would be told to be this patient?" said Harm Reduction Coalition Executive Director Allan Clear. "The White House is unwilling to spend any political capital pushing the issue.They're speaking out of both sides of their mouths at this moment and clearly are not acting on the science."
Watching and Tired of Waiting
AIDS activists had a chance to vent some of their frustrations before the town hall with Crowley. Sponsored by NAPWA and the Campaign to End AIDS, the rally was entitled "We're watching -- and tired of waiting."
The urgency of the epidemic was clear at a rally earlier that day. People from all across the country gathered at Freedom Plaza where they and spoke of different issues impacting their communities and the need for more grassroots support. They held signs from the states they hailed from and wore shirts with American flags that said "We're watching -- and tired of waiting."
Puerto Rican AIDS activist José Colon spoke about the epidemic in Puerto Rico and the need for more grassroots involvement in stemming the epidemic. Puerto Rico's AIDS service system is a perpetual mess, and the Puerto Rico Health Department has been audited by the U.S. government for misuse of Ryan White CARE Act dollars.
Ralliers also focused on Washington D.C.'s AIDS epidemic and the recent report that three percent of the city's population is HIV-positive. Ja'Mai Edwards, a D.C. resident, spoke about how she and her four children are on a housing waiting list in D.C. and are four months from being kicked out of their home.
"I don't know what avenues to take. I know they're trying, but we have only four months," Edwards said. "I spoke about how housing is my prevention. Without housing, how am I going to take my medication? It's stressful, too, not to know if you're coming or going."
Khanna spoke about the need for health care reform.
"We need to reframe the conversation about health care access, and to make sure that people living with and affected by HIV and AIDS are part of that discussion," said Khanna, who is HIV-positive.
ETHA Briefing
In addition to some 150 lobby visits, another AIDSWatch highlight was a briefing Wednesday about the Early Treatment for HIV Act (ETHA) by the House co-sponsors Reps. Eliot Engel (D-NY) and Ileana Ros-Lehtian. The duo, along with a representative from Nancy Pelosi's office spoke about the convoluted nature of the health care system, and how people have to be sick to qualify for care.
While ETHA's chances of passage are better than ever, as an alternative, ETHA could be included as language in health care reform. As health reform plans are drafted, one of the options is expanding the number of people who can access ETHA.
"ETHA's not a silver bullet, and there are lots of different ideas that are important to get out there as Congress works on health care legislation," said AIDS Foundation of Chicago Vice President of Policy and Communications David Munar.
Read more about how people with AIDS will be affected by different health care reform proposals.