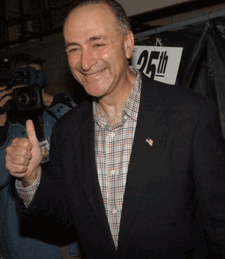 Chuck knows ETHA's important. Make sure other senators do too!
Sens. Chuck Schumer (D-NY) and Olympia Snowe (R-ME) are reintroducing the critically important Early Treatment for HIV Act (ETHA) into the Senate this Monday, April 20. Both New York senators are cosponsoring, but out-of-staters can still call their senators and ask them to get on board!
Call the U.S. Capital Switchboard at (202) 224-3121 to reach your senators, then tell them to contact Snowe and Schumer's offices to get on board the ETHA train!
In addition to Snowe and Schumer, ETHA co-sponsors include Sens. Kristin Gillibrand (D-NY), Patty Murray (D-WA), Patrick Leahy (D-VT) and Daniel Akaka (D-HI).
Advertisement
This bipartisan bill, introduced in the House last month, would encourage states to allow people with HIV to qualify for Medicaid
before
they get sick. The bill was first introduced way back in 1999 and reintroduced in 2007. But now with the Democrats in charge, there's a real possibility that ETHA could gain traction. And more importantly, the principles of ETHA will be on Congress's radar as it drafts health care reform legislation.
See the letter being circulated below:
BECOME A CO-SPONSOR OF THE EARLY TREATMENT FOR HIV ACT (ETHA)
Dear Colleague:
We are writing to encourage you to join us as a cosponsor of the Early Treatment for HIV Act (ETHA). ETHA gives states the option to extend Medicaid coverage to low-income individuals living with HIV at an earlier point in the course of the disease. Early treatment can make a significant difference in quality of life and health outcomes. Currently, individuals must become disabled by AIDS before they can receive Medicaid treatment and care. ETHA is modeled after the successful Breast and Cervical Cancer Treatment and Prevention Act of 2000, which allows states to provide early intervention access to Medicaid to women with breast and cervical cancer.
We believe that states should be able to exercise the option of providing earlier access to HIV care as a strategy to address the HIV/AIDS crisis. The Center for Disease Control and Prevention (CDC) estimates that approximately 1,106,400 people in the United States are living with HIV or AIDS, with 56,300 newly infected in 2006. HIV treatment has evolved tremendously in the last three decades, however, an estimated 42% to 59% of people living with HIV/AIDS do not receive regular HIV care.
Our commitment to fight against HIV/AIDS has had tremendous results in the United States. Supporting states in their efforts to ensure early access to medical care will continue this commitment and bring additional gains in both individual health and public health outcomes.
Please join us as a cosponsor of the Early Treatment for HIV Act, giving states the option to extend early intervention Medicaid coverage to people living with HIV. If you would like to become a cosponsor of this legislation or need additional information, please have your staff contact Nicole Fiol with Senator Schumer at 4-7392 or Scott Nolen with Senator Olympia Snowe at 4-5344
Sincerely,
Senator Charles E. Schumer
Senator Olympia J. Snowe