Register Early for the Housing Research Summit Featuring Jeffrey Crowley and Stephen Lewis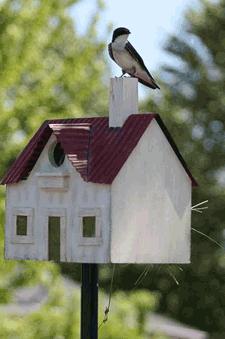 The early bird gets the (registration) worm and the housing knowledge!
This June 3 to 5 in Washington, D.C., advocates, researchers, people with HIV/AIDS and politicians will gather at the North American Housing and HIV/AIDS Research Summit IV. Speakers this year include White House National AIDS Policy Director Jeffrey Crowley and Stephen Lewis, the former UN Canadian Ambassador and Secretary-General's Special Envoy for HIV/AIDS in Africa, who will be delivering the keynote address. (Michelle Obama and Housing and Urban Development Secretary Shaun Donovan also got invites, but we're still waiting on RSVPs.)
You can register by April 24 and save $75!
The Housing and HIV/AIDS Research Summit is an innovative and influential opportunity for the broader discussion of housing and health. Summit III brought together 225 participants, representing 25 states, the District of Columbia, and three Canadian Provinces, for presentations by over 40 experts on the relationship of housing status and HIV prevention and care.
This year the Ontario HIV Treatment Network, which advocates for good HIV/AIDS policies in Canada, is joining the National AIDS Housing Coalition (NAHC) and the Johns Hopkins Bloomberg School of Public Health in sponsoring the three-day summit. Prominent Haitian AIDS activist Esther Boucicault will also be presenting about the lack of access to housing in Haiti. This international collaboration makes the summit the first of his kind.
"This year's summit is going to show incredibly strong links between housing and health outcomes that are applicable for people living with AIDS throughout the world," said Ginny Shubert, of Shubert Botein Policy Associates.
Another big change from last year is that President Obama is now in power (you might have heard). So advocates will also be discussing how to fully take advantage of the new policy landscape in the U.S.
Research you won't want to miss
The 2009 summit been scheduled to coincide with the release of findings from at least three major studies of the relationship between housing status and HIV health outcomes and costs:
The Housing and Health Study, funded by the U.S. Department of Housing and Urban Development and the Centers for Disease Control and Prevention, specifically to the impact of HIV housing supports;
The Chicago Housing for Health Partnership, an examination of the impact of supportive housing for homeless persons living with HIV/AIDS and other chronic illnesses; and
Positive Spaces Healthy Places, the first longitudinal community-based study of the impact of housing on the health of people living with HIV in Canada.
At last year's summit, researchers presented the Chicago Housing for Health Partnership (CHHP) study that showed people with AIDS and other chronic diseases live longer when stably housed with intensive case management. This study gained nationwide attention in a Wall Street Journal article.
This year's summit will focus on educating participants to influence housing and health policy and practice in their communities. In addition to the regular sessions, the summit will be preceded by a half-day training institute designed to empower consumers of HIV/AIDS housing and services to participate more actively in the design, guidance and interpretation of research that affects them.
For more information about the summit check out nationalaidshousing.org.