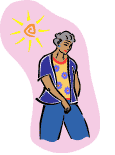 This is a new section, which will be a part of each issue of
Wise Words
. This section will describe programs around the globe that are providing education, inspiration and empowerment to women living with HIV and their families. If you would like to share information about your program, contact Shalini Eddens at seddens@projectinform.org or 415-558-8669 x205.
HIV Wisdom for Older Women
Because women in their middle years are often overlooked in HIV prevention, a new national program, HIV Wisdom for Older Women, has been formed to address this issue through education. The organization is also dedicated to life enrichment for older women living with HIV.
The program was founded and is directed by Jane P. Fowler, who knows well the challenges of living with HIV as an older woman: she was diagnosed in 1991 at age 55. Since becoming an activist and public speaker, she has given hundreds of presentations at local, state, national and international meetings. In addition, her story has been told and her work described in many press stories.
Advertisement
"When I decided in 1995, to speak out about having been infected heterosexually," Fowler said, "my idea was to reach my female contemporaries with a prevention message and also to network with other older HIV-positive women. I hope this new program will aid in these efforts."
HIV Wisdom for Older Women operates as an outreach program of Southwest Boulevard Family Health Care Services, a nonprofit medical clinic at 340 Southwest Boulevard in Kansas City, KS 66103-2150. Anyone is welcome to join HIV Wisdom for Older Women; there are no dues. The program's web site is www.hivwisdom.org, and Fowler's email address is jane@hivwisdom.org.

Back to the Project Inform WISE Words July 2002 contents page.