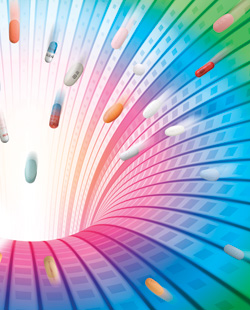 Over the last two years the release of three new HIV medications has been providing new treatment options and hope for treatment-experienced patients. It is reassuring to know that there are several medications further along in the pipeline that provide an expansion of existing classes, as well as the addition of new classes.
Amdoxovir is an experimental nucleoside reverse transcriptase inhibitor (NRTI), currently in Phase 2, that is being developed by RFS Pharma. The medication is being studied either at doses of 300 mg or 500 mg twice daily and has been shown to be active against HIV strains that are resistant to Retrovir (zidovudine) and Epivir. Apricitabine is another NRTI, currently in Phase 2b, which is currently under development by Avexa. It is similar in chemical structure to Epivir and Emtriva, and is being shown active against strains resistant to Retrovir and Epivir. Side effects noted so far have been congestion, nausea, diarrhea, and modest increases in triglycerides.
Elvitegravir is an integrase inhibitor, currently in the planning stages of Phase 3, being developed by Gilead. The medication is dosed at 150 mg twice daily, boosted with 100 mg Norvir. So far few side effects have been noted. Gilead is planning to begin study of the first "quad fixed dose combination," a four-in-one-drug combining elvitegravir, Truvada and a new boosting compound being developed by Gilead. Watch for another potential blockbuster combination pill (one pill, once daily) which would be especially useful for those who can't take Atripla.
Advertisement
RDEA806 is a new
non-nucleoside reverse transcriptase inhibitor
(NNRTI), now in Phase 2, that is being developed by Ardea. The medication has been shown to be effective against strains resistant to
Sustiva
and has an added beneficial effect of reducing uric acid levels. IDX899, another NNRTI by Idenix, currently in Phase 2, has been shown to be potent, and is less susceptible to resistance compared to Sustiva and
Viramune
. [Editor's note: GSK acquired the rights to IDX899 as PA went to press.] Tibotec's NNRTI
rilpivirine
(TMC-278), currently in Phase 3, has been shown to cause minimal changes in lipids and glucose levels during the course of a 48-week treatment.
Vicriviroc, the newest CCR5 antagonist being developed by Schering-Plough, is currently in Phase 3. The medication is boosted significantly by Norvir, and has been shown to be active against strains that are resistant to other medications, including Fuzeon.
Bevirimat (PA-457), a derivative of the Chinese herb Syzigium claviflorum, is part of a new class called maturation inhibitors that is being developed by Panacos. Currently in Phase 2 trials, it could be useful for treatment in new and experienced patients. So far, the medication is only available in liquid form due to issues with tablet formulation. Panacos was recently acquired by Myriad Pharmaceuticals, which has another maturation inhibitor in early development, vivecon (MPC-9055).
PRO 140 is an entry inhibitor, currently in Phase 2, being developed by Progenics, that is administered intravenously. The medication contains engineered antibodies called monoclonal antibodies that bind to the CCR5 receptors on CD4 cells to prevent entry by HIV. TNX-355 is the entry inhibitor that was being developed by Tanox, which was bought out by Genentech. It is also administered intravenously, every 2 weeks. Since the mechanism of action is different for this class, it can be used when resistance to other treatments is present.
Although there are a number of new medications that are under development, it will be a few years before they would be available. In the meantime, it is important to be compliant to your current regimen.
Drugs in the Pipeline* **
Agent
Class
Sponsor
Status
AMD11070

CXCR4 blocker

Anormed


Suspended / Phase 2


amdoxovir

NRTI

RFS Pharma

Phase 2

apricitabine

NRTI

Avexa Limited

Phase 2 / 3

bevirimat (PA-457)

Maturation inhibitor

Panacos / Myriad

Phase 2

elvitegravir

Integrase inhibitor

Gilead Sciences

Phase 2

IDX899

NNRTI

Idenix Pharmaceuticals

Phase 2

KP-1461

Viral decay accelerator

Koronis Pharmaceuticals

Suspended / Phase 2

PRO 140

Entry inhibitor / monoclonal antibody

Progenics Pharmaceuticals

Phase 2

RDEA806

NNRTI

Ardea Biosciences

Phase 2

rilpivirine (TMC-278)

NNRTI

Tibotec Pharmaceuticals

Phase 3

TNX-355

CD4 blocker / monoclonal antibody

Genentech

Phase 2

vicriviroc
CCR5 antagonist
Schering-Plough
Phase 3
* Taken in part from the 2008 Pipeline Report by Treatment Action Group (TAG). Visit www.treatmentactiongroup.org for the complete report.

** Many other compounds are in pre-clinical and early development that are not included in this article or table.
Got a comment on this article? Write to us at publications@tpan.com.