As the hot days of July slid into the dog days of August, two major HIV stories emerged in the U.S. On July 30, President Bush signed a bill reauthorizing PEPFAR, the global AIDS program that may be his most positive legacy. Two days later, the Centers for Disease Control and Prevention (CDC) released data confirming what many already suspected: the longstanding estimate of 40,000 new HIV cases a year in the U.S. has been a massive undercount.
That same week, the Black AIDS Institute published Left Behind! Black America: A Neglected Priority in the Global AIDS Epidemic. This document showed that more blacks are living with HIV in the U.S. than in seven of the 15 countries served by PEPFAR. In fact, if Washington D.C. were a country, it would have the 11th highest level of HIV cases in the world -- one of every 20 residents.
Using improved techniques that can sort out new infections from older ones, the CDC now estimates that 56,300 people became HIV positive in the U.S. in 2006 -- about 40% more than previously thought. And while the CDC says the epidemic is "stable," that stability shows that infections among African-Americans are much greater than their percentage of the population and that those in gay men and other men who have sex with men (MSM) have steadily increased since the early 1990s.
Advertisement
CDC also did a "back calculation" that showed that the long-held 40,000-a-year figure was never right. Since 1991, HIV incidence (new infections) has been 25-50% higher than that figure, and the CDC is now preparing to revise its estimate of the number of people with HIV in the U.S. But the current estimate leaves out data from territories with high HIV rates, such as Puerto Rico and the U.S. Virgin Islands. This exclusion might mean an even higher total, especially among people of color.
Some people believe there's a government conspiracy that allows, or even assists, the spread of HIV in gay men and communities of color. But conspiracies are hidden. When it comes to HIV, the reasons for such high incidence rates -- and for levels of infection in some communities that are among the worst on the planet -- are plainly visible to anyone who cares to look.
A Continued Failure of Leadership
Despite over a quarter century of signs that HIV would become a severe public health crisis, there has never been anyone at high levels of the U.S. government with the power or skills to craft a strategy to fend off reactionary politics, defeat vested interests, and move money where it needs to go -- not just through traditional health programs, but across all parts of government and society.
HIV prevention has always been the least-funded aspect of the epidemic in the U.S. It was the slowest to grow in the years of HIV funding increases, and prevention funding has declined each year since 2001. State and local HIV prevention agreements were cut by $26 million from 2003 to 2007 and may be cut by an additional $5 million this year. And key HIV prevention measures, like anti-homophobia efforts and syringe exchange, have either been starved for resources or explicitly banned from receiving federal funds.
The Cost of Delay
While waiting for the new estimates, David Munar of the National Association of People with AIDS wrote:
"For months, AIDS advocates called for the public release of the data, which CDC admitted ... it had finalized in October 2007. An earlier release might have given the Bush administration second thoughts about requesting a $1 million decrease for CDC's domestic HIV prevention programs; spurred presidential candidates to talk more readily about HIV/AIDS in the U.S.; persuaded media pundits and debate moderators to quiz candidates on plans to end the epidemic; led Congress to pass even one of the dozen domestic HIV prevention bills languishing on Capitol Hill; or motivated appropriators to finally boost HIV prevention funding or end long-held restrictions on how funding can be used."
We may never know if the CDC deliberately delayed the new estimates (perhaps at the insistence of the Bush Administration). But it's a valid question in light of the troubling suppression of other public health data. CDC's explanation -- that they needed rigorous peer review by a major scientific or medical journal -- is plausible, given the new methodology and the complexity of the statistical model. But it most likely could have been done faster.
In any case, the wait for the new estimates is finally over. We now know that someone becomes HIV positive every nine minutes in the U.S. There are over 150 new infections a day, more than a third of them in people under 30. Will we point fingers at them and cast blame, further fueling stigma? Or will we finally take a long, unflinching look and ask why we tolerate this open conspiracy and the absence of a national AIDS strategy that includes bold HIV prevention measures?
The bottom line is that the HIV epidemic in the U.S. continues to spread at a rate greater than previously thought. The U.S. has never provided HIV prevention education to a large part of its population nor invested in the research needed to find better prevention tools. The news of higher incidence shows this shortfall has brought about an even greater tragedy than we'd realized.
Eyes Wide Open, But Do We Have Vision?
The real measure of political leaders and the people of the U.S. will be whether this bad news spurs good action. People with HIV and their advocates are calling for a national AIDS strategy that confronts the homophobia, violence, and bias at the heart of the U.S. epidemic. We need a compass to find our way to real solutions. And like any good compass, it must point in at least four directions:
Increasing prevention strategies that we know are effective, such as behavioral interventions and needle-exchange programs.
Eliminating policies that take us in the wrong direction, like abstinence-only funding and bans on condoms in prisons.
Scaling up research to figure out what new prevention strategies will confront this complicated, diverse epidemic.
Broadening our understanding of HIV prevention to tackle the social ills that contribute to the spread of HIV, including persistent homophobia and anti-gay violence, mass imprisonment, homelessness, and other consequences of poverty.
Does HIV Prevention Work?
CDC studies have revealed that an average of 46% of black MSM in certain cities are living with HIV. This is one of the highest infection rates in the world.
In the past decade, it's been fashionable to say that it doesn't. But the reality is far more complicated. To dismiss all prevention efforts is to throw out the proverbial baby with the bathwater.
Our frustration at the high rate of new infections shouldn't cause us to overlook the success it reveals in holding the epidemic at bay. As more people live with HIV each year, we might expect new infections to increase. Yet they've held steady for almost a decade. So something -- most likely a combination of things -- is keeping overall infection rates steady while the number of people with HIV is rising.
Many of our current interventions succeed in reducing HIV risk behavior by 20-40%. That's not a home run by any means, but it's on par with the effects of cholesterol and diabetes drugs. Yet HIV prevention programs have never been scaled up to meet the need. For example, it's estimated that HIV prevention programs have reached less than 20% of gay men.
Let's not forget that mother-to-child HIV transmission has decreased by 95%, from a peak of 954 cases in 1992 to an alltime low of 48 cases in 2004. To keep it that low, we need to overcome the public health challenges that allow pregnant women to slip through the cracks -- a goal achieved in many states without mandatory testing laws that throw out crucial protections like informed consent.
For some parts of the prevention challenge, we know what works -- like syringe exchange, long known to decrease HIV transmission without increasing drug use. Yet the federal ban on funding syringe exchange prevents scaling up the very programs that have helped decrease infection rates in injection drug users.
Despite the need to support condoms with a range of HIV prevention tools (just as there are a range of choices to prevent pregnancy), they do work. Each new generation needs easy access to them and education on their use -- even if strapped AIDS organizations strip them from budgets and schools shy away from sex ed that places condoms in broader discussions of healthy relationships, power dynamics, and sexual decision-making.
We do know at least one thing that has failed miserably in the fight against HIV: abstinence-only programs spread misinformation about HIV transmission, use outdated stereotypes of gender roles, and encourage anti-gay stigma.
Despite copious evidence that these programs don't protect young people from HIV, the federal abstinence-only program was granted a one-year extension by Congress two weeks before the release of the CDC numbers. The government is inviting groups to apply for a total of $50 million, as long as they agree that "a mutually faithful monogamous relationship in the context of marriage is the expected standard of all human sexual activity" and that "sexual activity outside the context of marriage is likely to have harmful psychological and physical effects."
Our current menu of HIV prevention programming has too few selections, and the portions have become skimpier due to underfunding. CDC says that its primary impediment in not reaching its 2005 goal of cutting the incidence of new infections in half is a lack of funds.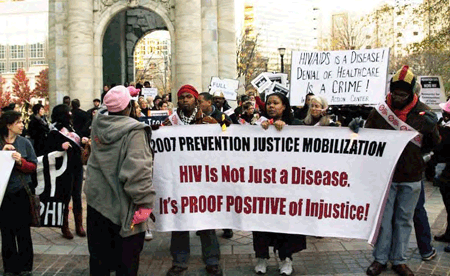 It's Not What You Do, But Who You Are
There's more to the prevention puzzle than meets the eye -- and our very concept of risk and safety must be questioned to meet the challenge of overcoming the epidemic.
Although the new estimate shows that the vast majority of new HIV cases are in African-Americans and gay men, the CDC has not yet released figures bridging race and sexuality. So we don't know exactly how many of the new infections are in African-American gay and bisexual men. But other CDC studies have revealed that an average of 46% of black MSM in certain cities are living with HIV.
This is one of the highest infection rates in the world -- and it's not because these men engaged in "riskier" behaviors than their white counterparts. They reported the same or even lower rates of risky sex. Similarly, a large study of adolescents found that black youths had much higher rates of sexually transmitted diseases, including HIV, even if their risk-taking was much lower than that of white youths.
Thus, the much-touted AIDS awareness slogan, "It's not who you are, it's what you do," is a dangerous oversimplification, or even mischaracterization, of HIV risk in the U.S. In reality, risk in the black community is greater in spite of lower levels of risky behaviors.
When CDC researchers looked at 12 possible factors that could explain the higher rates in black gay men and MSM, they found evidence that it could be related to higher rates of STDs, which make people more likely to get HIV if they are exposed to it. It could be that the men had lower rates of HIV testing, so more of them did not know they were positive. The CDC was able to cross off other possible causes, such as not identifying as gay, not disclosing HIV status, or using drugs or alcohol. But there were not enough data to evaluate other possible reasons.
This mystery is just one example of the pressing need for more research that looks beyond traditional concepts of risk and considers new interventions. Much work remains to figure out what is going on -- and what to do about it. Epidemiologist Walt Senterfitt explained, "Once there's a much higher prevalence of HIV in your pool of partners, your risk of getting infected is much higher."
Recent vaccine and microbicide trials have encountered roadblocks that have set back the timeline for finding effective agents. We need to look at new approaches that combine biomedical strategies -- like using HIV meds to prevent infection or having them made into microbicides -- with behavioral approaches that help people take fewer risks. After the U.S. part of the HIV Prevention Trials Network (HPTN) was slashed, prevention activists organized, and won new trials to explore next steps for the domestic prevention research agenda -- but much work remains to be done.
Synchronized Epidemics?
People on the front lines of the epidemic know that HIV is much more than a medical condition. At last year's Prevention Justice Mobilization at the National HIV Prevention Conference, hundreds of people marched through the streets of downtown Atlanta bearing a banner reading, "HIV is Not Just a Disease. It's Proof Positive of Injustice."
Prevention efforts have largely focused on individual behavior. But personal health is affected by social and economic realities often out of the control of any individual. To tackle the HIV epidemic, we must broaden our concept of prevention. The apartments that allow formerly homeless people to control their own sexual destiny rather than to trade sex for a roof over their heads are just as much a part of HIV prevention as the condoms that they carry in their pockets.
In the mid-1990s, anthropologist and syringe exchange activist Merrill Singer coined the term "syndemics" to refer to the interaction between two or more health concerns that can make each condition worse. For example, someone with a history of substance abuse may fall deeper into addiction when receiving an HIV diagnosis. Not surprisingly, syndemics more commonly occur in groups experiencing poverty, stress, or violence.
Rather than blaming gay men for high rates of HIV infection, researcher Ron Stall and others point to the stigma experienced by young gay men and other MSM that sets the stage for a syndemic. There are clear data showing that gay men who experience bullying and violence in adolescence have higher rates of drug use, intimate partner violence, and HIV later in life. These researchers believe that effective HIV prevention for gay men must confront the syndemic itself, by supporting the health of gay people of all ages through programs that confront homophobia.
As people from around the world learned at the 2008 International AIDS Conference, Mexico's national AIDS program sponsors public campaigns against homophobia in subways and buses, television spots, and school programs, and by working with telenovela and movie producers. This socially conservative country has far fewer resources than we do, yet it chooses to challenge homophobia ambitiously with government funding.
But the U.S government refuses to confront homophobia. Throughout the AIDS epidemic, we've seen politicians of both parties and the Department of Health and Human Services cave in to pressure from right-wing politicians, squelching not only sexuality research but also anti-homophobia messages.
The U.S. now can boast of having the largest prison population in the world. In fact, we imprison more people than any country in history. HIV can be, and is, transmitted behind bars, yet access to condoms and prevention information in prisons is rare. But what may be an even bigger contributor to the spread of HIV is the disruption of communities that comes with locking up so many African-Americans, Latinos, and immigrants. This massive dislocation of people creates ideal conditions for increased HIV rates in areas with high rates of imprisonment.
Who's In Charge? The Need for a National AIDS Strategy
HIV prevention is a complex, national crisis that requires a response that cuts across all sectors of government -- one that is guided by the knowledge of communities on the frontlines. But it's been fragmented across agencies that are often unaccountable to top levels of leadership and unresponsive to the realities of fighting HIV.
An unprecedented range of local, state, and national AIDS groups are calling for a National AIDS Strategy at the federal level, with the power to make real change.
When one of every four people with HIV is involved in the criminal justice system each year, we need the Department of Justice involved. When stable housing has been shown to decrease HIV disease progression and help people protect themselves from infection, we need HUD there. When escalating rates of deportation and detention are fueling the epidemic, we need to reevaluate our immigration policies. And when the increase in HIV rates in gay men echoes increases in anti-gay violence, it's long past time to integrate LGBT health and anti-stigma efforts across government programs.
Perhaps most important, this work requires collaboration with those in the thick of the epidemic. An unprecedented range of local, state, and national AIDS groups are calling for a National AIDS Strategy at the federal level, with the power to make real change. But given the long history of government neglect and misconduct, AIDS activists must hold onto our well-founded skepticism as we move forward. We must ensure the participation of people with HIV and the communities most affected by the epidemic as central decision-makers in the strategy itself.
We must insist that the bad news on HIV incidence is understood in the context in which it has occurred:
a comprehensive national AIDS strategy;
during a decade of flat or declining prevention funding;
with restrictions on effective prevention tools like syringe exchange;
along with major social injustices such as imprisonment of the racial and ethnic groups most affected by the epidemic.
We must demand HIV prevention justice, understanding that the failure to make progress in lowering incidence can be answered only by a strategic plan to combat HIV as a social, economic, and public health challenge.
Prevention activism, which has lagged behind other areas of AIDS advocacy, is coming to the fore. There are opportunities to work together to fight for a National AIDS Strategy that will:
confront homophobia and gender bias;
fund researchers to work with communities on better, expanded HIV prevention research;
tackle the intersection of prisons and HIV;
end AIDS by ending the economic, racial, and social injustices that fuel it.
The way ahead is not easy. But one thing is sure: if we don't come together to demand HIV prevention justice, we can anticipate that the pain, suffering, and loss that accompany this "stable" epidemic will be with us for a very long time.
Community HIV/AIDS Mobilization Project (CHAMP) recently hosted a panel discussion that explored research on why black MSM are at higher risk for HIV despite similar or even lower rates of individual risk behavior. The panel also examined how government policy should change to reflect these findings and how they affect prevention work within our communities. To watch the forum, visit: www.champnetwork.org/bmsm.
Julie Davids was a longtime member of ACT UP Philadelphia and is the founder of CHAMP.
Want to read more articles in the Fall 2008 issue of Achieve? Click here.