It has been four years since highly active antiretroviral therapy (HAART) has been around to treat HIV. Initially, there were hopes that powerful three-drug regimens would severely hinder HIV. While the health and lives of many people have dramatically improved from using these drugs, the unfolding realities of lifelong treatment remain a daunting challenge for many. The emergence of serious and troubling side effects, drug resistance, treatment failure and exhaustion from demanding pill requirements signals the need for an alternative to lifelong HAART.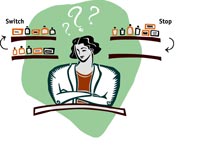 Partly because of these and other concerns, some people are delaying treatment longer. And as less demanding combinations become available, many also consider changing regimens even though their current strategies may still be providing benefits. Others consider whether to stop treatment for a period of time (interrupting therapy) or to stop it permanently. And still others who have stopped or are thinking of stopping treatment wonder when and how to best resume therapy.
Fortunately, scientists are exploring these questions. They are asking whether switching and/or stopping therapy for a defined period of time works as a strategy to treat HIV. These strategies are being explored as ways to reverse or lessen risks for body shape changes (lipodystrophy), believed to be associated with certain anti-HIV drugs. Stopping and switching treatment are also being evaluated for how they may lower the lab markers of increased risk of heart disease -- triglyceride and cholesterol levels -- which some anti-HIV drugs appear to elevate.
So far, results from the few conducted studies have been mixed (below). Despite the increase in research and media attention on these issues, there is still a great deal of confusion and concern about the risks of these approaches. There's also uncertainty about how to most safely use them. Without clear guidelines, people living with HIV and their doctors face tough decisions of whether and how to switch or stop anti-HIV treatment.
Advertisement
This article highlights some of what we've learned so far about this important emerging area of research. It also provides some basic guidelines on things to consider if and when you face these decisions.
Switching Therapies
One consideration is whether to switch to a regimen without a protease inhibitor. Generally, such a regimen contains three nucleoside analogue reverse transcriptase inhibitors (NRTI) or two NRTIs and a non-nucleoside reverse transcriptase inhibitor (NNRTI). There also are times when people switch to two NRTIs; but this is not generally recommended because it does not suppress HIV long-term. What is definitely NOT recommended is switching to one NRTI and NNRTI each because of the high risk of drug resistance.
Another reason for switching drugs in a regimen is to lower cholesterol and triglyceride levels. These levels have been associated with anti-HIV therapy, especially protease inhibitors; and switching may be somewhat effective in helping to reduce them. However, there's conflicting information on whether switching helps reverse the fat redistribution in people with lipodystrophy.
People also consider switching therapies because of side effects or treatment fatigue. In either case, it's important to talk with your doctor to determine if switching is the best option. For instance, side effects may subside over time or they may be managed in other ways. For treatment fatigue, switching to a regimen with fewer pills or one that's less demanding in terms of timing and food restrictions may be a viable option.
Whatever the decision, talk with your doctor to jointly determine personal goals. Keep in mind that guidelines are important. For example, it's helpful to decide before switching treatment whether to aim for maximum viral suppression or whether other factors make this goal unrealistic or less important. Or, perhaps the primary goal is easing pill burden and side effects while maintaining CD4+ cell counts in a "safe" range and preventing disease progression. Whatever the decision, having clear goals in advance of a switch helps make future decisions easier.
Stopping Therapies
There is a great deal of interest, from patients, doctors and researchers alike, in evaluating stopping therapy. While the interest in Structured Therapy Interruptions (STI) may vary, everyone agrees that this approach needs to be seriously studied.
Stopping anti-HIV treatment on one's own, or taking a break on your own (treatment holiday), is not the way to approach an STI. Such breaks, taken every now and then -- even for just a day or two -- will almost certainly increase the risk of developing anti-HIV drug resistance, jeopardizing current and future treatment options. So let's be clear, stopping therapy on your own or taking a treatment holiday is not the same thing as an STI.
An STI includes stopping anti-HIV therapy for a defined period of time, usually at least a month or more. Depending on your goals, re-starting therapy is done on a specific time frame (e.g. start after one month) or based on certain criteria, such as viral load or CD4+ cell count changes. These decisions are strategic and structured, made in partnership with your doctor and/or in a closely monitored study. It is important to monitor CD4+ cell counts and viral load more frequently while on the STI.
At this point, it's too soon to tell whether STIs will be beneficial or harmful. Serious risks have been seen in some studies, including CD4+ cell count losses that might not be regained after resuming therapy; viral load increases that might not be brought back under control; and the risk of resistant virus emerging and taking hold after stopping therapy.
Because of these risks and many unknowns, it's advisable for people interested in stopping treatment or STIs to seek out a study for guidance in decision-making and careful monitoring. Many studies around the country are exploring STIs. To learn about them, call 1-800-TRIALS-A, check out the Web site at www.clinicaltrials.gov, or request Project Inform's materials on STIs by calling our toll-free Hotline at 1-800-822-7422.
Goals of STIs
In general, the current goals behind STIs focus around three basic theories:
STIs may preserve or strengthen immune responses against HIV, primarily studied in people with very early infection.
STIs may restore a useful degree of sensitivity to anti-HIV therapies in people who are resistant to several different ones.
STIs may give people experiencing treatment fatigue or severe side effects a break from therapy long enough to permit some degree of healing, both physically and psychologically -- if it can be done without creating long-term harm.
The Bottom Line
It is unrealistic for most people to take medication every day, for the rest of their lives. Fortunately, simplified and easier-to-use anti-HIV therapies are becoming available (see Odds and Ends). But switching therapies for the sake of fewer pills and side effects may not be the answer for everybody. New approaches for treating HIV are clearly needed.
Currently, there are no clear guidelines on switching or stopping treatment. Like any other treatment decision, learning about your options, talking to your doctor and carefully weighing the pros and cons of switching or stopping treatment therapy may be the best guidance.
For those who take preventive therapies for opportunistic infections, or medications to manage other conditions, STIs do not include stopping those therapies. Close monitoring is also essential as it lessens potential risks.
Finally, for those who have decided to switch or stop therapy, this might be most safely done in the context of a clinical study. Studies provide more intensive monitoring, lessening the risk to you. They also result in information that will help others facing the same decisions in the future.

Back to the Project Inform WISE Words March 2001 contents page.