Hello, Wise Women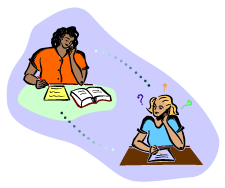 My name is Kris Starr and I am the Hotline Associate for Project Inform's toll-free National HIV/AIDS Treatment Information Hotline. I arrived in San Francisco in December 2001 and started at Project Inform in May 2002. Previously, I worked as a Community Educator at the Minnesota AIDS Project in Minneapolis. My job allows me to work closely with numerous hotline volunteers answering people's HIV treatment and care questions. I'm delighted to play a role in this program and manage the daily responsibilities of running a national HIV/AIDS hotline. Along with our dedicated staff, I work hard to keep our highly trained volunteer operators (close to 50 people) updated on HIV treatment- and care-related information and issues.
January 2003 marked the 18th year of Project Inform's commitment to providing free HIV treatment and care information through our national hotline. Sometimes talking to people about your health, especially concerns about HIV, can be challenging. A person may feel intimidated and frustrated when trying to get a doctor or other medical provider to answer her HIV treatment questions. It is not uncommon for people to feel they should already know the answers to their questions or know where to find the answers themselves. Our hotline operators (many of whom are living with HIV themselves) take these feelings and concerns seriously and are committed to empowering callers to take steps to actively participate in their own healthcare.
Through our national Hotline a caller may obtain written treatment information and health charting tools, referrals to HIV care and social services in your area and assistance from a highly trained volunteer or staff member to help you formulate your own answers about treating HIV.
What Can Project Inform's Toll-Free Hotline Do for You?
Just found out that you're HIV-positive or thinking about HIV treatment for the first time?
Advertisement

Our volunteers can provide information about HIV disease, when to start treatment and how to choose among the various treatment options. Having this knowledge makes it easier for you to participate in decision-making with your doctor.
We can also provide discussions with tips on how to develop a relationship with a doctor and how to develop a strategy for managing HIV for the long-term that meets your needs.
Did you hear something on television, or the radio, or read something in the newspaper or a magazine about a new treatment for HIV and you want more information?
Project Inform provides accurate information and commentary on the latest discoveries in HIV and what they mean (or might not mean) for people living with HIV.
Are you having a difficult time taking the therapies that your doctor prescribed or want more information about them?
Project Inform provides information and tips to help you improve your adherence to sometimes difficult medication schedules or how to find alternatives that might be easier for you to live with.
The Hotline can also provide you with information about the possible side effects of therapies you're taking, as well as ways of coping with them.
Regardless of whether you decide to take anti-HIV therapies right now, the first step to making an informed decision about treatments is learning about them. Project Inform is a great resource for you. Perhaps the most important second opinion you can seek about your treatment decisions is your own. Project Inform is here to answer your questions and provide you with information to help you be an active participant in your choices about HIV treatment today and the future.
You can call the Hotline at 1-800-882-7422 and ask questions about living with HIV, request information on HIV treatment options or tools, and learn about the HIV care and services available in your community. The call is free and will not appear on your phone bill.
Project Inform's toll-free National HIV/AIDS Treatment Information Hotline
Monday-Friday: 9am-5pm (PST)
Saturday: 10am-4pm (PST)

Back to the Project Inform WISE Words March 2003 contents page.