Medicaid is the safety net healthcare program that serves low-income people, including more than 50% of American adults living with AIDS and 90% of children with HIV/AIDS. During the first term of the Bush administration, state Medicaid programs narrowly escaped proposals to cap funding at the federal level. Meanwhile, most programs suffered from cuts and other cost containment measures at the state level.
The next four years look even more problematic. The Bush administration is expected to move aggressively on the President's priorities, which include Social Security "reform", tax cuts, and war and anti-terrorism spending. Unfortunately, those priorities do not include strengthening the healthcare system.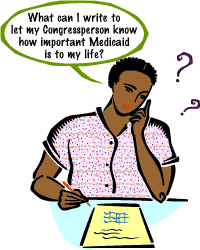 A stronger Republican majority in Congress will be challenged to move Administration proposals quickly to prove that they can govern effectively with a majority in both houses and the Presidency. Many fiscal conservatives will look for savings to fund these expensive initiatives and decrease the growing federal deficit.
All of these factors leave Medicaid as the most likely target for serious cuts. On the other hand, Medicaid has many allies because of its essential role as a part of the social promise made to Americans. It has significant support among elected officials who have fought for better healthcare and many governors who understand its role in serving the health needs of some of their most vulnerable constituents. In the past, proposals to make harmful changes to Medicaid have stalled due to lack of support from governors and strong opposition from health advocates and key Members of Congress.
Advertisement
This year, however, the dynamics have changed, placing Medicaid in greater danger. It is likely that President Bush will call for cuts in Medicaid spending as part of his budget proposal released in February. The new Chair of the Senate Budget Committee, Senator Judd Gregg (R-NH), has called for "controlled spending" for entitlement programs such as Medicaid, and has stated his desire to enact reforms. These cuts and changes could be part of the budget resolution that Congress will debate after receiving the President's proposal.
Advocates, including Project Inform, are working to ensure that Medicaid cuts do not get included in the budget resolution. The HIV Medicaid/Medicare Working Group is a national coalition of advocates working to protect and expand public health programs. Project Inform is a part of this coalition. The HIV Medicaid/Medicare Working Group is holding an educational event targeted at key Senators as one of the first activities of the new Congressional session. Providers and people with HIV/AIDS from key states who rely on Medicaid are coming to DC to speak directly with their elected officials about the importance of this program and the need to protect its funding and entitlement status.
Our work is cut out for us this year if we want to protect the healthcare programs people with HIV/AIDS depend on. While it can seem overwhelming, we are not fighting this battle alone. These programs are a part of the promise that government has made to ensure the health of people in the United States. Although our healthcare programs aren't perfect and leave many gaps, we can't step away from that promise and lose gains that have been hard won over the past 40 years.
Great challenges also bring opportunities. We have learned that we can protect these lifesaving programs even in the most challenging environment. However, your help will be needed. The stronger our voice, the better chance for success.
You Can Get Involved ...
You can get involved in a variety of ways. If you aren't on Project Inform's TAN email list, send an email to tan@projectinform.org with "subscribe" in the subject field. You'll receive Alerts on all of these issues, along with ways you can make a difference. You can also get involved with other policy organizations and coalitions. Go to www.projectinform.org/org/presources.html for a comprehensive policy resource guide.

Back to the Project Inform WISE Words March 2005 contents page.