New Head of National AIDS Policy Sheds Light on Needle Exchange, National AIDS Strategy at Historic Meeting With Activists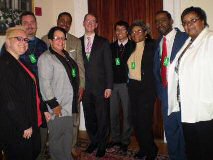 Advocates and Crowley (center) meet in D.C.
A major milestone took place on Wednesday, March 11, the 50th day of the Obama administration: Seven people living with HIV/AIDS from throughout the country met with the president's top domestic AIDS adviser, Jeffrey Crowley. In the first such meeting since Crowley was appointed, the activist delegation voiced their concerns about the lack of progress fighting the AIDS epidemic in the United States.
The meeting was prompted by a series of planned Stand Against AIDS: 50 Day Report Card rallies that took place on Wednesday in numerous U.S. cities. Activists from local chapters of the Campaign to End AIDS issued President Obama a report card detailing his progress on fighting AIDS.
"The meeting was very exciting," said Cassandra Ackerman, a person living with AIDS from Columbus, Ohio. "Jeff was very engaged, and he is so well-educated about issues surrounding HIV and AIDS."
Advertisement
When Crowley heard that the Obama administration was scheduled to receive "Fs" on its commitment to creating a National AIDS Strategy, he asked how the grade could be improved. Advocates asked for a meeting, as well as a time table for creating a
National AIDS Strategy
. Because of Crowley's outreach, the Obama administration grades were bumped up to As, Bs and Cs, and one incomplete. See the
report card
Chatting With Crowley
The HIV-positive advocates from Washington D.C., New Mexico, Ohio, Pennsylvania and Puerto Rico, as well as Housing Works Director of National Advocacy and Organizing Christine Campbell, spoke to Crowley for more than an hour about major issues of concern: ending abstinence-only education, lifting the needle-exchange funding ban, developing a National AIDS Strategy, and making sure Puerto Rico is included in any health care plan that the federal government develops.
Crowley told the group that the President's priority for him is to create a National AIDS Strategy. In a statement by Crowley that was read at the rally earlier that day he said:
"The President has also made a strong commitment to developing a comprehensive national AIDS Strategy that includes all federal agencies. The strategy will be designed to reduce HIV infections, increase access to care, reduce HIV-related health disparities, increase awareness, and promote greater investment for ending the HIV epidemic in the United States.
Over the coming weeks, we will consult broadly to develop a strategy. This will include examining how to ensure that a broad range of perspectives are heard and that key populations that are frequently overlooked are engaged in this process. Within a period of several weeks, we intend to announce a process for moving forward and present an initial timeline to guide the process."
Crowley also said that the administration is committed to maintaining the Ryan White CARE Act and how to incorporate it into the administration's health care reforms. Crowley has already met with the National AIDS Strategy working group and the AIDS Action Council.
Crowley spoke more tentatively about harm reduction policies. According to Campbell, Crowley said that lifting the ban on syringe-exchange funding is part of "political finagling" and as Obama's attempts to sidestep the culture wars he may put off taking action on some hot-button issues. He also defended the U.S. decision to reject the term "harm reduction" in a United Nations declaration being negotiated in Vienna. Crowley said the administration didn't sign on because language wasn't specific enough and could include the legalizing of heroin.
"We told him, 'That's your job. But our job is making sure the things that are important are pushed forward,'" Campbell said.
The Campaign to End AIDS also issued report cards on the efforts in D.C, New York and other cities throughout the country to fight AIDS. Read about their successful Wednesday rallies.