Former UN Official Steven Lewis Will Be Lead Speaker; Scholarship Applications Due March 26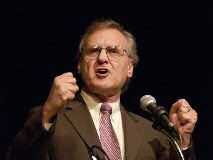 Lewis understands the importance of housing for people with AIDS
This June 3-5 in Washington, D.C., prepare for the link between AIDS housing, health care and prevention to strengthen with the North American Housing and HIV/AIDS Research Summit IV. While previous summits were a mostly-U.S. affair, this year will bring incredible input from our neighbors to the north, with Stephen Lewis, the former UN Canadian Ambassador and Secretary-General's Special Envoy for HIV/AIDS in Africa, delivering the keynote address.
Lewis won't be the only Canadian in attendance. The Ontario HIV Treatment Network (OHTN), which advocates for good HIV/AIDS policies in Canada, is joining the National AIDS Housing Coalition (NAHC) and the Johns Hopkins Bloomberg School of Public Health in sponsoring the three-day summit.
The 2009 summit been scheduled to coincide with the release of findings from at least three major studies of the relationship between housing status and HIV health outcomes and costs:
The Housing and Health Study, funded by the U.S. Department of Housing and Urban Development and the Centers for Disease Control and Prevention, specifically to examine the impact of HIV housing supports;
The Chicago Housing for Health Partnership, an examination of the impact of supportive housing for homeless persons living with HIV/AIDS and other chronic illnesses; and
Positive Spaces Healthy Places, the first longitudinal community-based study of the impact of housing on the health of people living with HIV in Canada.
At last year's summit, researchers presented the Chicago Housing for Health Partnership (CHHP) study that showed people with AIDS and other chronic diseases live longer when stably housed with intensive case management. This study gained nationwide attention in a Wall Street Journal article.
This year's summit will focus on educating participants to influence housing and health policy and practice in their communities. In addition to the regular sessions, the summit will be preceded by a half-day training institute designed to empower consumers of HIV/AIDS housing and services to participate more actively in the design, guidance and interpretation of research that affects them.
Scholarships for the summit are available for past and present consumers of AIDS housing and related services. E-mail or mail the scholarship application to the National AIDS Housing Coalition. The deadline has been extended until Friday, March 26.
Everyone else should sign up now to register before the early-bid deadline of April 24.
For more information about the summit, go to nationalaidshousing.org.