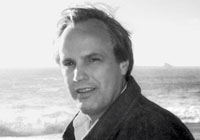 Martin Delaney
Last week we lost one of the true heroes in the response to AIDS. Martin Delaney, the founder and longtime Executive Director of the HIV advocacy/education organization Project Inform, died of liver cancer at his home near San Francisco on January 23, 2009. Marty Delaney was 63.
The world is truly a poorer place after the loss of Martin Delaney. Marty was on the front lines of the community's response to AIDS from the very beginning of the epidemic. Marty was smart, sweet and quick to move to the side of social justice in any issue he confronted. His vision, energy and un-ending commitment contributed to the development of some of the first effective treatments for HIV opportunistic infections.
In 1985 Martin Delaney founded Project Inform, a national HIV treatment information, public policy and advocacy organization based in San Francisco. Marty created Project Inform because people living with HIV and their loved ones needed access to information to help save their lives; because people who were not infected needed information to stay that way; and because people who cared needed help organizing advocacy campaigns to push the government to find a sense of urgency and a new approach to finding treatments for HIV/AIDS.
Advertisement
Through his work at Project Inform Marty was one of the founders of the community-based HIV research movement and helped to ensure that HIV treatment education becoming widely available to patients, medical providers and anyone who cared worldwide.
He led in the movement to accelerate Food and Drug Administration approval of promising drugs and was a key player in the development of today's widely used Accelerated Approval regulations and Parallel Track system for providing access to experimental drugs to seriously ill people prior to formal FDA approval.
Mr Delaney was a member of the National Institute of Allergy and Infectious Diseases (NIAID) AIDS Research Advisory Committee from 1991 to 1995, served on NIAID's National Advisory Allergy and Infectious Disease Council from 1995 to 1998. On January 19 2009, Mr. Delaney received the NIAID Director's Special Recognition Award for "extraordinary contributions to framing the HIV research agenda."
In recent years, among many other activities, Mr Delaney led the Fair Pricing Coalition to improve access to HIV treatment, and advocated for an aggressive research agenda to find a cure for AIDS.
Of Marty's passing, our mutual good friend Larry Kramer (ACT UP and GMHC Founder) said: "He was a great, great, great person. Every single treatment for AIDS is out there because of activists like Marty and Project Inform. I shall miss him very much. He was a dear friend and fellow fighter. He was a phenomenal leader, a brilliant strategist, and an indefatigable caretaker of us all.
For further information about Martin Delaney or Project Inform, please contact Ryan Clary at 415-558-8669 or rclary@projectinform.org.