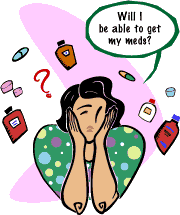 The crisis in providing treatment access to all who need it reached a new peak in early April when it was announced that the number of people on waiting lists for the AIDS Drug Assistance Program (ADAP) has gone from 791 to 1,263. ADAPs provide HIV treatment to low income, uninsured and underinsured people with HIV/AIDS.
The program has faced a financial crisis for the past few years, with more states unable to meet the needs of those it serves. According to the National Alliance of State and Territorial AIDS Directors (NASTAD), there are currently nine state ADAPs with waiting lists (Alabama, Alaska, Colorado, Idaho, Kentucky, Montana, North Carolina, South Dakota, and West Virginia). Ten other states have indicated that they may need to have some kind of new or additional restrictions to their current ADAPs in the coming year. Those states include Alabama, California, Iowa, Missouri, New Hampshire, New Jersey, New Mexico, Oregon, South Carolina and Texas.
Advocates around the country are working hard to save this important program. In California, rallies have been held in San Francisco and at the State Capitol in Sacramento fighting a proposal to create a waiting list for the state's ADAP. Other grassroots efforts such as lobby days, letter-writing campaigns, and public testimony have been organized in many other states.
The story below is just one example of positive women advocating for ADAP. If you're interested in learning more about ways to get involved in ADAP advocacy, contact Ryan Clary at tan@projectinform.org or call 415-558-8669 x224.
Advertisement
Women Speaking up: Advocating for ADAP
One of my first experiences as an activist took place on Saturday, March 27, 1999, when a committed group of women, men and children took to the streets to let HIV-positive women and the people who love them know, "You are not alone!" For me, it was the beginning of fulfilling a fantasy of being part of the 60s. A time of rallies, marches and protests. I like the idea of people working together for a cause. It has always appealed to me. Before the day even happened, I was excited by the idea of being surrounded by so many women. It was great. There were about 75 of us. We were from a lot of different places spiritually, emotionally and physically, but we could still support each other and together build community for even more women. You would have had a difficult time finding anyone who didn't consider it a success, including me. Listening to the comments of women who participated, there was a feeling of sisterhood, community and wanting to communicate to everyone about AIDS.
Then in February of 2000, I reluctantly went to an advocacy training sponsored by Project Inform, Mothers Organizing Mothers (MOMs) and Women Organized in Response to Life-threatening Diseases (WORLD). I say reluctantly because at that time I had never done or thought about doing advocacy of any kind and the idea of it seemed very intimidating. But, I went anyway. At the training you could fill out an application to go to AIDSWatch, the national HIV/AIDS lobby days in Washington, D.C. I had no intention of applying ... me in D.C. ... crazy. But, I did anyway. About a week later I got a call ... I had been chosen to go to D.C. I was excited and terrified ... excited to have been chosen and terrified to have been chosen. I had about three weeks to prepare and panic for the trip and I did panic. But, I got on that plane and my life changed. I know that sounds dramatic but it's absolutely true. As terrifying as it was to fly alone across country and arrange for my transportation to the hotel in a city that I had never been, it was also the most empowering, confidence-building and rewarding experience of my life.
On the plane ride home I felt noticeably different. Not only had I conquered my fears but I had actively participated in one of the, if not the most important decision making systems in our country, the legislative process. I was fortunate enough to recognize that I was not the same person as when I left. After I returned home, I channeled the confidence I had gained from that experience into my personal life. The empowerment and strength I received from the advocacy training and my experiences lobbying in Sacramento and Washington, D.C. for the needs of people with HIV/AIDS has given me the courage and confidence to take charge of my life.
Since then I have used the skills I learned to advocate for the needs of positive women, including myself, in many ways. I joined my local Ryan White Planning Council, I co-chair a positive women's committee and I recently joined with Project Inform and the San Francisco AIDS Foundation to bring representatives from Santa Clara County to Sacramento to persuade the State Legislature to preserve the AIDS Drug Assistance Program (ADAP). When I first heard about the rally in Sacramento I knew I was going. I began mentioning it to my friends hoping to find someone to make the over two-hour trip with me. But, I began to see more and more people becoming interested. It was exciting. I really wanted to get as many women involved as I could. Having experienced the empowerment that comes from advocacy and knowing the impact it had on me I wanted to give other women the same opportunity. I also think that women bring strength, compassion and commitment that is so important.
It was a challenge to get women to attend. After all, women have families that always come first. I encouraged the women to bring their children. I felt it would be a wonderful opportunity for families to support the person who has given so much of herself for them, and we did have one woman who brought her son.
For me the experience was exciting. I was asked to testify before the Senate Budget Subcommittee. I was very nervous. I had never done that before. As I was waiting my turn to speak I was listening to the other speakers and furiously rewriting my speech. I wanted to say just the right thing and there was a moment where I wanted to turn around and run very fast in the other direction. But I didn't. When the time came I approached the podium and said what I wanted to say. Afterwards, I felt very proud of myself. I conquered my fear and spoke from my heart. And I will always know that whatever happens I stood up, spoke up, and was heard.