Young, Positive and Homeless
Winter 2008/2009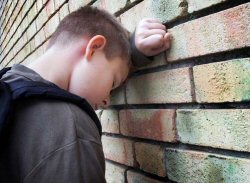 To understand the impact of homelessness on youth and HIV, we turned to two New York City experts with hands-on experience. Kate Barnhart is the former Director of Sylvia's Place, an emergency shelter for lesbian, gay, bisexual, and transgender (LGBT) youth, and Carl Siciliano is the Executive Director of the Ali Forney Center, which provides housing and supportive services to homeless LGBT youth.
How widespread is the problem?
Carl: Nationally, a 2002 estimate found close to 1.7 million homeless and runaway youth, most between the ages of 15 and 17. Just about 6% of them identified as LGBT. The New York City Council recently counted over 3,000 homeless youth in the city, and a third of them are LGBT. Homeless youth in general are at greater risk for HIV than their peers, and homeless LGBT youth are at particular risk. The National Coalition for the Homeless estimates that the rate of HIV infection is 3% to 20% higher among the homeless.
View Full Article
---
---
Comment by: Robert Moseley
(San Diego, CA) Thu., Apr. 23, 2009 at 5:33 am UTC
It's bad enough that a young person who has a history of abuse and neglect and then is preyed upon. It is known that the brain development of an adolescent is not fully developed until he/she is about 25.They lack the ability to make sound judgments, are more likely to be impulsive, have difficulty understanding cause and effect and lack foresight. This is not their fault. When this is compounded by abuse and neglect the effects to these youngsters can be catastrophic. Also fear of abandonment makes them dependent on those who sexually abuse them and this increases risk for HIV and other STDs. These kids need long term care not just a meal and out the door at 6 am
I believe that any person who engages in sexual behavior that is known to cause harm to another person and knows that they are infected before sexually abusing a young person is commiting a felony and should be sent to prison
Add Your Comment:
(Please note: Your name and comment will be public, and may even show up in
Internet search results. Be careful when providing personal information! Before
adding your comment, please
read TheBody.com's Comment Policy
.)