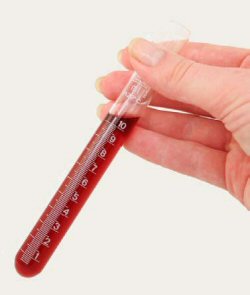 Much of today's medical care depends on a steady supply of blood from healthy donors. Despite shortages in the nation's blood banks, the Food and Drug Administration (FDA) continues to adhere to its ban on male donors who have sex with men. Under FDA guidelines, a man who has had sex with another man (MSM) since 1977 is permanently ineligible to donate blood.
The ban on MSM blood donors, enacted in 1985, is a holdover from a time when panic and discrimination drove health policy. In the twenty-four years since the ban was enacted, scientific knowledge on blood screening and assuring the safety of transfusions has grown significantly. Thirteen tests (11 for infectious diseases) are performed on each unit of donated blood; these tests include screening for Human Immunodeficiency Virus (HIV). In December 2008, the FDA approved a new blood screening test that can even detect HIV-2, another strain of the virus which is uncommon in the U.S. In years prior most HIV testing and screening mechanisms were not sophisticated enough to detect HIV-2. This recent development is further indicative of scientific progress, and yet the blood ban remains.
In April 2008, Representative Sam Farr from California called on the FDA to reassess its policy on this discriminatory ban, adding that, "The science doesn't seem to support that policy decision." This comes after a petition by the American Association of Blood Banks, America's Blood Centers and the American Red Cross to the FDA to repeal its prohibition. The groups also suggested reducing the severity of the ban, calling for a 12-month deferral of blood donations after sexual contact among men. Yet the FDA will not reverse the policy. According to its logic, the risk of accepting blood from a gay man, even one who is totally monogamous or has been celibate for ten or more years, is too great.
Advertisement
The cost of discrimination is high. Less than 5% of healthy Americans eligible to donate blood actually do so. In 2007, blood supply was at a five-year low in New York. In California, officials in one school district have recently indicated that they may end blood drives in city schools if students are compelled to disclose information about their sexual activity. Many gay men have expressed their discomfort during workplace blood drives, where they are forced to either disclose personal information or be perceived as unsupportive of the blood drive. While this policy stigmatizes gay and bisexual men, in fact society as a whole pays the price.
Another example of an outdated and discriminatory measure is the HIV travel and immigration ban. The ban currently bars HIV-positive noncitizens from entering the U.S. -- even for a stopover. The ban also disqualifies HIV-positive noncitizens living in the U.S. from lawful permanent residence (commonly known as a "green card") except in the most limited circumstances. People denied a green card because of their HIV status confront a dilemma: go "home," where they often will not have access to effective HIV treatment, or violate U.S. law by remaining here where treatment is available and where they can hope to extend their lives.
In early 2008, advocates worked to include repeal of the statutory HIV entry ban as an amendment to the reauthorization of the President's Emergency Plan for AIDS Relief (PEPFAR). PEPFAR provides funding to countries with high HIV prevalence rates, is widely popular among politicians on both sides of the aisle, and was touted as a success of the Bush administration. PEPFAR reauthorization was signed into law in July 2008 and included language to repeal the entry ban. While the 1993 statute was repealed, however, the 1987 regulation banning entry of HIV-positive persons remains on the books. Repeal of this regulation, the final step needed to end the ban fully, has not yet been accomplished.
During his presidential campaign, Barack Obama confirmed his support for repeal of the HIV travel and immigration ban in response to a survey sent by AIDSVote.org. While key officials in the Bush administration indicated they were acting to repeal the regulation, HHS declined to make the rule change before Bush left office. We urge the Obama administration to move quickly to start a rule-making process that will amend the regulation and fully lift the HIV travel and immigration ban.
Want to read more articles in the Winter 2008/2009 issue of Achieve? Click here.