Obama Makes "Phenomenal" Pick to Oversee AIDS Policy -- but Crowley Can't Do It Alone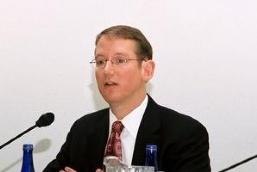 Crowley: Obama's new AIDS go-to
AIDS advocates are uniformly delighted by Obama's appointment of longtime Medicaid and Medicare guru Jeffrey Crowley as director of the Office of National AIDS Policy. Crowley's appointment means that AIDS care and people with other disabilities will have a voice in the White House as the health care reform agenda and a national AIDS strategy is developed.
"I think he's a phenomenal choice," said Housing Works Vice President of National Advocacy and Organizing Christine Campbell.
As Obama's top advisor on HIV/AIDS issues in the Domestic Policy Council, Crowley will report to Obama's top domestic adviser Melody Barnes, and will serve as the administration's point person on HIV/AIDS policy and the development of disability policies.
Advertisement
Why Crowley's Awesome
Crowley is not HIV-positive but he is a veteran of the HIV/AIDS community, including six years as deputy executive director for programs at the National Association of People with AIDS (NAPWA). He will be leaving a position as a Senior Research Scholar at Georgetown University's Health Policy Institute and as a Senior Scholar at the O'Neill Institute for National and Global Health Law, Georgetown University Law Center. A former Peace Corp volunteer and high school science teacher, he is described by those who have worked with him as a fantastic resource as a numbers cruncher and an intellect who understands the nitty-gritty of policy and government.
"He has a good grasp of the bigger picture and really helped us coalition-build with other disability advocacy groups," said Andrea Weddle, a member of the Health Care Access Working Group. "He also happens to be the world's nicest guy."
Crowley was a member of the Federal AIDS Policy Partnership's HIV/AIDS Medicare and Medicaid Work Group for people with HIV/AIDS and has consulted for the Health Care Access Working Group. He has been an invaluable resource to advocates on complex policy issues including the Early Treatment for HIV Act, Medicare Part D and was instrumental with policy guidance for overturning Bush's CMS regulations.
"Consensus Builder"
In an arena overflowing with egos, Crowley has stood out for his ability to build consensus and work with the AIDS community. "The best part about Jeff is he's an incredibly hard worker," said Robert Greenwald, director the Treatment Access Expansion Project. "He's a consensus builder, and he's incredibly well-grounded in the community. He is one of the smartest people about health care reform. He'll work well inside the White House. The White House couldn't have made a better choice if it's going to provide meaningful change around health care reform."
Project Inform Director of Public Policy Anne Donnelly agreed. "He's amazingly capable of working with lots of different kinds of people. He's a real advocate and activist and fights against social injustice."
Even the president is adding on to the Crowley lovefest. "Jeffrey Crowley brings the experience and expertise that will help our nation address the ongoing HIV/AIDS crisis and help my administration develop policies that will serve Americans with disabilities," Obama said in a statement.
Crowley also spoke at the 2008 National AIDS Housing Coalition (NAHC) summit about the connection between housing and health care for people with HIV.
"He clearly understands the impact of housing as it relates to health outcomes of people living with HIV and AIDS," said NAHC executive director Nancy Bernstine. "I'm absolutely encouraged by this appointment."
Sending in Backup
While Crowley's knowledge-base has primarily been on entitlement programs, advocates are optimistic that Crowley will also stand up for evidence-based prevention policies and other issues important to combating the AIDS epidemic.
"He has a vision for how our health safety net can be more responsive for HIV, and I believe he has a comprehensive broad view about prevention topics," said David Munar, vice president for policy and communications at AIDS Foundation of Chicago, who has worked with Crowley for ten years. "I'm excited for him and I'm excited for us."
But despite Crowley's newfound status as an AIDS policy rock star, he's only one person. Although his boosters say Crowley will catch on quick to prevention policies, people with more of a prevention-focused background will be needed to round out the team.
"He may not have a profound track record on the prevention issues, but I don't think we could have had a better pick. We can't expect to get a jack of all trades," said Bill Smith, director of public policy at SIECUS, a comprehensive sex education advocacy group. "The White House has offered the money for four or five people to staff the office. That's good stuff for us. It gives us additional opportunity to find other amazing people to work on prevention issues."