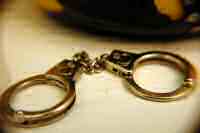 Mississippi shouldn't criminalize HIV
There was exciting -- and not so exciting -- AIDS news out of Mississippi last week. The state's House of Representatives voted 78 to 40 to implement a pilot program for the first-ever comprehensive sex education in Mississippi schools. But the House also voted nearly unanimously in support of a law that amends the sex offender code such that people who knowingly transmit HIV must register as sex offenders.
Both of these bills are headed to the Senate -- though advocates are hoping the nonsensical sex offender bill dies before it gets there.
Advertisement
Qualified Win for Comprehensive Sex Education
The House bill, which would start comprehensive sex education programs in school districts selected by the Department of Education, isn't perfect, so advocates are working to make the Senate version of the bill better. Some key flaws are that parents are allowed to opt-out of comprehensive sex education classes and the fact that boys and girls are going to be separated.
"We want boys and girls to be having these conversations with each other," said Valencia Robinson, organizer of AIDS Action in Mississippi.
The legislation would still be a major victory in Mississippi; just this January, it was announced that the state has the highest birthrate among teenagers in the nation.
Advocates from groups including AIDS Action in Mississippi, the ACLU of Mississippi and the Reproductive Freedom Coalition were able to defeat an amendment that would have taken the word "comprehensive" out of the bill.
"This is only the beginning, but we have most certainly reached a turning point," Shawna Davie of the ACLU of Mississippi wrote in a letter to supporters. "Three years ago we were fighting some of the most detrimental legislation in the country, now we are taking steps forward with more progressive legislation."
Legislating Stigma
The same House was less enlightened when it passed a bill (HB1079) requiring people who knowingly transmit HIV to register as sex offenders. AIDS advocates want this bill killed before it goes to the Senate. It is unclear how this bill will be enforced, and it stigmatizes all people with HIV and AIDS by labeling them as sex offenders. More importantly, it ignores the actual problems of how HIV is transmitted.
A 2006 study shows that although 95 percent of people with HIV never transmitted the virus , the vast majority of people with HIV transmit it before they realize they are infected. This is a reason to expand testing -- not to enact unscientifically based, stigma-promoting legislation.
For more information about these bills and what you can do to help, contact AIDS Action in Mississippi at 601-944-1403.