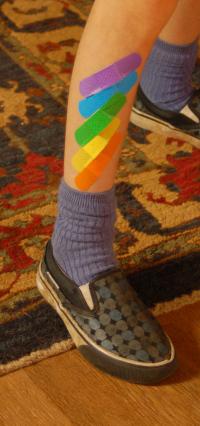 Fixing LGBT health requires more than just rainbow band aids
Putting pressure on Obama and Congress to address the critical healthcare needs of LGBT Americans, the National Coalition for LGBT Health has developed "Guiding Principles for Lesbian, Gay, Bisexual and Transgender Inclusion in Healthcare Reform." These principles will be sent to the Obama Administration as well as friendly Senators and Representatives. In order for your organization to sign on to these principles, please e-mail Felicia Thrower at felicia@lgbthealth.net with your organization's name as you would like it to appear.
See principles below:
Guiding Principles for Lesbian, Gay, Bisexual and Transgender Inclusion in Healthcare Reform
Advertisement
As Congress and the Obama administration begin to change the American healthcare system to ensure that all Americans have equitable access to the full continuum of health promotion, prevention and treatment services, we must also be able to effectively address the needs of distinct populations. For lesbian, gay, bisexual and transgender (LGBT) people, social stigma and systemic discrimination based on sexual orientation and gender identity have led to decades of obstructed access to adequate LGBT affirmative and culturally competent healthcare.
In order to begin to address these disparities, any healthcare reform must be fully LGBT inclusive. To begin to eliminate health disparities in the LGBT communities, healthcare reform must address and implement clear and guiding principles that are based on solid clinical standards integrated with a compassionate understanding of the healthcare issues facing this vulnerable population. In order to have effective and comprehensive healthcare reform, all legislative actions and governmental policy must fully embrace the LGBT community.
Historically, healthcare disparities in the LGBT community have been recognized by numerous federal agencies and working groups, including the following divisions of the U.S. Department of Health and Human Services (HHS): the Substance Abuse and Mental Health Administration (SAMHSA), Health Resource Service Agency (HRSA), Centers for Disease Control and Prevention (CDC) and National Institute of Health (NIH). The HHS Secretary's Advisory Committee of Healthy People 2020 has recognized the need to address the LGBT community for its health disparities and the need for special recognition in the healthcare system. Repeatedly, it has been published that being LGBT substantially impacts whether or not a person receives care and, when they do receive care, whether that care effectively speaks to all aspects of their lives.
LGBT health disparities must be thought of in context of multiple communities facing disparities since many members of the LGBT community are also members of other disparate communities. For example, an African American gay man will not only face disparities common to the African American community, but will also face those suffered by the LGBT community. In a broader sense, LGBT people who lack insurance, and who face other barriers of discrimination based on race, ethnicity, class or gender will need to have access to healthcare services that are sensitive to and inclusive of all of their issues and concerns. Any panels, programs or systems set up to focus on communities with health disparities must include LGBT concerns.
The following policy statements are provided for consideration in the development and full implementation of healthcare reform. The areas framed below are specific to the LGBT population, yet have application to heterosexual individuals, people of color, recent immigrants and nontraditional families; we believe these statements are critical for effective, comprehensive, compassionate, evidence based healthcare reform for the LGBT community. They are not listed in priority order, but are all important and many are dependent on each other.
Cultural Competency Must Be Mandatory and Practical: Providers in the healthcare system must fully understand and embrace cultural competency for all people. Universal access to healthcare will have little meaning for many LGBT people if they do not have the ability to see culturally competent healthcare providers. Too often, LGBT people are misunderstood, mistreated or even discriminated against by healthcare providers. There must be systematic efforts to remove healthcare provider biases. The federal government must provide training, funding, distribute best practices and awareness programs about LGBT people and their specific health needs. This is a necessary step for not only improving access, but also guaranteeing reliable, appropriate and culturally competent care.
Guaranteed Access to Care: While a new system will hopefully guarantee coverage, more most be done to make sure that the resulting healthcare is effective. Any form of healthcare that is regulated or monitored by the federal government must be required to be permanently LGBT inclusive. An oversight body or some other decision making power must be instituted so that access to healthcare and specific services are not summarily removed by anti-LGBT administrations or officials. LGBT individuals, like all individuals, must be able to count on culturally competent healthcare.
Furthermore, once there are legal and regulatory protections for LGBT people who disclose their sexual orientation and/or gender identity, they are more likely to be comfortable speaking to healthcare providers about sexuality and gender identity leading to improved care. This can lead to major progress toward more research on LGBT-specific health which would further awareness of existing LGBT health issues to be tackled and expand educational programs (sexuality
education in schools, for example).
Clear Definitions in Policy and Legislation: Regulatory, programmatic, policy and/or legislative definitions must be carefully crafted in order to increase access to healthcare for the LGBT community. For example, the terms family, parent and spouse often exclude LGBT families due to such families' lack of access to marriage rights. As long as the federal government's definition of families is exclusive of LGBT populations, same-sex partners who have entered into domestic partnerships and civil unions will not be able to access healthcare through programs designed to cover families, such as the State Children's Health Insurance Program (SCHIP). We encourage Congress, all agencies and any body overseeing healthcare reform to consider implementing the definition of family under existing federal sick leave regulations for federal employees, which reads:
Family member means the following relatives of the employee:
(1) Spouse, and parents thereof,
(2) Children, including adopted children and spouses thereof;
(3) Parents;
(4) Brothers and sisters, and spouses thereof; and
(5) Any individual related by blood or affinity whose close
association with the employee is the equivalent of a family
relationship.
No Exclusions on Diagnoses of Pre-Existing Conditions: LGBT people are significantly more likely to have a diagnosis leading to a pre-existing condition, which impacts their healthcare coverage. This is often due to reluctance of LGBT persons to access early diagnostic services for fear of anti-LGBT stigma or discrimination, which in turn leads to late treatment, and higher prevalence of disease. For many transgender people, the only access to care is through a diagnosis of Gender Identity Disorder, but the diagnosis itself may prompt insurers to exclude coverage for any treatment associated with the disorder. All diagnoses of pre-existing conditions can present substantial barriers to receiving insurance and healthcare.
Healthcare Coverage for Transgender Inclusion Is Mandatory: Under the current healthcare system, insurance companies routinely refuse to insure and provide many services to transgender individuals under the "transgender exclusion" clause. This allows insurance companies to deny coverage for any medical expenses related to transitioning.ii However, it would only cost a largescale insurance program about $0.05 per insured to cover these transgender health benefits. Furthermore, insurance companies can neglect covering medical attention and procedures that are deemed necessary for the individual's sex assigned at birth (especially if it is inconsistent with one's gender identity). One instance is a female to male (FTM) transsexual who is registered as male with his insurance company should, if required, have coverage for his gynecological expenses as well. The exclusionary language of this clause is often unfairly expanded to include coverage for non-transgender related medical expenses. Transition-related care should be a basic benefit.
Data Collection Tools Must Be Appropriate for All Populations to Facilitate Proper Planning, Clinical Care and Program Evaluation: Historically, health data collection efforts have not included the types of data necessary to identify LGBT populations. As a result, there is an acute lack of information about the healthcare needs of LGBT people. Such a lack of information often results in a lack of appropriate services provided to LGBT people. Consequently, any nationally used forms must be inclusive of diverse sexual orientations and gender identities. For example, forms must include the ability to choose a same sex partner versus a spouse or to choose transgender under any demographic gender questions or for an individual to name parent 1 and parent 2 as opposed to mother and father.
Adequate Assurances That Health Information Technology Will Assure Privacy and Address the Unique Health Care Needs of Transgender People:Heath information technology must have adequate safe guards in order to protect patients' privacy. For example, while in some health service settings, a person's sexual orientation and gender identity is relevant, in some situations it is not.
Although information about an individual's sexual orientation and gender identity should be collected as part of his/her routine medical history, unwilling and/or unprotected disclosure in medical records could harm an LGBT person's access to health care. For instance, an LGBT person may avoid necessary health care if s/he is concerned that information in electronic medical records will not be kept confidential. Health information technology provisions must also ensure that health care providers do not use information kept in electronic medical records to discriminate against LGBT people, by refusing to provide certain services, for example, or by providing substandard care. In addition, any standardized form of health information technology must allow transgender people a clear way in which to permanently change their gender marker and provide privacy for nongender matching health service needed that would publicly disclose confidential information, i.e. a transgender woman, living as a woman, who still is in need of a prostate exam by her primary care provider.
Reproductive Healthcare Services Must Support all Methods of Conception for All Patients: Any coverage of family planning services must allow for alternative methods of family creation. This can include invitro fertilization or surrogacy.
The HIV/AIDS Epidemic Must Be Addressed: As noted above, gay men (especially gay men of color and youth), and transgender women are at particular risk for HIV/AIDS. For that reason the Administration should develop a National AIDS Strategy designed to lower HIV incidence, increase access to HIV care and reduce racial disparities in the epidemic among LGBT populations. It should also integrate HIV with STD, viral hepatitis and TB prevention and treatment programs wherever possible.
Mental Health Parity Must Be Included: As mentioned above, LGBT people are significantly more likely to suffer from mental health concerns or substance abuse. Any healthcare reform must have fully inclusive mental health coverage.In addition, coverage for physical and mental health services should be equitable, and parity should extend to service limits, maximum spending caps, and costsharing levels.
For your organization sign on to these principles, please email Felicia Thrower at felicia@lgbthealth.net with your organization's name as you would like it to appear. Please email no later than 5 PM EST on Friday, February 20th.