BREAKING RESEARCH FROM CROI 2009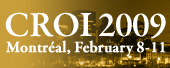 Articles and podcasts continue to flood in from TheBody.com's coverage of CROI 2009, the 16th Conference on Retroviruses and Opportunistic Infections. Highlights from our latest batch of breaking research appears throughout this newsletter. Visit our CROI 2009 home page throughout the month as we add more highlights!




Conference Roundup: A Lively Discussion of CROI 2009's Headlines
We can look at study results 'til we're blue in the face, but what does all that research actually mean for the future of HIV treatment and prevention, not to mention the everyday lives of HIV-positive people? Join HIV clinician/researcher Pablo Tebas, M.D., and a pair of prominent HIV treatment advocates, Rob Camp and Bob Munk, as they chat with TheBody.com's editorial director Bonnie Goldman about some of the big stories coming out of CROI 2009. Available as an online article and podcast!

High Adherence to HIV Meds May Become Less Essential the Longer Someone Maintains an Undetectable Viral Load
Just how strict is the rule that you should take your HIV meds 95 percent of the time? Although it's still smart to adhere to your HIV meds as much as possible, signs are emerging that extremely high adherence isn't always critical. David Bangsberg, M.D., M.P.H., presents new research suggesting that people on modern HIV treatment who have maintained an undetectable viral load for a full year may be able to keep their viral load down even if their adherence is as low as 70 or 80 percent. (CROI 2009 coverage from The Body PRO)




HIV Drug Resistance Rates Suddenly Plummet in San Francisco
For years, HIV drug resistance was becoming more and more common among newly infected HIVers in San Francisco. Researcher Vivek Jain, M.D., was all set to present a study at CROI 2009 detailing this upward trend -- but then, as he crunched the numbers for 2008, he found that the trend had suddenly, dramatically reversed. (CROI 2009 coverage from The Body PRO)



New Prezista Dose Approved for Children Ages Six and Up
A new formulation of Prezista (darunavir) has been approved in the U.S. for use by HIV-positive children. The new, 75-mg formulation of the drug is made specially for kids with HIV who are at least 6 years old. Although preventing mother-to-child HIV transmission has been a major success story in the U.S., more than 2,500 U.S. children are estimated to be living with HIV. (Press release from Tibotec Therapeutics)
COMPLICATIONS OF HIV & HIV MEDS

HIV Hardens Arteries as Much as Smoking and Diabetes, Large Study Finds
HIV itself can be as dangerous for a person's heart health as smoking cigarettes or having diabetes, according to new research. Carl Grunfeld, M.D., Ph.D., discusses new findings that suggest HIV disease is a major risk factor for atherosclerosis, or hardening of the arteries; in fact, he says, if you compare the heart risks associated with HIV to the heart risks associated HIV meds, HIV itself is far more dangerous. (CROI 2009 coverage from The Body PRO)




Brain Impairment Is Less Severe, but Still Common, Among HIVers in the Modern HIV Treatment Era
There's some good news and some bad news on the brain front, Igor Grant, M.D., says. The good news is that AIDS-related dementia has become quite rare in the developed world, thanks to modern HIV treatment. The bad news is that more mild forms of brain impairment are still common among people who have had HIV for a long time, even if they're taking effective HIV medications. (CROI 2009 coverage from The Body PRO)
Help Me Help My Newly Diagnosed Best Friend (and Ex-Husband)
(A recent post from the "My Loved One Has HIV/AIDS" board)

I received a call from my ex-husband/best friend that he is HIV positive. He has been positive for about six months and has been afraid to tell me. I have been crying non-stop, we have three beautiful children -- 18, 17 and 15. The 17-year-old knows, but the other two do not. ...

Everything I have read so far talks about life expectancy and health concerns for people who are proactive in taking care of themselves. He told me that his levels are in a good range, that he is going to a doctor and that he does not need medications. But how are his bar hopping and late-night life habits going to contribute to his health? I really want someone to help me understand so that I can be a support for him and my children.

-- proxywife

Click here to join this discussion thread, or to start your own!

Early Expiration May Explain Unusually High False-Positive Rates on Rapid Oral HIV Tests, Study Finds
Experts have been mystified by sporadic "outbreaks" of false-positive results in some cities where many people are given OraQuick's rapid saliva HIV test. But Shelley Facente, M.P.H., and other researchers in California may have finally found an explanation: The closer these tests get to their expiration date, the more likely they apparently are to screw up. (CROI 2009 coverage from The Body PRO)




For the First Time, Human Trial of Vaginal Microbicide Gel Finds Some Level of HIV Protection
In what appears to be a first in the microbicide field, a vaginal HIV-killing gel known as PRO 2000 actually appeared to work in human beings. Salim Abdool Karim, M.D., Ph.D., reveals that women who used PRO 2000 were about 30 percent less likely to contract HIV than women who used a placebo gel, though the results failed to reach statistical significance. (CROI 2009 coverage from The Body PRO)
Check out TheBody.com's This Positive Life series and get to know people like Ahmad, a young, gay man living with HIV in the U.S. -- and whose heritage is part Hispanic, part Arabic.
HIV IN THE NEWS
HIVer in Wisconsin Sues After Being Refused Surgery Due to Status
It's long been established that doctors can safely perform surgery on HIV-positive people; they can protect themselves from HIV using the same precautions used in any medical procedure. But shockingly, in 2009 there are still stories in the U.S. like that of Melody Rose. Rose, an HIV-positive woman from Wisconsin, was recently refused a necessary gall bladder removal when the surgeon learned of her HIV status. With the help of Lambda Legal and the AIDS Resource Center of Wisconsin, she's suing the doctor for discrimination. (Press release from Lambda Legal)



Contrary to Long-Held Belief, SIV May Be Deadly for Monkeys
Experts have assumed for years that SIVcpz, the monkey-borne precursor to HIV, was harmless in monkeys. However, new findings suggest that SIVcpz (short for simian immunodeficiency virus -- the "cpz" is the name of one specific strain of SIV) may be as deadly for chimpanzees as untreated HIV is for humans. Results from a large, long-term study in Tanzania found that SIVcpz may be as common among chimps as HIV is among humans in hard-hit African countries -- and that SIVcpz-positive chimps were about 15 times more likely to die than their SIVcpz-negative counterparts. (Article from ScienceNOW Daily News)

Tell President Obama: No More Money for Abstinence-Only-Until-Marriage Programs

The federal government has allocated more than $1.3 billion for abstinence-only-until-marriage programs. Yet research shows that teaching comprehensive, age-appropriate sexuality education does not increase rates of sexual activity. USA Positive Women's Network is calling for people in the U.S. to urge President Barack Obama to eliminate funding for these programs. The network has prepared a message for the president, which you can edit and then send to him via e-mail or letter.


Support the Call for a National U.S. Strategy to Fight HIV

Now that U.S. President Barack Obama has begun his term, one of the major priorities for many HIV activists is urging him to create a nationwide strategy to fight HIV within the U.S. Join the call by signing amfAR's online petition and letting your Congressional representatives know how you feel!


Push for the Freedom of Two Newly Imprisoned Iranian HIV Specialists

After months in detention, the Alaei brothers -- Iranian HIV specialists -- have been sentenced to prison in Iran for allegedly plotting to overthrow the country's government. Join the more than 3,000 people who have signed a petition calling for the Alaeis' freedom, write a letter to the Iranian embassy in the United States or put pressure on your Congressional representatives.


Speak Out Against the Jailing of HIV Activists in Senegal

The eight-year prison terms recently handed down to nine gay men in Senegal have many people throughout the world fuming. To speak out against this injustice, you can contact Senegal's embassy in the U.S. by calling 202.234.0540 or getting in touch with your Congressional representatives.