BREAKING RESEARCH FROM CROI 2009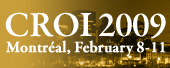 The most important HIV medical conference of the year took place this week in Montreal, Canada -- and TheBody.com was there to cover it! Visit our CROI 2009 home page throughout the month as we post dozens of articles, one-on-one podcast interviews and videos examining the biggest stories from the 16th Conference on Retroviruses and Opportunistic Infections, better known as CROI 2009.

Here's a taste of some of the conference highlights so far:




Ever Upward: "When to Start" Debate Turns to CD4 Count of 500
Dueling studies -- one presented by Mari Kitahata, M.D., the other by Jonathan Sterne, M.D. -- offer strikingly different views on the benefits of starting HIV treatment when your CD4 count is above 500. Dr. Kitahata argues that it can have a huge benefit in terms of long-term survival; Dr. Sterne says it may not help at all. However, both researchers agree that it's now certain that it's a good idea to start treatment before your CD4 count drops below 350.




Can Specific HIV Meds Increase Your Heart Attack Risk? New Results Find Another Possible Culprit
Et tu, Kaletra? The latest results from the massive, ongoing D:A:D study suggest that Kaletra (lopinavir/ritonavir) should join Ziagen (abacavir) and the protease inhibitor class on the list of HIV meds that can increase heart attack risk -- provided someone already has other risk factors, such as smoking, high cholesterol and diabetes. In this interview, D:A:D researcher Jens Lundgren, M.D., and Jeff Berry, the editor of Positively Aware magazine, join us for a discussion about the results and a look into why these drugs might put the heart at risk.




The Next Stage of HIV Eradication: Finding the Secret Reservoirs
HIV treatment, when it works as planned, completely stops HIV from replicating in a person's blood, says Robert Siliciano, M.D., Ph.D. In that sense, today's HIV meds are a smashing success. But there's one problem: HIV doesn't just live in the blood. Even when HIV meds are working perfectly, there may be a trickle of HIV that still flows out of reservoirs lurking throughout the body. As Dr. Siliciano explains, one of these reservoirs is known, but there's at least one whose identity remains a mystery.




HIV Can Appear in Semen Despite Years of Effective HIV Treatment, Research Suggests
A pair of studies say "not so fast" to the idea that men on HIV meds who have an undetectable viral load and are in a monogamous relationship have zero chance of passing HIV to their partner during unprotected sex. Findings presented by Prameet Sheth and Anne-Genevieve Marcelin, Pharm.D., Ph.D. (in the photo on the left), suggest a man can occasionally have a detectable viral load in his semen despite months or even years of consistently having an undetectable viral load in his blood. (Also, coming soon: a one-on-one interview with Prameet Sheth about his study and its significance.)




Why Expanding Global HIV Treatment Access May Face an Uncertain Future
HIV treatment access has taken incredible strides in the developing world over the past several years, with millions of people gaining access to HIV meds. But major obstacles lie ahead as the world attempts to continue that trend, explains Alex Coutinho, M.D. Political snags are only part of the problem, Dr. Coutinho warns: The more we try to expand treatment access, he says, the more we're going to enter regions where it's increasingly difficult to reach the people who need help.
HIV IN THE AGE OF OBAMA
Pot for Pain: Is It Legal or Not?
U.S. President Barack Obama said during his campaign that the use of medical marijuana can be "appropriate" and that he would not use Justice Department resources to interfere with state laws allowing its use (contrary to the approach of the Bush administration). Several states, including California, allow doctors to prescribe medical pot to people with advanced HIV, cancer and other conditions. So why, asks Los Angeles Times columnist Patt Morrison, did the Drug Enforcement Agency (DEA) raid two medical marijuana dispensaries in Los Angeles last week? Obama seems to respect California's legalization of medical marijuana; however, Morrison writes, someone needs to make sure the DEA gets that memo. (Op-ed article from the Los Angeles Times)

To find out what you can do to help reform medical marijuana policy, check out the Medical Marijuana Project's federal action page.



Controversy Erupts Over Obama's Possible Pick for New CDC Chief
Will New York City's health commissioner, Thomas R. Frieden, become the new director of the U.S. Centers for Disease Control and Prevention (CDC)? There's lots of talk about this in the HIV community -- and not all of it is good. In fact, one leading New York HIV organization, Housing Works, has already urged the Obama administration to pick someone else. However, in a flurry of comments on a recent New York Times blog post, many other HIV advocates rallied to sing Dr. Frieden's praises. (Blog from The New York Times)
This Positive Life: A Young, Gay, HIV-Positive Hispanic/Muslim-American Tells His Story
Since he was diagnosed in 2007, 23-year-old Ahmad has had many ups and downs. But as he explains in the latest episode of TheBody.com's This Positive Life podcast series, Ahmad feels many of those life changes have been for the better. Being gay and HIV positive is frowned upon in many Hispanic and Muslim communities, and Ahmad faces unique challenges because he's part of each. However, he's found a supportive community in San Francisco, and his diagnosis has inspired him to take better care of his health. (Interview from TheBody.com)
Despite Some Legal Protections, Workplace HIV Discrimination Continues in U.S.
Even today, some U.S. employers believe they can get away with firing someone simply because she or he has HIV. However, U.S. state and federal laws are usually on the HIVer's side, not the employer's. "The problem isn't that we don't have laws," says Rose Saxe of the American Civil Liberties Union's AIDS Project. "It's that employers haven't learned they need to stop making ill-informed decisions about what it means to have HIV." Saxe is one of three HIV legal experts who weighs in on HIVers' employment rights in this informative article. (Article from Edge Boston)

Know your rights as an HIV-positive person in the U.S. workplace! Browse TheBody.com's index of articles or get your questions answered at our "Ask the Experts" forum on workplace and insurance issues.
Diary of Infidelity: I've Cheated on My Man
(A recent post from the "Gay Men" board)

My husband and I are both positive. I've betrayed not only him but myself, especially since I don't believe in cheating. ... [But] I found myself trying to fill a void and not deal with my issues. Instead I found myself looking to sex to make me feel better, which isn't healthy considering my health status. I created an account online on a sex site with false pictures, chatted with people and met up with them without disclosing my status.

I feel like a monster, in a sense, for not being honest to them, and also not being honest with my husband. Now we are trying to work things out, but every day is a struggle. I now find myself trying to make sense of it all. I pray that I can find solace with everything that happened and also hope my husband can find strength to be with me still.

-- chaze951

Click here to join this discussion thread, or to start your own!
This Valentine's Day, send your friends a virtual condom and raise HIV awareness! Yep, New York City's extremely successful, subway-themed condom campaign is going viral: They're using the social networking site Facebook to give people a way to send e-condoms to others. Read this press release to learn more.
HIV TRANSMISSION & TESTING
Injection Drug User? Protect Yourself With These Safe-Injection Tips
It's common knowledge that, if you're going to inject recreational drugs, you should use clean needles to protect yourself against HIV, hepatitis and other diseases. But did you know that it takes at least two minutes soaking in bleach for hepatitis B virus living in a syringe to die? In this quick-and-easy guide to infection-free injection drug use, you can learn much more about how to sterilize your syringes and the area where you inject, as well as how to get clean equipment when you need it. (Article from San Francisco AIDS Foundation)

A good place to get clean equipment, or "works," for injection drug use is a needle-exchange program or other harm reduction program. To learn more about such programs, browse TheBody.com's collection of harm reduction resources. You can also scan these listings to find a needle-exchange program in the U.S., Australia, Canada or New Zealand.



Pregnancy and HIV: The Basics
If you're an HIV-positive woman and you're thinking of having a baby, what steps do you need to take to maximize the chances your child will be HIV negative? Check out this fact sheet for a rundown of the basic information you need to know to keep your baby and yourself healthy not only during pregnancy, but also after your baby is born. (Fact sheet from AIDS InfoNet)
Cancer Trends in HIV, Then and Now
Since the earliest years of the HIV pandemic, HIV and some types of cancer have gone hand in hand. Some of the most telltale "signs" of advanced HIV during the 1980s and early 1990s were forms of cancer, such as Kaposi's sarcoma and non-Hodgkin's lymphoma. Thanks to effective HIV medications, dramatically fewer people develop -- or die from -- these cancers than they used to. But cancer remains a big health issue for some people with HIV, and these days the types of cancers HIVers get are not the same as the ones that were so common during the '80s and early '90s. Check out this overview for a look at how cancer trends have changed among people with HIV over the past 30 years. (Article from Canadian AIDS Treatment Information Exchange)