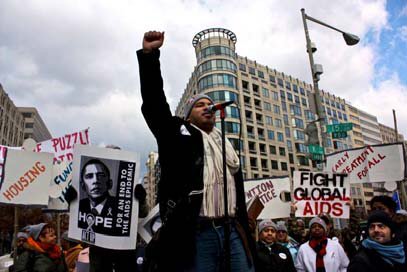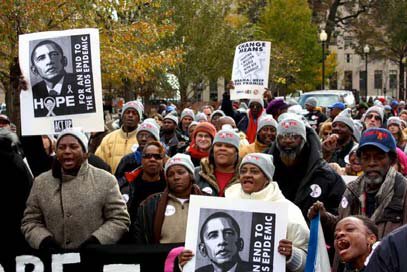 Photos by Kaytee Riek
After years of neglect of domestic HIV issues by the Bush Administration, the AIDS community was eager to spring into action during the transition to the Obama/Biden Administration.
CHAMP was honored to be one of the organizers of the November 20, 2008 rally in Washington DC known as "100 Days to Fight AIDS." The action highlighted domestic and global policies that should be early priorities for the new leadership.
We have served on the Federal AIDS Policy Partnership (FAPP) Transition Working Group. We also assisted in the creation of a binder of Recommendations for the Presidential Transition Team, coordinated by AIDS Action, that outlines specific actions that the new Administration should take to address the domestic epidemic.
Advertisement
We joined about 100 other activists and advocates on a teleconference with three transition team members, in which CHAMP organizer Waheedah Shabazz-El asked for action on access to condoms and prevention education in the Federal prisons. An audio file of the entire call is available
here
.
With the FAPP Transition Working Group, we collaborated on a letter outlining "structural issues that have been part of the problem in addressing the epidemic and to provide our collective recommendations for consideration as your Administration develops its HIV/AIDS agenda including the creation of a National AIDS Strategy (NAS)."
Among these recommendations are the restoration of a high level office with direct participation in White House budgetary and policy priority setting functions, including significant restructuring of the current Office of National AIDS Policy (ONAP), preferably under the purview of the Domestic Policy Council and with the scope of leadership and authority to be developed along the lines of the process followed in the implementation of the Office of the Global AIDS Coordinator. This revitalized office would:
Have the lead coordination role over the development and implementation of the NAS, and possess coordination and budgetary authority across all relevant departments and agencies within the federal government.
Be led by a person with a deep understanding of HIV/AIDS as a disease, the economic and social determinants that impact HIV beyond the current funding silos, and a proven track record of working effectively with the most severely impacted communities. This person would work with a comprehensive and functional team operating with transparency.
Given current fiscal constraints, the FAPP letter recognizes that Congress has included in its FY09 appropriations bill $1.4 million for development and implementation of the NAS. The letter also recommends, however, that advisory bodies currently engaged in HIV/AIDS related matters should be reviewed for function, community accountability, and utility. It also encourages the team to consider restructuring or combining current bodies, including the President's Advisory Committee on HIV/AIDS (PACHA), and the CDC/HRSA Advisory Committee on HIV/AIDS and STD Prevention and Treatment (CHAC), and to assess the need across all agencies for other potentially duplicative advisory bodies.
Lastly, the letter strongly recommends that any new or restructured federal HIV/AIDS advisory bodies include people living with HIV, representatives of disproportionately affected populations, and individuals representing the regional and geographic diversity of HIV disease throughout the nation.
(We do feel it is important to note, however, that the Coalition for a National AIDS Strategy is asking for the NAS be developed by a fully collaborative government/stakeholder panel not a traditional Federal advisory body like PACHA. Thus, it must include leaders from all government agencies engaged in the response to AIDS, along with stakeholders from provider and advocacy groups, academia, and people living with and at risk for HIV/AIDS.)
In some ways, CHAMP was a child of the Bush era. We were an organization founded to combat that administration's concerted attacks on science and prevention. We worked across the AIDS sector to demand that policies not only move past the mean-spirited ideology of the administration but also push further than they ever have in tackling HIV as the consequences of social and economic injustice.
Now, we are prepared to press forward ambitiously, even as hope for change is tempered by the realities of worldwide economic crisis. The policies needed to put our country on sound footing -- whether they be jobs creation, housing access or health care for all -- are core HIV/AIDS issues. Our community must be prepared to engage in these debates even as we develop new strategies for bringing HIV prevention, treatment and care to everyone in need.
The potential of a more conducive political environment brings opportunities and challenges for fundamental reform. We look forward to working with our allies to move beyond vested interests and historical impediments toward a comprehensive national AIDS strategy that can shift paradigms and save lives.