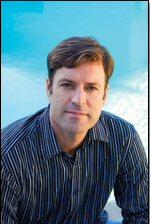 On a recent trip to Chicago, my hometown, I was transported back to a time 20 years ago when I believed that anything was possible. At 18, I was smart-alecky kid with a punk haircut, taking college classes by day, and by night clubbing at Smart Bar and the Metro. Only two years later, I was standing between the swinging doors at the Jewel on a pay phone when I learned that I had the virus that causes AIDS. At that moment, my life took an unexpected turn.
In the 1980s, the outlook for AIDS was grim and the gloom wasn't just a statistic. I watched my friends die. In time, my own health weakened as well. Starting with rashes and skin problems and then giving way to a host of blood disorders and unrelenting fatigue -- not a place you want to be at the age of 25.
But what I lacked in health, I made up for in youth. I was spunky, idealistic, and believed that we -- patients, doctors, scientists, and researchers -- if we truly had the intention, we could cure AIDS. I know that sounds idealistic, but we needed inspiration at the time. Like my ACT-UP comrades, idealism is what kept me going when there was little hope.
Advertisement
I had always wanted to write. After my diagnosis, I knew exactly what I would be writing about and dove into the topic. I scraped together enough non-profit money to launch a magazine called
Plus Voice
. My vision was a lifestyle magazine for people with the virus, the first of its kind. This was long before there were any pharmaceutical drugs and without advertising dollars to keep it alive,
Plus Voice
was forced to close shop.
In 1994, people were still hysterical about AIDS and I was publicly open about my status. I felt blacklisted both socially and professionally until Positively Aware hired me as an associate editor. Covering HIV treatment during its infancy, I often took what I learned on the job and applied it to my own life. I wrote about AZT and took it every day, back when it was offered as a single drug at toxic doses.
Two years later, I was the editor of Positively Aware when the undeniable success of the combination therapy AIDS cocktail made headlines. At the highly publicized 1996 World AIDS Conference in Vancouver, Dr. David Ho predicted that the eradication of AIDS was near. The war seemed to be over. Only years later would we learn that this conquest was akin to knocking down a statue of Saddam Hussein and proclaiming victory over Iraq.
With these new advances in HIV therapy, the drug companies flourished. A top pharmaceutical public relations agency was able to woo me away from Positively Aware. I'm only human and the money was irresistible. Suddenly, I found myself giving PowerPoint presentations to pharmaceutical executives, counseling them on how to make the most money from the HIV market. Honestly, the work was dirty, never felt right, and eventually I quit that job wanting to get out completely.
So when I moved to Los Angeles and was hired by the RAND Corporation, I was thrilled to make an honest wage writing about terrorist attacks and smallpox vaccines. During my off hours, I pursued my own pet projects, like consulting with the FDA about the slippery marketing practices of Big Pharma. My way of making amends.
It was during this time that a publishing company contacted me about writing a book, part of a larger series of health books called The First Year. My background and personal history made me the ideal "patient/expert" they needed to author: The First Year: HIV -- An Essential Guide for the Newly Diagnosed. I had wanted to stay away from the topic, but the opportunity to write a book -- even if it was about HIV -- was a dream come true. For a whole year of my life, I did nothing but work. I would come home from my day job and write about HIV every night.
After the book was published and it got a good review in The New York Times, I was professionally confident but personally a mess. Once the high of writing the book ended, I was left craving something more. I had always struggled with being overweight, but I now had become technically obese. I was in my late 30s and getting older. I headed in the wrong direction and sank into substance abuse and addiction.
Although I lived in sunny Los Angeles, my days of using illicit drugs were dark. It began as a misguided attempt to lose weight. Of course I lost weight, at one point 30 pounds in three months. But soon my thinking became distorted and I found myself surrounded by a posse of losers, all of us fooling ourselves into believing that our substance use was recreational.
The first step in leaving that lifestyle, for me, was understanding that any sense of well-being or thrill from drugs is a lie. Each time I used, the lie got hardwired deeper into my brain, drawing me further away from true happiness. The damage I was doing to myself -- willingly -- presented a greater challenge than any virus in my body. Luckily, by seeking counseling, upgrading my "friends," and staying rigorously honest with myself, I managed to survive that dark chapter as well.
Last year, my publisher called me to write a second edition. This time I approached the subject from a larger perspective, where HIV is just one of many concerns. For anyone who hasn't taken HIV medicine, the outlook is incredibly bright. Living a perfectly normal life span is entirely possible. But as we live, it's the everyday things -- like depression, drugs, smoking, drinking, unsafe sex, and overeating -- these are the real issues that will hurt us.
I've been HIV-positive my entire adult life. Of course, we still don't have a cure for AIDS. But in 2008, we have excellent medicine to keep the virus at bay indefinitely. And it's getting better every year. But this new medicine doesn't give you a free pass to be unhealthy in other ways. Wear your seatbelt. Don't smoke. Drink moderately. Avoid white-powder drugs (they're especially bad). Get mental help when you need it. Exercise. And be rigorously honest with yourself not just about your own sexual behaviors or bad habits, but with every aspect of your life.
This year, I will be 42 years old. My HIV has been undetectable since 1996. My T-cells are in the 500s. I feel strong and healthy. I own a condo in Los Angeles and have a decent-paying job that doesn't stress me too much. My partner just moved in and we're remodeling. Sure, I struggle with my weight, blood pressure, and cholesterol. And although I love smoking cigarettes, I know I must quit.
My first thought, when I think about how HIV has altered my life, is of course that it sucked. To the core. But when I take the time to appreciate the health and happiness I have at the moment, I reconsider. Today, my life is pretty good. And life can be good for you, too. After all, anything is possible.
Brett Grodeck is the author of The First Year -- HIV: An Essential Guide for the Newly Diagnosed, with a foreword by Daniel S. Berger, M.D. (see sidebar). Published by Marlowe & Company; Revised edition June 1, 2007. For films on HIV prevention, transmission, testing and treatment, visit www.videojug.com/tag/hiv.
The First Year: HIV

The First Year -- HIV is unique because it is written by someone who knows your struggle: a regular person who's lived with the virus for over 20 years.

A review by The New York Times called the book "optimistic" and "level-headed." Combining the human element with essential information about treatment options, choosing the right doctors, the importance of diet and exercise, holistic alternatives and sex, the book transforms a complex disease into one that can be understood and managed.

This newly revised second edition offers new insight into the next generation of HIV medicine, new ideas about AIDS, alternative health, crystal meth, sex addiction, and getting health insurance.

This new book is a supportive and educational resource for patients, counselors, case managers, health professionals, friends and family members who want to take an active role in the management of HIV.

Available at Amazon.com, Borders, Barnes & Noble, and your local bookstore or library. Discounted bulk rates available by calling (800) 788-3123.