Housing Works Staff and Clients Join Millions in D.C., Call for President to Start National AIDS Strategy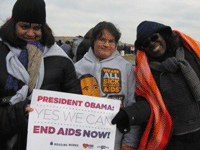 Housing Works staff and clients enjoying the inauguration
Housing Works client Terrance Thompson, 33, woke up long before the sun rose on Tuesday to greet a day that he wouldn't see again -- the inauguration of America's first African-American president. On January 20, Thompson joined more than 100 Housing Works clients on the five-hour trip to Washington, D.C. to stand in the frigid cold to congratulate President Barack Obama -- and to serve as a voice of people living with HIV and AIDS who are counting on Obama to end the epidemic in the U.S. and around the world.
Huddled around one of the many JumboTrons set up on the Mall, Thompson explained why he made the once-in-a-lifetime trip. Thompson has HIV and has lost both family members and friends to AIDS, including his mother, aunt and uncle. "I've been affected by HIV since I was 9 and infected for ten years now," Thompson said. "I'm here to see if Obama will come through. I'm here to show my support and to see if he'll commit to a national AIDS strategy."
Thompson and members of the Housing Works crew passed out fliers urging people to call the White House and remind Obama of his commitment to a national AIDS strategy. Thanks to pressure over the last two years by AIDS advocates, Obama and his team have repeatedly stated the need for a national plan to address AIDS, including long-term benchmarks addressing treatment, care and prevention. Activists from the Campaign to End AIDS plan to hold a rally on March 11 -- 50 days into Obama's term -- to give him a report card on the progress he has made to achieve these goals.
Advertisement
Housing Works' inaugural contingent garnered coverage by the State Department's news service
america.gov
.
Thompson wore a specially designed inaugural sweatshirt asking Obama to end AIDS. The shirt, available for purchase on shophousingworks.com, includes Obama's words from his World AIDS Day 2006 speech: "We're all sick because of AIDS."
The speech was given at Rev. Rick Warren's Saddleback Church. Obama drew attention at the time for "respectfully and unequivocally" disagreeing with those who don't support contraceptives and comprehensive sex education. Warren, who gave Obama's inaugural invocation, has a mixed reputation among AIDS advocates, who applaud his focus on the issue but are troubled by his opposition to contraception and gay rights.
"This really matters"
The trip was the culmination of many hours of hard work and preparation for the election by the Housing Works staff at the East New York Adult Day Health Center. Throughout 2008, the staff held discussions and debates about the election and made sure clients voted. "Once we knew that Barack Obama was our new President-elect, the idea was presented to the clients and we went from there," said Executive Director of East New York Nadine Juste-Beckles. Staff secured buses and ensured that medical personnel would come along due to the length of the trip. "The clients got the message that dreams can come true. I think it helped them to believe that things can get better and that change can be a positive thing," Juste-Beckles said.
"As I stood at the top of the hill at the Washington monument, flags waving in the air, I couldn't help but think about the endless possibilities we will be afforded now that we have a president who respects and listens," said Douglas Sanders, Housing Works executive administrative coordinator and one of the trip organizers. "With our assistance, Obama can pass good legislation and make a difference for everyone living with HIV/AIDS here and abroad. We can now begin a clear, concise path to putting an end to the epidemic with his leadership. I believe the clients that traveled with us were touched in a way that they felt like 'this really matters!' and that they have a vital part to play in the coming administration. Several of them came to me and asked, 'What do we do next? When and where? I want to do something to help.'"
With a hopeful smile, Thompson agreed. "I'll do anything I can to stop HIV and AIDS. Anything," he said.
Here's one thing Thompson (and you!) can do today!:
Congratulate Obama on his inauguration -- and let him know that you want him to follow through on his commitment to a National AIDS Strategy!
e-mail: comments@whitehouse.gov
call: . 202-456-1414
fax: 202-456-2461
Here's a suggestion of what you can say:
I am calling to congratulate President Obama on his historic inauguration as our 44th President and reiterate the importance of moving forward in his first 100 days in office by:
Identifying a high-level person in the White House to shepherd the National AIDS Strategy.
Identifying a process that will include people living with HIV/AIDS in the leadership and development of the National AIDS Strategy.
Identifying a process for government agencies to work together in the development and implementation of the National AIDS Strategy.
Identifying National AIDS Strategy goals, objectives and a timeline for the completion of the plan.