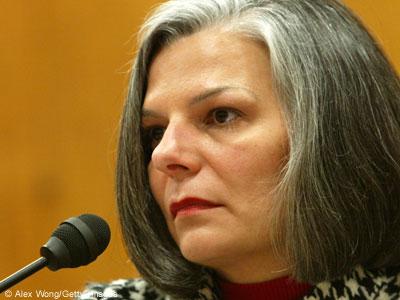 Who should replace this lady?
Julie Gerberding's tenure as Centers for Disease Control and Prevention director is over on Inauguration Day. AIDS advocates are hoping that her departure will mark the end of a politically charged era of the CDC and that the agency will make the most of an opportunity to usher in an age of innovative solutions to public health problems.
"She didn't fight back and didn't fight for promoting science," said Walt Senterfitt, the Community HIV/AIDS Mobilization Project (CHAMP) co-chair, referring to the Bush administration's ideologically driven publich health policy. Senterfitt was a visiting scientist at the CDC shortly before Gerberding arrived.
Advertisement
Technically a civil servant, Gerberding brought a public health background and a background on AIDS issues to the CDC, but her time was severely compromised: The Bush administration hired her to pursue its agenda of redirecting agency resources away from disease prevention toward fighting bioterrorism.
Gerberding's lowlights? She oversaw a restructuring plan that gave more money to administrative bigwigs and caused career scientists to leave in droves. She famously allowed Bushies to edit out remarks about the health effects of global warming in 2007 Congressional testimony.
On the AIDS prevention front, Gerberding didn't speak out against the Bush administration's ineffective abstinence-only prevention policies and led the CDC during a period when HIV infections among young gay men began to rise sharply. Under her leadership, the CDC also delayed the release of a report documenting higher rates of new HIV infections in the United States and attempted to downplay the results.
As AIDS Foundation of Chicago's David Munar blogged in August,, when the report was finally released, "For months, AIDS advocates called for the public release of the data, which CDC admitted this weekend it had finalized in October 2007. An earlier release might have given the Bush administration second thoughts about requesting a $1 million decrease for CDC's domestic HIV prevention programs; spurred presidential candidates to talk more readily about HIV/AIDS in the U.S.; persuaded media pundits and debate moderators to quiz candidates on plans to end the epidemic; led Congress to pass even one of the dozen domestic HIV prevention bills languishing on Capitol Hill or motivated appropriators to finally boost HIV prevention funding or end long-held restrictions on how funding can be used. No, instead the cult of embargoes prevailed, with no account to the burgeoning public health crisis the very paper in question describes."
Looking to the Future
Although the CDC isn't an agency known for making drastic changes, Gerberding's departure is an opportunity for innovation.
"The replacement needs to be someone who's committed to public health -- as opposed to disease control," said Director of Shubert Botein Policy Associates Virginia Shubert. "And I hope it will be someone who can contextualize disease and understand it as an outcome of a whole range of structural factors, and someone who will understand and have a commitment to addressing race-based health disparities."
Gerberding's deputy, CDC Chief Operating Officer William Gimson III, will hold down the fort until a permanent appointment is made by Health and Human Services Secretary Tom Daschle (if he's appointed). Possibilities floated in the media include New York City Department of Health Thomas Frieden and Helene Gayle, former director of AIDS-related programs for the CDC.
While Gayle has the respect of advocates for working with community members to seek solutions Frieden's policies and heavy-handed public health strategies have raised eyebrows. Advocates say he doesn't account for the needs of the people most affected by his policies.
"A Frieden appointment would be a horrible idea. He's not interested in working with community," said Housing Works President and CEO Charles King. "He has an old-fashioned public health background and is coercive. He doesn't take into account the need for community buy-in and systemic issues of social and economic injustice."
A better options would be Mitch Katz, San Francisco's public health director. Katz, a gay man, has led effectively, including in lean times, and presided over innovative work in the department. Another good choice is Chris Beyrer, a Johns Hopkins professor with both national and global public health experience. Many would like to see Baltimore Health Commissioner Joshua Sharfstein lead the CDC, but the buzz is that Obama wants him to head the Food and Drug Administration.