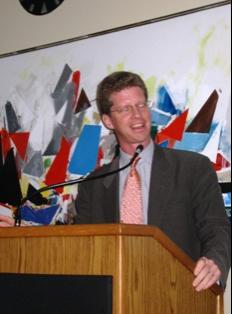 Donovan could be good news for AIDS housing
Other than Tom Daschle's appointment as Health and Human Services Secretary, few high-level Obama appointments are more important to federal AIDS policy than the Secretary of Housing and Urban Development. HUD controls the $315 million in Housing Opportunities for Person with AIDS (HOPWA) funding, the only federal funding stream that specifically provides housing for people living with HIV/AIDS.
Obama's HUD secretary pick, New York City Department of Housing Preservation and Development (HPD) Commissioner Shaun Donovan, is somewhat of an enigma to AIDS advocates because HASA, the city's housing funding, is the purview of Deputy Mayor for Health and Human Service Linda Gibbs. But New York City affordable housing advocates say Donovan has made progress expanding affordable housing for poor New Yorkers.
"Shaun has been great for NYCCHA residents, and great for districts that look like mine," said City Council Member Letitia James, who represents Brooklyn. "I don't know who's going to step in his shoes, but they're big shoes to fill." James worked with Donovan on expanding inclusionary housing, which requires that a share of new construction be affordable to people with low to moderate incomes. She also said he committed to hiring minority developers for new projects in downtown Brooklyn.
Advertisement
The
National AIDS Housing Coalition
(NAHC) is hopeful that Donovan will make housing for people with HIV/AIDS a priority, starting with increasing HOPWA funding to $470 million , which would provide urgently needed housing assistance for an additional 40,000 people with HIV/AIDS and their families.
"As HUD looks at the overall housing portfolio, they need to make sure AIDS housing is in part of the mix," said Christine Campbell, Housing Works vice president of national advocacy and organizing and a NAHC board member.
NAHC is also calling on Donovan to finally fund the long-awaited National Housing Trust Fund. The National Housing Trust Fund is a permanent program with a dedicated source of funding not subject to the annual appropriations process, and was signed into law by President Bush in June, but no funding has been allocated yet. Funds for the Housing Trust Fund will come from annual contributions made by Fannie Mae and Freddie Mac, which will hopefully have more money to contribute come 2010.
If You Can Make It Here, You'll Make It Anywhere
An architect by trade, Donovan was the point-person on Mayor Michael Bloomberg's 10-year plan to create or preserve 165,000 affordable housing units. In February, the halfway point, he announced that 70,000 units were already completed. However, its expected that the next leg won't be as productive because most of the completed properties were "restorations."
The current economic crisis will make building new properties, upon which Bloomberg's initiative depends, much more difficult. Coexecutive director of Make the Road New York Andrew Friedman said he worked with the HPD to require landlords to make repairs to buildings and was happy with the progress. He said there has been less progress expanding language access to people who have limited English proficiency. "Mostly, though, we've been able to work with [Donovan]," Friedman said.
According to City Limits possible replacements for Donovan in New York include Housing Development Corporation (HDC) president Marc Jahr; Enterprise Community Partners vice president and former HPD official Raphael Cestero; Alicia Glen of Goldman Sachs' Urban Investment Group, also a former HPD official; HDC and HPD veteran William Traylor of the Richman Group, a development company; Local Initiatives Support Corporation's New York City managing director Denise Scott; Ford Foundation scholar and former JPMorgan community development guru Mark Willis, and former HPD first deputy commissioner John Warren.
Carrión Goes to Washington, Too
Advocates are also (fairly) optimistic about Bronx Borough President Adolfo Carrión Jr.'s appointment as head of the newly created Office of Urban Policy. Obama, the first president since Kennedy to hail from the big city, has stated his commitment to urban affairs, and AIDS is one of the major health issues facing big cities.
"Carrión has been supportive of people with AIDS and more importantly could expand his efforts in the Bronx to other cities," said Housing Works Vice President of New York Advocacy and Public Policy terri smith-caronia. Carrión has a background in urban planning, and fought to make more low-income housing available in the Bronx. He also headed Promesa, a human development corporation in the borough.
Carrión said in a speech in 2007 "The persistent bad news is that poverty and all its related issues remains a problem that grips still too many in our community. You and I know that this is the result of decades of bad public policy and the absence of a sensible urban agenda for our country."
Council Member James agreed: "It's critical we have an urban agenda. And like Shaun, Adolfo Carrion is a man who understands communities of color. Now we'll be able to focus on housing infrastructure, drugs, and health issues in a real way."