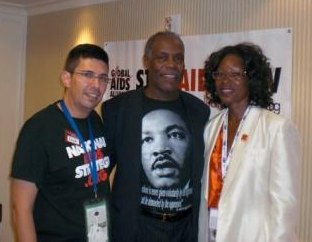 AIDS advocates Munar and Hill (with actor Danny Glover) at the Democratic National Convention
National AIDS policy has gotten short shrift during the Bush administration. Advocates are pushing the Obama administration to appoint people to domestic AIDS czar and other high-level positions who are serious about AIDS policy and who will implement and enforce a National AIDS Strategy.
U.S. Global AIDS Coordinator, Mark Dybul, has public visibility, some budgetary authority and the ear of the president. Domestic advocates would like the see the domestic AIDS czar elevated to a similarly high profile role. The Director of National AIDS Policy has no budgetary authority, and the position has been vacant since the departure of Carol Thompson from the position in 2004.
"It's time to reform the domestic AIDS office," said David Munar, Vice President for Policy and Communications at AIDS Foundation of Chicago. "We need the Obama administration to pick fantastic leaders with great experience who share our values and support the President's AIDS plan." Munar added that domestic and global AIDS should be given proper attention in the White House and "that might mean more than one person."
Advertisement
Munar, a former
Obama delegate
, has been mentioned as a good choice to lead the domestic AIDS office, but he wouldn't say if he wants a position in the administration. "There are plenty of qualified individuals who would gladly work for the administration," he said.
Some of the many other names being whispered are Jesse Milan, former chair of the the CDC HRSA AIDS advisory committee; Gay Men's Health Crisis CEO, Dr. Marjorie Hill; and San Francisco AIDS Foundation Deputy Executive Director for Science and Public Policy Judy Auerbach.
All the above are unsurprisingly mum. SFAF wouldn't comment at all on the Obama transition. Hill would only tell the Update that she "has no idea who the head of the Office of AIDS Policy will be and cannot really speculate."
A Tough Job
In order to pick the right person, it's important to identify the qualities that are needed in a domestic AIDS czar -- starting with extensive knowledge about AIDS policy, health care, and prevention.
"We need to look at how this position fits in with overall health care reform," said Daniel Montoya, senior vice president and director of U.S. health policy at Hill & Knowlton. Montoya was director of PACHA during the Clinton administration.
And the president needs to appoint someone not just willing to create a National AIDS Strategy but with the smarts and clout to shepherd its enforcement.
"The most thought-out plan doesn't mean much without a commitment to implement that plan and an ability to deal with political issues such as syringe exchange, and speak forcefully and candidly about homophobia," said Regina Aragon, former policy director for San Francisco AIDS Foundation who served on PACHA during the Clinton administration.
In addition we need someone with the respect and ability to work with AIDS advocates.
"We need someone with real community organizing skills, since there's so much dissent within the community," said Housing Works Vice President of Advocacy and Organizing Christine Campbell. Campbell also suggested that the Obama camp think outside those in the Beltway. "There are people doing really great work across the country whose names don't always get thrown in the mix," she said.
And given the fact that AIDS has predominately become a disease affecting people of color, advocates are pushing for an appointee who is a person of color.
"There are plenty of qualified people of color they should be looking at to lead," Montoya said.
What About PACHA?
But obviously the Office of AIDS Policy isn't the only place where new appointments will be made. HHS will be looking for a point person on AIDS, and PACHA will need some new appointments. During the Clinton administration, PACHA had more influence than it does today. It met regularly with HHS Secretary Donna Shalala, and Clinton as well. Currently even current PACHA members don't overstate the board's contributions to current policy.
"I think we've done some good work. I just don't know who receives our work and how much influence we have. We're not kept in the loop on decisions," said Carl Schmid, a member of the PACHA board and chair of the domestic affairs subcommittee. PACHA was created to advise HHS, but during the Clinton administration also had the ear of the President, and was visible particularly in issuing a strong rebuke of Clinton's opposition to syringe exchange.
Most PACHA board members will continue on into the Obama administration -- meaning that there are some abstinence-only supporters in the crowd. Schmid advises that Obama increase the number of people who serve on the PACHA board to increase its diversity, and to include more people living with HIV/AIDS.
To submit changes your suggestions to the Obama administration go to Change.gov.