There's nothing like hearing the results of studies directly from those who actually conducted the research. In this interview, you'll meet one of these impressive HIV researchers and read her explanation of the study she presented at AIDS 2008.
My name is Caitlin Kennedy. I'm a Ph.D. candidate at Johns Hopkins University School of Public Health.
Can you tell us a little bit about your research?
Sure. My poster is about the Y.R.G. Care Matrimonial Service, an HIV treatment and support organization located in Chennai, India. In 2001, one of the clients at Y.R.G. approached the director because he had a problem. His parents were putting pressure on him to marry, but they didn't know that he was HIV infected, and he didn't want to pass on his infection to someone who was uninfected. So he asked the director of Y.R.G. if she knew of any eligible, single HIV-positive women. She put out some feelers, she talked to some people, and she found a young woman who was also interested in being arranged in a marriage. So they made a match, and that's how they started the matrimonial service.
Advertisement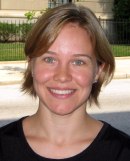 Caitlin Kennedy
Matrimonial services are actually quite common throughout India. It's part of the arranged marriage tradition there, where people are matched. They have taken on some characteristics of online dating services. They have online profiles, etc.
The Y.R.G. Care Matrimonial Service is unique in that it's for people living with HIV. This was a fairly new idea. Now that people living with HIV have access to HIV testing and treatment and know their status and are living longer lives -- including in places like India -- these issues are coming to the forefront more and more.
We interviewed people who were affiliated with the matrimonial service, including matrimonial service clients, staff members, family members -- because in India family is so involved in dating and in marriage. People in South India don't really date that much; they mostly get married. We also interviewed people living with HIV who were not affiliated with the matrimonial service, to get the perspective of people who might not want a service like this.
We found that most people said marriages are really a part of normal life in Indian society. Most Indians are expected to get married at a certain age, and it's part of fulfilling your role in society. The people with HIV who joined the service, even though they were initially devastated by their diagnosis, over time and with the availability of treatment, they found themselves feeling healthy and looking toward the future, and they wanted to live a normal life in the context of Indian society, which included being married. But again, they didn't want to pass their infection on to someone who was uninfected. And for many of them, this matrimonial service filled that niche.
They talked about the benefits to marriage. Men especially reported taking better care of their health after marriage. They said they had someone to answer to, in a sense, and someone to live for. Both men and women said that there was a lot of social support from marriage. Many said that the spouses who also had HIV could understand the unique challenges that they faced as people living with HIV.
Given the epidemiology of HIV in India, there aren't that many never-married women who are HIV infected, because most women marry at a very young age, and then many actually acquire HIV infection in their marriage. So the matrimonial service actually has five times as many men as women who have put their profiles in, partly because there are many never-married men who are HIV infected in South India.
Most of the women who have put their profiles in are widows. In traditional Indian society, widows are not supposed to remarry. But we have seen some changes in the matrimonial service, that men are actually willing to marry a widow because it's more important to them that they have a spouse who is HIV infected.
Similarly, we have found that issues of caste and sub-caste that are traditionally important in arranged marriages have become somewhat less important in this service, because people are saying, "It's more important to me that I have someone who is healthy and who is taking care of themselves, and who has disclosed to their family, as opposed to someone who fits my exact characteristics that I might otherwise normally be looking for in this society." So I think, in this very local context, there are some very interesting issues that are being brought up. As Indian society is changing, this is one reflection of it.
In conclusion, matrimonial service, or dating services for people living with HIV, may be a creative and culturally appropriate way to achieve HIV prevention goals, as well as improve quality of life for people living with HIV.
There may be some risks to people with HIV partnering together, such as, there's a possibility of passing on superinfection or drug-resistant virus, if one partner has drug-resistant virus and the other doesn't. We had some concerns that maybe this would stigmatize people further, that people would feel they are being segregated, and that we were saying that people with HIV should only partner with other people with HIV. But actually, we didn't find that at all in our interviews.
All the people who had used the service, and even the people who hadn't used the service, said that this was actually a really good thing in the Indian context because it showed other people in India that HIV-positive people could get married and live a normal life.
How many people have actually used this service and are now married?
There have been about 20 marriages that have come out through the service, and there are about 200 profiles of people who have submitted their information to the service.
Tell me about these marriages. Where do they happen? Does the agency help find the place that they get married? What happens next?
Indian marriages are unique and quite interesting. The family is usually quite involved. In the cases where the people living with HIV have disclosed to their family members, the family members usually get involved and sometimes come to the matrimonial service to meet the potential partner. Usually, once that happens, the families take it from there. So the matrimonial service doesn't actually arrange the marriages.
The families, then, will go and follow the traditional Indian arranged marriage pattern, where the families get to know each other. They go and they visit each other's households. They see what types of situations they are signing their child up for, essentially, and they go from there. They get married usually within a short period of time. Once people agree to get married in India, they usually have a relatively short engagement, typically a few months.
What is the average age of the 20 couples that got married?
That's a good question. I can tell you for sure, it's older than the typical age of marriage in India. I think the average age of a first marriage in India is around 18 for women and 21 for men, something like that. I'm not sure of the exact statistics. But these marriages tend to be older. There are very few teenagers, for example. In fact, I don't think there are any, if I remember correctly. It's almost exclusively people in their late 20s and 30s, even some people in their 40s -- I don't know if there's anyone older than that -- who have profiles in, especially people who were married previously -- again, widows or people who were divorced or separated from their first spouse.
Do you know if any of the couples decided to have children?
Yes. Several of the couples have had children. Y.R.G. Care provides a full range of services for people through pregnancy, to prevent mother-to-child transmission of HIV, and they are very open about giving people with HIV all of their options for pregnancies. So several of the couples have decided to have children.
Do you know what the statuses of the children were?
The two families that I interviewed as part of this project both had HIV-negative children. I don't know of any cases of HIV-positive children, but that doesn't mean they don't exist.
Do you have any plans to follow up -- to do a longitudinal study to see what happens after couples have been together for five years, 10 years, etc.?
We would love to do that, yes. I'm a Ph.D. student right now. I would like to stay in academia and continue to help doing the research and actually evaluate services like this to see what the impact is, to see what's happening with people who have used this service. So I certainly hope that's the next step.
Reference
Kennedy C, Solomon S, Srikrishnan A, et al. A matrimonial service for people living with HIV in India. In: Program and abstracts of the XVII International AIDS Conference; August 3-8, 2008; Mexico City, Mexico. Abstract THPE0686.