"Sex Pigs" Campaign Creates Space for Sexually Adventurous Australian Men to Talk About HIV Risk
An Interview With Kathy Triffitt
August 7, 2008
My name is Kathy Triffitt, from Positive Life New South Wales, Sydney. The poster is "Sex Pigs: A Rough Guide to Dirty Sex -- A New Approach to HIV Prevention."
Tell us a little bit about your poster. Does it describe a program, or a study that you are doing?
I work in social marketing and education, and we're funded by New South Wales Health. I received a directive to develop a prevention campaign for guys who have been described as being into sexually adventurous sex -- group sex, fisting, drugs, and so on. Because we're an organization geared toward HIV-positive people, what we're doing here is we're speaking to HIV-positive guys who choose to use risk-reduction strategies (other than condoms) with guys they know or assume to be HIV positive.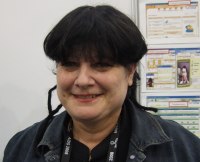 Kathy Triffitt
We had to develop messages around sexual health, safe sex, STI [sexually transmitted infection] testing and HIV prevention that speak to HIV-positive guys, but that also speak to HIV-negative guys and people that move in and out of the sex pig culture, some of whom are HIV negative.
Can you describe the sex pig culture? Is it just in Australia?
No, no. It's a subculture all over the world, really. The biggest difficulty we have had in Australia is actually describing the culture. Because people tend to move in and out of the culture -- it's there when people need it. As we said here, it's the whole thing about how you define the culture. What language do you use, and what imagery?
The way that I work is that whatever campaign I'm asked to do, I will work with the people we're trying to speak to. In this case, we did discussion groups, community forums, interviews, etc., [with people involved in sex pig culture,] and asked questions about how they define their culture and what language we should be using.
I particularly like this one here, where guys talk about "keeping it real" -- using everyday language and imagery. So this particular narrative here, from Dmitri [see poster]: "We need to be involved in describing what it means for us. It's good to talk about sex pigs, because it acknowledges sex drive and opens up discussions on social boundaries, drugs, moral codes and assumptions made about HIV status. Talking about sex pigs demystifies and destigmatizes what we do."
We wanted to get people who identify as sex pigs involved in campaign development, to lead the way we use the language and imagery in the campaign. With the photo session, even though I gave them a brief description, the imagery is about reproducing ways of relating to and learning about the culture. Community members participated in the photography session and shaped the images and the use of language. It's about tapping into community norms, ethics and values. That's a philosophy we use in all of our work.
What sorts of messages do you use?
The messages are about sexual health. It's more serious for an HIV-positive guy to get syphilis, for example -- it progresses a lot faster. So there's a message there around testing for STIs. There are messages there around changing gloves and condoms when you're moving from partner to partner -- from ass to ass, if you want to be graphic. Because there's not only syphilis, but there's also sexually transmitted hep C [hepatitis C], which is really starting to emerge as an area that we need to be looking at. Actually, just before I left Australia, I finished a draft focusing on sexually transmitted hep C for this particular group.
These are the campaign objectives [see box]: There are strategies for preventing HIV transmission, which include promoting the use of condoms with partners of unknown or different HIV serostatus.
Lots of guys get together and the choice may be not to use condoms between pos [HIV-positive] guys. But when they're in a group sex situation, there might be HIV-negative guys that come into it, and assumptions are made about serostatus.
The campaign also acknowledges the role of the Internet in negotiating sex and building confidence around discussing HIV status -- obviously, issues around disclosure are very difficult for pos guys. The campaign also aims to increase awareness around PEP [post-exposure prophylaxis], and of the hep C transmission risk around fisting.
How do you get the message out about the program and get people involved? Do you do outreach? Do you go to sex clubs and put out literature?
Yes. The resources -- in particular the booklet, which has limited distribution -- are distributed throughout "sex-on-premises" venues. Three of the community forums that we ran, "Sex Pigs I and II" and "Hot Fuck," were actually run in a place in Sydney called Manacle, which is where these guys hang out, and we got huge attendance. So that's kind of getting out the message and spreading awareness around the campaign.
Of course, we advertised the campaign on the Internet. We have Gaydar, as well, so we had banners on Gaydar, Manhunt and other community media. We have two major community newspapers in Sydney: the Sydney Star Observer and SX, where we also advertised. Positive Life has its own magazine called Talkabout, where we obviously promote our campaigns.
It's really important for campaigns like this to be multilayered. While resources are important, I think it's important to create spaces for men to be able to talk about sex and the risks that they take. I have found that with some of the interviews that I've done, guys talk about how it's important to be able to get together and talk about sex, and risk-taking, because people are judged around risk-taking.
One guy who participated in the campaign said that if we had a safe place in which to talk about risk-taking, maybe there'd be more understanding, therefore, that may contribute in some way to less risk-taking.
It's really interesting. We do create a lot of spaces for guys, and in particular HIV-positive guys, to come together and talk about these things. But we also have found -- because gay men move in and out of the same social and sexual spaces -- that our campaigns really do speak to both HIV-positive and HIV-negative gay men, or MSM [men who have sex with men].
Does your organization have a Web site?
We do have a Web site. It's www.positivelife.org.au. We also do a whole range of campaigns. So look at our Web site, because we've done work with living longer with HIV, STIs, serodiscordant relationships. There's a whole range.
Great. Thank you so much, Kathy.
Reference
More From This Resource Center
---

This article was provided by TheBody. It is a part of the publication
The XVII International AIDS Conference
.
---
Comment by: Tom J
(isnt_this_witty@hotmail. com) Tue., Oct. 9, 2012 at 6:13 pm UTC
I noticed you mentioned manhunt, well have you heard of GuySpy? its a GPS based gay dating app that allows you to connect with guys in your neighbourhood and in the places your headed! It so awesome and I have met a lot of great folks on there! http://guyspy.com defs be worth a look! ;)
Comment by: thezak
Wed., Dec. 24, 2008 at 9:45 am UTC
How widespread is the phenomenon?... and is the rate of new infections zero or nearly zero for sex partners who're part of the phenomenon?... of the strategy of "Let's get tested TOGETHER BEFORE we have sex, for A VARIETY of STDs." Sexual health checkups reduce ambiguity/risks and can be like anything else POTENTIAL sex partners do together.
Comment by: John
(Fort Lauderdale) Tue., Dec. 23, 2008 at 3:41 pm UTC
I'm glad for this outreach. I'm running into so many negative guys who think they don't need to be careful, and HIV poz guys, who don't consider Hep C and Syphilis risks.
Comment by: Mahamati
(PLWHA SA Inc) Wed., Dec. 17, 2008 at 11:12 pm UTC
Great interview Kathy. regards, Mahamati
Comment by: SR
(Boston, Ma ) Wed., Dec. 17, 2008 at 9:26 pm UTC
I am really happy about this article . For years this has been going on in bath houses , movie theaters. I lost all of my friends due to the fact
nothing was ever said or done about it.
Ufortunately I am here because of my fear.I am now
poz due to a condom break, and I was co-infected.
www.copingwithhivhepc.blogspot.com
Condoms don't always work , but they work better
than nothing.
Add Your Comment:
(Please note: Your name and comment will be public, and may even show up in
Internet search results. Be careful when providing personal information! Before
adding your comment, please
read TheBody.com's Comment Policy
.)