Today, 1 December 2008 is the 20th anniversary of World AIDS Day.
In 1988, the World Health Organization (WHO) declared the first World AIDS Day in an effort to raise public awareness about HIV/AIDS issues, including the need for support and understanding for people living with HIV/AIDS. The day is also an opportunity to highlight the need for continued development of education and prevention initiatives.
Over the past 20 years, World AIDS Day has been established as one of the world's most successful commemorative days. It is now recognised and observed by millions of people in more than 190 countries around the globe.
What is the theme of World AIDS Day 2008?
Advertisement
The Australian theme for World AIDS Day 2008 is:
Enjoy life. Take control. Stop HIV/AIDS.
Why was this theme chosen?
The Australian theme for World AIDS Day this year was chosen to encourage Australians to take personal responsibility for HIV/AIDS prevention.
Over the past decade, the number of new HIV infections diagnosed in Australia each year has gradually increased. The number of new HIV diagnoses in Australia has increased each year from 718 in 1999 to 1,051 in 2007.
While Australia continues to have one of the lowest rates of new HIV diagnoses among developed countries, the gradual increase in the annual number of newly diagnosed HIV infections highlights the need to remind people of the current and serious challenges posed by HIV/AIDS in Australia, not just overseas.
For this reason, this year's theme adopts a positive approach, emphasising the importance of taking personal responsibility in the fight to stop the spread of HIV/AIDS.
The theme 'Enjoy life. Take control. Stop HIV/AIDS.' aims to send out the message that if people take personal responsibility -- by being informed about how they can protect themselves and others and by acting responsibly -- there is no reason why they can't enjoy life and at the same time, stop the spread of HIV/AIDS.
If you think you are at risk, or have been exposed to HIV, take control, get tested for HIV and know your status. See your doctor or your local sexual health centre.
What does the red ribbon symbolise?
The red ribbon is the international symbol of HIV and AIDS awareness. It was conceived in 1991 by a group of artists in New York called the "Visual AIDS Artists Caucus".
The artists sought to create an image which would be simple yet bold, able to make an impact wherever it was seen. The ribbon was chosen to represent support for those living with HIV/AIDS and their caregivers. Red was chosen to symbolise blood, danger and the idea of passion -- including love and anger, while the tails of the ribbon were designed to point down to symbolise life flowing away.
The creators of the red ribbon intended for it to be used as an awareness-raising symbol. It provides a simple way for the public to show their support for people living with HIV/AIDS and their caregivers. All funds raised through the sale of red ribbons during AIDS Awareness Week and World AIDS Day go towards life enhancement programs for people living HIV/AIDS.
HIV/AIDS Information
What is HIV?
Human Immunodeficiency Virus (HIV) is the virus that causes Acquired Immune Deficiency Syndrome (AIDS). When a person is infected with HIV, the virus begins to attack their immune system, causing it to weaken or become immune deficient. The longer a person has HIV, the more damaged their immune system can become. This process leaves a person prone to certain infections and cancers.
In Australia, there are two major types of HIV: HIV-1 and HIV-2. The most common and broadly distributed HIV type is HIV-1, which accounts for most of the infections worldwide, including in Australia.
What is AIDS?
AIDS is the advanced stage of HIV infection, which occurs when an HIV-infected person's immune system has been damaged after years of attack by the virus. It is diagnosed when an HIV-positive person develops one or more specific infections or certain cancers, known as AIDS-defining conditions, or when the number of specific immune system cells, known as T-cells or CD4 cells, falls to a very low level.
Many of the infections resulting in serious illness in people with AIDS are caused by organisms or 'bugs' that are quite common and would normally not affect someone with a strong, healthy immune system. A person with HIV infection becomes susceptible to these illnesses because their immune system is unable to fight the 'bugs' effectively. These infections take advantage of a weakened immune system to cause illness and are known as opportunistic infections.
AIDS-defining conditions can include particular forms of pneumonia, brain disease and cancer, as well as infections that cause significant weight loss, serious eye conditions or diarrhoea. A person can recover from these illnesses and become well again, but they are still considered to have AIDS. There is no way to predict when or whether an HIV-positive person might develop AIDS.
How can you protect yourself?
Safe sex
In order to avoid HIV and other infections spread through sex, people are encouraged to follow safe sex guidelines. Safe sex is any sex that doesn't allow semen, vaginal secretions or blood to get inside you or your partner's body.
Using good quality condoms properly during intercourse (anal and vaginal) greatly reduces the risk of transmitting HIV. Condoms should be used with plenty of water-based lubricant. Male condoms may be bought from supermarkets, chemists and other outlets. The female condom (Femidom) is available from family planning centres. Latex dams (or cut open condoms) are a useful way of avoiding exchanges of bodily fluid during oral/vulval or oral/anal sex.
Know your HIV status
If you think you are at risk, or have been exposed to HIV, a simple blood test can be done at your local sexual health centre or by your doctor.
Safe needle and syringe use
HIV and other infections, such as hepatitis C, can be passed on through sharing injecting equipment. It is extremely risky to share needles, syringes and other injecting equipment. The safest way to avoid infections is to not inject drugs. People who inject drugs should always use sterile needles, syringes and other injecting equipment.
Post-Exposure Prophylaxis
Post-exposure prophylaxis (PEP) is a four-week course of two or three anti-HIV drugs which may stop HIV infection becoming established. PEP must be started as soon as possible up to 72 hours after exposure to the virus through unprotected sex, sharing needles or a needlestick injury. PEP reduces the risk of HIV transmission but does not guarantee that infection will be prevented.
What are the symptoms of HIV infection?
Early symptoms
Some people do not have any symptoms when they first become infected with HIV, but about 70% of people develop a flu-like illness two to six weeks after exposure to the virus. Symptoms may include tiredness, fever, a rash, headache, sore throat, diarrhoea or swollen lymph glands in the neck, underarm and groin areas. These symptoms usually disappear within a week to a month and are often mistaken for another viral infection.
Later symptoms
People with HIV may not have any symptoms for several years, but as the immune system becomes weakened, various signs of infection may appear. These include lack of energy, weight loss, frequent fevers and night sweats, diarrhoea and swollen glands. Other symptoms include persistent or frequent yeast infections ("thrush") in the mouth or vagina, persistent cough, skin rashes or lumps.
How is HIV detected?
HIV infection is diagnosed using a simple blood test where a person's blood sample is checked for the presence of HIV antibodies. Antibodies are produced by specific cells in the immune system that are programed to recognise and fight infections. The presence of HIV antibodies in a blood sample indicates that a person is infected with HIV, or is HIV-positive.
Most people develop antibodies within two to four weeks after exposure to HIV, but it can take up to three months for a person's immune system to develop HIV antibodies. This is known as the 'window period'. An HIV antibody test performed during this period can be negative even though the person may be infected. People who believe they may have been at risk of HIV infection are tested and, if negative, are tested again about three months later.
There are now special blood tests (nucleic acid amplification) which can detect the presence of HIV earlier in the window period.
Can HIV be treated?
Currently there is no vaccine or cure for HIV, but drug treatments are available which can control the virus, delay progression to AIDS, and keep HIV-positive people healthy for longer. These treatments are known as combined antiretroviral therapy or highly active antiretroviral therapy (HAART). Treatment usually involves taking three different drugs that act on the virus in different ways. There are also treatments for many of the specific illnesses associated with HIV and AIDS. Once someone begins antiretroviral treatments, they should continue to take them for life. Treatments can have side effects and people who are on treatment need to be monitored regularly by their doctors. Sometimes the virus develops resistance to the drugs and treatment may need to be changed to a different combination of drugs.
Even when treatment is working well, it does not control all of the virus so the person still has HIV in their body and can pass it on through unprotected sex and sharing injecting equipment.
How is HIV transmitted?
HIV is a fragile virus that cannot live for long outside a human body. Therefore it cannot be spread through everyday activities such as touching people and sharing kitchens, bathrooms, toilets, clothes, bed sheets, towels or swimming pools. HIV can't be spread by pets or other animals, or insects such as mosquitoes.
For HIV to be transmitted there must be:
large amounts of the virus present in body fluids (blood, semen, vaginal secretions, menstrual blood and breast milk); and
a way for that fluid to move directly from the blood stream of one body into another (via needles, open or very small cuts in the vagina, anus or mouth).
Other body fluids such as sweat, tears and saliva do not carry enough HIV to infect people. Therefore body contact such as hugging, kissing and shaking hands are all safe.
The main ways HIV is spread are through:
anal or vaginal sex without condoms;
sharing needles and syringes when injecting drugs; and
mother to baby during pregnancy, at birth or through breast feeding.
HIV can also be transmitted through blood products infected with HIV. Since May 1985, all blood donations in Australia have been tested for HIV, which means the risk of HIV from blood transfusions or blood products is extremely small. The Australian donated blood supply is considered among the safest in the world.
HIV and viral loads
When a person with HIV is on antiviral medications, the level of virus in their body fluids (known as "viral load") may reduce to very low levels that cannot be detected by testing. Research suggests that, when the viral load is undetectable in the blood, the risk of HIV transmission is reduced but it is still possible to transmit the virus. Safe sex should still be practised regardless of the viral load.
Australian Statistics and Trends for HIV/AIDS
Diagnoses of HIV Infection and AIDS in Australia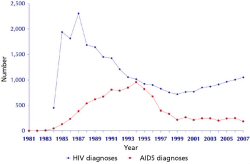 Source: National Centre in HIV Epidemiology and Clinical Research
Click image to enlarge.
Historically, Australia has had one of the lowest overall population rates of new HIV/AIDS diagnoses among similarly developed countries.
Between 1981 and 2007, there were 27,331 diagnoses of HIV infection, 10,230 diagnoses of AIDS and 6,767 deaths following AIDS in Australia. The number of new HIV diagnoses in 2007 was 1,051. The estimated number of people living with HIV infection in Australia in 2007 was 16,692.
Transmission of HIV in Australia continues to occur primarily through sexual contact between men. Among cases of newly acquired HIV infection, male homosexual contact was reported in 86% of cases, heterosexual contact in 9%, injecting drug use among women and heterosexual men in 2%. In 3% of cases, exposure to HIV remained undetermined.
Over the past five years from 2003 - 2007 the overall rate of new HIV diagnoses in Australia has increased from 4.0 to 4.4 per 100,000. The trends have differed across different states with NSW being stable and most others increasing. For further details refer to the 2008 Annual Surveillance Report released by the National Centre in HIV Epidemiology and Clinical Research.
Average annual incidence of diagnoses of HIV infection and AIDS, 2003 -- 2007, by State/Territory
There was a similar per capita rate of HIV diagnosis in the Aboriginal and Torres Strait Islander and non-Indigenous populations. However, in Aboriginal and Torres Strait Islander populations, higher proportions of cases were attributed to heterosexual contact and injecting drug use.
The per capita rate of HIV and AIDS diagnosis in Australia between 2003 and 2007 was more than five times higher among people born in Sub-Saharan African countries than among Australian born people. In the past five years, 60% of cases of HIV infection attributed to heterosexual contact were in people from high HIV prevalence countries or their sexual partners. High HIV prevalence countries in South East Asia and the Pacific regions include Papua New Guinea, Thailand, Cambodia, and Myanmar.
The wide availability of effective antiretroviral therapies has resulted in stabilisation of the number of people whose HIV progresses to AIDS. Further evidence of the benefits of improved therapy for HIV infection has come from the substantial increases in survival following the diagnosis of AIDS. Median survival among people diagnosed with AIDS increased from 19 months prior to 1998 to 69 months among those diagnosed with AIDS in 2002.
Source: The National Centre in HIV Epidemiology and Clinical Research (2008) HIV/AIDS, Viral Hepatitis and Sexually Transmissible Infections in Australia: Annual Surveillance Report. www.nchecr.unsw.edu.au/NCHECRweb.nsf/page/Annual%20Surveillance%20Reports
Global Statistics and Trends for HIV/AIDS
According to the Joint United Nations Programme on HIV/AIDS (UNAIDS) 2008 Report on the global AIDS epidemic, the percentage of people living with HIV globally has levelled off since 2000. However, the overall number of people living with HIV has gradually increased as new infections occur each year.
Globally, there were an estimated 33 million people living with HIV in 2007. There were about 2.7 million new HIV infections and about 2 million AIDS-related deaths in 2007. The rate of new HIV infections has fallen in several countries, but globally these favourable trends are at least partially offset by increases in new infections in other countries.
Sub-Saharan Africa remains the most seriously affected region, accounting for 67% of all people living with HIV and for 72% of AIDS deaths in 2007.
Adults
Between 2001 and 2007, increases occurred in the estimated total numbers of new infections of HIV in men and women. It is estimated that about 15.4 million women were living with HIV in 2007, compared with about 13.8 million in 2001. For men, there were about 15.4 million estimated to be living with HIV in 2007, up from about 13.7 million in 2001.
Children
The number of children living with HIV increased from an estimated 1.5 million in 2001 to about 2.5 million in 2007. However, estimated new infections among children declined from 460,000 in 2001 to 420,000 in 2007. Deaths due to AIDS among children had increased from about 330,000 in 2001 to 360,000 in 2005, but are beginning to decline to an estimated 330,000 in 2007. Nearly 90% of all HIV-positive children live in Sub-Saharan Africa.
Regional Statistics
The 2008 Report on the global AIDS epidemic documents considerable progress in many countries in addressing their national epidemics. A six-fold increase in financing for HIV programs in low and middle income countries from 2001 to 2007 is beginning to see results, as gains in lowering the number of AIDS deaths and preventing new infections are apparent in many countries. In most of Sub-Saharan Africa, national HIV prevalence has either stabilised or is showing signs of a decline. However, progress remains uneven, and the epidemic's future is still uncertain.
Source: UNAIDS (www.unaids.org) www.unaids.org/en/KnowledgeCentre/HIVData/GlobalReport/2008/
Much to live for despite diagnosis
When Mark learned he was HIV-positive, he felt shock. "How? Where? Who?", the then 44-year-old asked himself. But, as a single parent, his main thought was his son, then 14. And now, three years after the diagnosis, it's still his son who sustains him in his daily fight to cope with HIV.
"I didn't know I had it. It was just the flu," Mark recalls. "I got crook and I went to the doctors to see if I had glandular fever and she just said we'll do a HIV test and that's how I found out."
How did he get it? "I'm not 100 per cent sure -- but it's through sex," he says.
"All I could think of was I'm a single parent, what am I gonna do with my son because I got a really bad diagnosis. I was given five years to live. So the only thing that came into my mind -- I suppose the diagnosis didn't really come into play -- it was more, what am I gonna do with my son." Mark has four other kids, all of whom lived away.
HIV caused almost as much upheaval to his son as it did to Mark, particularly uprooting him from his life in Townsville, leaving his friends and heading back to Mark's family in Melbourne. "It's taken him three years to get his life in order," Mark says. "I think it devastated his life more than mine when I found out I had five years to live. I think my son has been my biggest support. I try not to think about the HIV -- it depresses you. My son has got me through. I've got something to live for.
"It's not easy -- I think you have got to have the attitude."
For Mark, who has been heavily involved in sport most of his life, the most difficult thing about being HIV-positive is that it saps his energy.
"I've lost all my energy. And I can't do the things I used to do -- even if I want to, I can't. I'd say that's probably the thing that's hurt me the most -- that I can't do what I used to, mostly sport. I did a lot of work, and still do now, with young kids and teenagers -- footy, basketball, swimming -- and I like to participate with them -- these days I just don't have the energy to jump in and be part of it?"
The stigma of being HIV-positive is also a daily challenge. "So many people, the general public, still believe that just being in the same room as someone with HIV, you are going to contract it -- and that seems to be the biggest problem," he says. "I've met people, if they knew I was HIV, they wouldn't even talk to me. And then I've met people who have no problem -- they're educated. That's the biggest problem -- education."
So what are Mark's hopes for the future? "I hope to keep going where I'm going mate," he says. "Watch my grandchildren grow -- and with the work I'm doing, I really want to educate the youth of the seriousness of unprotected sex, not just HIV -- lots of other venereal diseases that go with it."
Mark is a residential youth worker and is also working with the Speakers Bureau. "The kids are flabbergasted. It blows them away," he says. "The best part is when you actually finish talking the kids come up and ask their own questions. It's surprising some of the questions that they ask because they're spot on. It's what they need to know and I think we need to put more of it out there."
Mark became a grandfather for the first time three months ago. "Pretty happy with that -- puts a smile on my face every time I talk about her actually."
Michelle sees hope in future
Life's been tough for Michelle.
Taken from her Indigenous mother when she was a child, losing her HIV/AIDS-infected husband to a brain tumour, contracting HIV herself, shunned by her family -- she's been dealt some very tough cards in the game of life.
And yet 39-year-old Michelle still looks at life with a gritty optimism. Two teenage daughters, aged 19 and 14, a new partner, and a move to the NSW Central Coast have her contemplating the future with hope and motivation, while living with HIV every day.
It was just over 18 years ago that Michelle, then living in Melbourne, learned she was HIV-positive. "I was living with my late husband who was already diagnosed so I knew a little bit about it," she says.
She remembers the moment when the doctor told her in his consulting rooms, while her husband and six-month-old daughter waited outside. "The doctor asked me if I wanted to see a social worker. I turned around and said 'no'. There was no point crying over spilt milk. The damage was already done. So I walked out. It was about starting the rest of my life. There was nothing anyone could do.
"I already had a six-month-old daughter so I didn't have time to wallow in self-pity. There was someone who needed my 100 per cent attention. I couldn't allow myself to fall into a heap -- I needed to be there for her."
The reaction of other people in her life wasn't so stoic. When she told her father and stepmother that she was HIV-positive, they walked away, declaring that she "had just signed her death warrant."
In 1992, after four years together, Michelle lost her husband to AIDS -- they had only been married just over a year. Her second daughter was born in 1994, four years after she was first diagnosed HIV-positive. Her family still refused to see her and, to this day, she's not allowed in the house -- "it was like my children had been punished for my diagnosis," she says.
For Michelle, the main issues around being HIV-positive have been her family walking away, and protecting her children from the discrimination and stigma that came with living with the virus. She kept quiet for a number of years, but as time went on and her daughters got older, she got more involved in the HIV-positive sector, particularly the Speakers Bureau and Positive Women, and started speaking out.
Michelle's motivation was two-fold: she wanted to prevent the stigma and discrimination she and her daughters had gone through, while educating young people in the importance of safe sex and protecting themselves. "I had a world of information that was inside of me -- and I needed to share that," she says.
So are the messages getting through? "I've had kids over the years who have come up and cried at the end of my talk -- and told me that, because they're back with a partner, they're now gonna go home and speak to them -- and we're not having unprotected sex. We're gonna go and have blood tests and we're gonna use protection right up until the results come back.
"You know that the message is getting through when the responses are coming back like that. It's a ripple effect. If you can get through to one person, I feel I've more or less succeeded -- because then they'll go out and tell someone and it'll just keep going and it'll be an ongoing conversation," she says.
Michelle agrees with this year's World AIDS Day message. "If you go back to the Grim Reaper ad -- that really scared the life out of people and stopped people from actually going out and enjoying life and not being aware that if we use protection we can have as much fun as we like.
"This slogan is quite relevant to the positive people too. It doesn't mean we can't go out there and still continue to enjoy life, or have partners or relationships -- because we have the ability to use protection and speak up and inform our potential partners whether we're positive or not, or we've got an STI."
Michelle feels strongly that HIV/AIDS promotion must be ongoing. "Unfortunately, World AIDS Day is on 1 December. We are affected by HIV every day of our lives -- and it actually changes our lives every day. It's a little but disappointing that we wait one day of the year where it's in people's faces -- because after that people forget about it.
"We should have one day that represents but it shouldn't be forgotten for the other 364 days of the year -- because we don't forget it and neither do our families, friends and partners."
Michelle now looks to the future with real optimism, despite her condition.
"It's all about the will and the want to live and having a good life," she says. "I never thought I would be with a partner and we would be running our own business. He's so supportive of me and the girls -- it's just amazing to see how things have changed.
"There is hope for me."
Where to Find Help
There are numerous organisations in each state and territory that offer high quality care and support to those living with HIV/AIDS as well as their family and loved ones.
The organisations listed below are just a snapshot of those available throughout Australia. For the comprehensive list, visit www.worldaidsday.org.au
AIDS Councils
AIDS Council of New South Wales
www.acon.org.au
(02) 9206 2000
Victorian AIDS Council
www.vicaids.asn.au
(03) 9865 6700
Western Australian AIDS Council
www.waaids.com
(08) 9842 0000
Queensland Association of Healthy Communities
(formerly known as Queensland AIDS Council)
www.qahc.org.au
(07) 3017 1777
AIDS Council of South Australia
www.acsa.org.au
(08) 8334 1611
Tasmanian Council on AIDS, Hepatitis & Related Diseases
www.tascahrd.org.au
(03) 6234 1242
AIDS Action Council of the ACT
www.aidsaction.org.au
(02) 6257 2855
Northern Territory AIDS & Hepatitis C Council
www.ntahc.org.au
(08) 8941 1711
Other Organisations
Australasian Society for HIV Medicine
www.ashm.org.au
(02) 8204 0700
National Association for People Living With HIV/AIDS
www.napwa.org.au
1800 259 666 (02) 8568 0300
Australian Federation of AIDS Organisations
www.afao.org.au
(02) 9557 9399
Multicultural HIV/AIDS and Hepatitis C Service
www.multiculturalhivhepc.net.au
This article was provided by Australian Government Department of Health and Ageing.