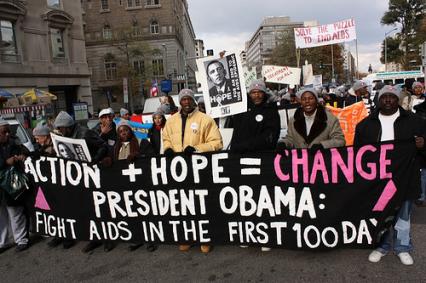 More than 1,000 AIDS activists from all over the East Coast attended the "inauguration" of President-elect Barack Obama on Thursday. It wasn't the real inauguration, of course, but a mock-performance where four activists posing as Obama got inaugurated by placing their hands not on the Bible, but on a National AIDS Strategy.
"Yes, we can!" and "Yes, we will!" the crowd screamed as Housing Works' Johnny Guaylupo, New York City AIDS Housing Network's Wayne Starks, American Medical Students' Association Mary Carol Jennings and ACT UP Philadelphia's Waheedah Shabazz-El played Obama, as fellow-activist Walt Senterfitt swore them in. The ralliers called on Obama to begin to implement real changes to AIDS policy in the first 100 days of his administration.
For the full demands go to 100daystofightaids.org.
Advertisement
Both domestic and global AIDS activists, are thrilled by Obama's
AIDS platform
, which seeks to lift the ban on syringe exchange, and supports comprehensive sex education.
"We are in total agreement with Obama's platform," Shabazz-El said. "We were in Washington because people living with AIDS want to share in this American dream."
Starks agreed. "President Bush all but ignored the AIDS crisis in the United States, even while the epidemic continued to grow, especially in marginalized communities," he said.
After the faux-inauguration, the group marched to the White House, and then to the Obama transition office. The chanting outside the office was part of a day-long advocacy push, including a phone zap targeting the office. Zappers stated, "I want to let my new president and his transition team know that I fully support the visionary commitments he laid out during his campaign, including guaranteeing universal access to HIV treatment in the US and around the world and reforming U.S. prevention policies at home and abroad."