Dietary Fat

What counts as fat? Are some fats better than other fats? While fats are essential for normal body function, some fats are better for you than others. Trans fats, saturated fats and cholesterol are less healthy than polyunsaturated and monounsaturated fats.
Advertisement
We also have a page on
Controlling Fat in Your Diet
.


Some fried foods and commercially baked goods may contain trans fats.
Trans Fat
You may have heard about trans fats recently in the news. These fats made headlines when food manufacturers were required to list them on the Nutrition Facts Label in 2006.
So what's the story with trans fats? These fats are created during food processing when liquid oils are converted into solid fats -- a process called hydrogenation. This creates partially-hydrogenated oils that tend to keep food fresh longer while on grocery shelves. The problem is that these partially-hydrogenated oils contain trans fats which can also increase low-density lipoprotein LDL-cholesterol and decrease high-density lipoprotein (HDL) cholesterol -- risk factors for heart disease.
The Recommendation
The Dietary Guidelines for Americans 2005 recommend keeping the amount of trans fat you consume as low as possible.
The good news is that some manufacturers have changed how they process foods to reduce the amounts of trans fats in their products. Be on the look out for foods that contain trans fats, such as commercially-baked cookies, crackers, and pies. Some commercial restaurants may also use partially-hydrogenated oils when frying their entrees and side items.
For more, see Controlling Your Trans Fat Intake.
Saturated Fat

You may have heard that saturated fats are the "solid" fats in your diet. For the most part, this is true. For example, if you open a container of meat stew, you will probably find some fat floating on top. This fat is saturated fat.
The Recommendation
Diets high in saturated fat have been linked to chronic disease, specifically, coronary heart disease. The Dietary Guidelines for Americans 2005 recommend consuming less than 10% of daily calories as saturated fat.
But other saturated fats can be more difficult to see in your diet. In general, saturated fat can be found in the following foods:
High-fat cheeses
High-fat cuts of meat
Whole-fat milk and cream
Butter
Ice cream and ice cream products
Palm and coconut oils
It's important to note that lower-fat versions of these foods usually will contain saturated fats, but typically in smaller quantities than the regular versions.
As you look at this list above, notice two things. First, animal fats are a primary source of saturated fat. Secondly, certain plant oils are another source of saturated fats: palm oils, coconut oils, and cocoa butter. You may think you don't use palm or coconut oils, but they are often added to commercially-prepared foods, such as cookies, cakes, doughnuts, and pies. Solid vegetable shortening often contains palm oils and some whipped dessert toppings contain coconut oil.
For more, see Controlling Your Saturated Fat Intake.
Dietary Cholesterol
Cholesterol is a fatty substance that's found in animal-based foods such as meats, poultry, egg yolks, and whole milks. Do you remember the other type of fat that is found in animal-based products? That's right -- saturated fat.
The Recommendation
The Dietary Guidelines for Americans 2005 recommend that individuals consume less than 300 milligrams (mg) of cholesterol each day.
So, when you follow the tips to reduce your saturated fat intake, in most cases, you will be reducing your dietary cholesterol intake at the same time. For example, if you switch to low-fat and fat-free dairy products, you will reduce your intake of both saturated fat and cholesterol.
Quick Q& A
I've heard that some people have high blood cholesterol because of the foods they eat but that other people have high cholesterol because of genetics. What's the difference?
Not only do you get cholesterol from the foods you eat (your diet) your body also makes cholesterol to use in normal body functions.

The cholesterol made by your body is partly influenced by your genes and these genes are shared by your family members.

Even though genetics play a role, families often also share the same eating and lifestyle habits. Some health problems that seem to run in families may be worsened by these unhealthful habits. If you have a genetic tendency to produce more cholesterol, you may still obtain additional benefits from reducing the cholesterol in your diet.


For more, see Cholesterol in Your Blood.
Polyunsaturated Fats and Monounsaturated Fats
Most of the fat that you eat should come from unsaturated sources: polyunsaturated fats and monounsaturated fats. In general, nuts, vegetable oils, and fish are sources of unsaturated fats. The table below provides examples of specific types of unsaturated fats.
Monounsaturated Fat Sources
Omega-6 Polyunsaturated Fat Sources
Omega-3 Polyunsaturated Fat Sources
Nuts
Vegetable oils
Canola oil
Olive oil
High oleic safflower oil
Sunflower oil
Avocado

Soybean oil
Corn oil
Safflower oil
Soybean oil
Canola oil
Walnuts
Flaxseed
Fish: trout, herring, and salmon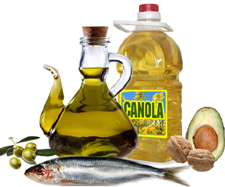 Polyunsaturated fats can also be broken down into two types:
Omega-6 polyunsaturated fats -- these fats provide an essential fatty acid that our bodies need, but can't make.
Omega-3 polyunsaturated fats -- these fats also provide an essential fatty acid that our bodies need. In addition, omega-3 fatty acids, particularly from fish sources, may have potential health benefits.
For more, see Controlling Your Polyunsaturated Fat and Monounsaturated Fat Intake.
Related Information
Controlling Fat in Your Diet
The Dietary Guidelines for Americans 2005 recommend that Americans keep their total fat intake within certain limits.