Illinois AIDS Advocate Wins Presidency
November 5, 2008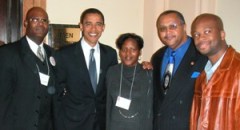 The AIDS Foundation of Chicago (AFC) congratulates President-Elect Barack Obama of Illinois on his historic election as the 44th President of the United States.
"The board and staff of the AIDS Foundation of Chicago are proud to see a longtime friend and supporter ascend to the highest office in the land," said AFC President/CEO Mark Ishaug. "We stand ready to assist President Obama in pursuing his comprehensive, results-oriented agenda on HIV/AIDS, which includes national healthcare reform and creation of a National AIDS Strategy."
Longtime AFC supporters Barack and Michelle Obama joined AFC's
View Full Article
---

---
Comment by: Nyende Ali
(Jinja, UGANDA, East Africa) Thu., Nov. 13, 2008 at 4:58 am UTC
For the entire USA to celebrate with president elect, Barack Obama's rescue plans for Americans and the world at large, the focus should be put unto how much the people of America are ready to be of support. A transformation will also depend on how ready he (Barack Obama) is to stick to his promises to America and the rest of the world.
Comment by: sandy
(london) Wed., Nov. 12, 2008 at 6:54 pm UTC
first we must congratulate mr Obama and the American people for voting for a black guy. am a mum of two , have been hiv since 2001, however i feel very disappointed for the fact that i cannot visit America. I would wish to bring my two kids to disneyland , but with the current policies i think that is impossible.
i do hope hope Obama will review the policies, which i must admit is very hypocrtical considering the amount of money the US goverment spend in fight against HIV and Aids and also been a member of the UN- it makes bodies like UNAID sound/look irrelevant.
Comment by: pam
(london, UK) Thu., Nov. 6, 2008 at 5:45 pm UTC
I wish President Elect Obama my congatulations. I and my family are overjoyed and impressed by him and we live in the UK! I have read his posting on this highly influential site which is used by people with HIV fom all over the world. I have found him interested, knowledgable and willing to learn about the issues. I welcome his reforms in health care in for all in the US and hope to see his support for research and the access to medicines in the developing world, not to mention improvement in the lives of everyone.
I am impressed ( and a bit jealous) that you have a man who is there for all Americans and who has lived and shared in your struggle.
I hope for you, what I have which is access to care and medicines of quality agreed between clinician and patient, not based on income or wealth.
Love Pam
Add Your Comment:
(Please note: Your name and comment will be public, and may even show up in
Internet search results. Be careful when providing personal information! Before
adding your comment, please
read TheBody.com's Comment Policy
.)