Sixteen Radical Steps to End the AIDS Epidemic
Summer 2008
From a special plenary session titled "Looking to the Future -- The Epidemic Steps to End the Epidemic in 2031, and New Directions in AIDS Research" at the XVII International AIDS Conference in Mexico City, August 6, 2008.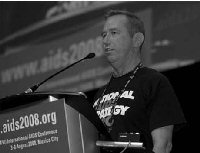 Twenty years ago this October, fifteen hundred AIDS activists from around the United States surrounded the headquarters of the U.S. Food and Drug Administration in Rockville, Maryland, to demand that it revolutionize its regulatory approach to the testing and approval of new drugs for AIDS. That demonstration was successful beyond our wildest dreams and we are living with its consequences still. Indeed, I and many thousands of others might not be living today had it not been for the unprecedented activism spawned by the AIDS epidemic over two decades ago.
View Full Article
---

---
Comment by: JJ
Fri., Nov. 7, 2008 at 6:33 pm UTC
elliot: ARV drugs work! That's why they are important. There is no scientific evidence that alternative/complimentary medicines work! And there are thousands of studies that have been published and presented that show how amazingly well ARVs work. The U.S. does legitimize generic ARVs for distribution through PEPFAR. Why don't you learn something before discussing things you know little about?
Comment by: www.gaydar.co.uk/positivetimes
(brighton, uk) Thu., Nov. 6, 2008 at 12:51 pm UTC
i see the list of suggestions made to help combat the spread of hiv.... no one has bothered to mention tougher punishment for individuals knowingly spreading the hiv virus... hiv- people have the right to know what the hiv status is of their potential partner is, and no hiv+ person should ever be able to engage in a sexual act with an hiv- person without full disclosure of thir hiv status... and this should be punishable under law... i firmly believe that far too much emphasis is placed on safe sex with hiv positive people, where the emphasis should be for the hiv- population to avoid sex with hiv+ people altogether.... i do not feel that all hiv+ people should be treated as lepers were in the past, but it should be accepted that we do carry a very dangerous and contagious virus that needs to be contained at all costs... not embraced as a new way of life.... positivetimes
Comment by: elliot berke
(New York, NY) Thu., Nov. 6, 2008 at 11:59 am UTC
your list started out great, but when you started mandating (#7) when to start ART i took exception to what i believe you were saying: that the person being treated should not have the final say so on whether or not to take ARV meds. after that i felt there was too much selling us on the role of ARV drugs; no mention of alternative/complementary medicines and therapies. also, re ARV drugs, if we're gonna use 'em, then at the very least, the u.s. needs to legitimize generic ARV drugs so they can be be sold globally as well as in the u.s.; it is well known that the smaller, less affluent African and Asian countries suffer greatly as a consequence of this murderous policy.
Add Your Comment:
(Please note: Your name and comment will be public, and may even show up in
Internet search results. Be careful when providing personal information! Before
adding your comment, please
read TheBody.com's Comment Policy
.)