An Interview With James A. McKinnell, M.D.
There's nothing like hearing the results of studies directly from those who actually conducted the research. In this interview, you'll meet one of these impressive HIV researchers and read his explanation of the study he presented at ICAAC/IDSA 2008.
My name is James McKinnell. I'm an infectious disease fellow at the University of Alabama at Birmingham [UAB]. I wanted to talk a little bit today about contemporary antiretroviral therapy, and specifically, treatment for antiretroviral-naive patients, patients who have never had antiretroviral medications before.1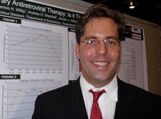 James A. McKinnell, M.D.
Two phenomena have been developing over time: One is that we're learning a lot more about initial antiretroviral therapy. We look at different strategies that work. More comparative trials are coming out, so we're learning how to treat HIV. We're getting better at it. We're really good at it. Life expectancy now is a lot longer.
Advertisement
There's a second phenomenon. We've suggested that we should test everybody for HIV. The whole world should be tested for HIV. They should all come to therapy. They should all come to care. Well, there's an issue there. You're going to have a rapid expansion in terms of the number of patients who are infected with HIV, who need treatment, who come in presenting for treatment. We have a problem. The currently funded Ryan White clinics are bursting. They have limited additional capacity to take these new patients in. So what's the potential solution?
I wanted to look at how to address this. How do we treat antiretroviral-naive patients? I described the treatment patterns in our clinics from 2000 to 2007. The UAB 1917 Clinic is a publicly funded clinic. We have about 1,500 active patients and about 7,000 patients in our electronic medical record. I analyzed how we treated patients in each year. I showed data from 2000 to 2007. If you look early in the time period, from 2000 to 2005, we used a lot of different medications to treat HIV. It was very complicated. For example, in 2004, for 71 patients, we used 16 different regimens.
Choosing an initial regimen has traditionally been very complicated, but starting in about 2004 or 2005, the number of regimens we were using dropped dramatically. In 2007, we really only had four regimens that we used. Looking at that data, we wanted to figure out why. What's going on? Why are we only using a few regimens? So we analyzed how many patients were put on each individual regimen.
Could you describe the regimens?
Sure. If you look [at the poster], on Figure 3, you see what's called a treatment chair. This is roughly the percentage of patients started on each individual regimen. In 2003, the largest bar is in orange. It's 3TC [lamivudine, Epivir] + AZT [zidovudine, Retrovir] + efavirenz [EFV, Sustiva, Stocrin]. For most patients, that's Combivir [zidovudine/lamivudine, AZT/3TC] + efavirenz. Initially, in 2003, that represented almost 45% of patients.
In 2004, a new player came to the market: FTC [emtricitabine, Emtriva] + TDF [tenofovir, Viread] + efavirenz. It's Atripla [efavirenz/tenofovir/emtricitabine, EFV/TDF/FTC], three medications in one pill. We liked it. From 2004, we started using it. We used it pretty frequently, in 20% of patients. But if you look in the last column, 2007 is very different. Atripla, or the three medications here, control 86% of the treatment chair. So 86% of treatment-naive patients were started on Atripla.
What's in the purple area?
That's the second regimen. This is what we call a protease-based regimen. Specifically, it's Truvada [tenofovir/emtricitabine, TDF/FTC] and boosted atazanavir [ATV, Reyataz]. For 96% of our patients in 2007, there are only one or two regimens that we're choosing from. The remaining 5% are actually only getting one of two additional regimens, so there are not that many medications that we're forced to manage.
What are the two additional regimens?
The two additional regimens aren't listed on the poster. They're both nevirapine [NVP, Viramune]-based. It's relatively a small number of patients, but they're probably pregnant women. If you're looking at the vast majority of patients, it's a relatively simplified treatment decision: "What are you actually going to put patients on?" This was relatively exciting for us because it suggests that there might be an opportunity to expand the role of primary care physicians and general practitioners in the care of these patients.
Specifically, the key here is that there are two decisions that need to be made or two things that have to happen. You need to locate a genotype for these patients. A vast majority of patients who haven't had antiretroviral therapy are completely sensitive to any regimen you want to start. If you know the treatment side effects of these two drugs, then a primary care physician conceivably, if trained and if taught, could make that treatment decision and say, "I'm going to start this patient on Atripla," or, "I'm going to start this patient on Truvada and boosted atazanavir."
Without a genotype?
No, I would get a genotype, but the vast majority of patients are going to be pansensitive.
Yes: Only 9% to 15%, I think, are estimated to have primary resistance.
Exactly; you're talking about a small subset of the population that's going to have some resistance. It's reasonable to say, "I don't know how to interpret that. Let's have an infectious disease specialist review this and help me make my decision." But for 90% of patients, if you have to decide between two drugs, it's something that's well within the realm of a general practitioner.
I took this another step. I said, "Well, where does the HIV practitioner fit in?" You've already picked up on the genotype question and maybe some of the initial treatment decisions. That's a case-by-case scenario; you have to figure out how that works. The second stage is: How does it work for subsequent therapy? This is where you start looking at Figure 4 and Figure 5 [of my poster]. These are called "regimen trees." I've looked at all the patients that were started on our two most popular regimens, 3TC + AZT + efavirenz and Combivir + efavirenz. That was 135 patients. If you look at Figure 5, the takeaway point here is: Wow, that's really complicated. It's not an easy treatment decision. There are multiple reasons for why you have to switch therapy. There are resistance issues to tackle. This is a very complicated picture, much in contrast to my relatively simplified Figure 3.
The idea is that over time, regimen selections for initial antiretroviral therapies become more homogenized. Ninety-five percent of patients are starting only one of two regimens. Subsequent therapy is still very complex, but maybe there's an opportunity here to incorporate general practitioners in the management of some of these patients. It's an urgent need. We need to develop access to care for these patients. Currently funded Ryan White clinics may not be the ideal answer. How do you encourage these general practitioners to become involved? Are they part of the Ryan White clinic? How does that work? There is a need.
The interesting thing about having so many choices now is that you can really customize treatment. For instance, if somebody has high cholesterol, high triglycerides or other lipid issues, you wouldn't give them certain regimens. There is an opportunity here to customize.
Very astute. We're now looking at long-term care for patients. We want not just what's going to work today, but what's going to work in the long-term. When you're picking medications like atazanavir, you're picking for the long-term side effect profile. We're looking for tolerability. These are the best drugs we have to customize and to take care of patients.
I'll refer to one of my references here.2 James Willig has published it. It's the idea of the durability of these regimens. What we've noticed over time is that making the regimens simpler -- so fewer pills -- is much more tolerable to patients. The reason why this Atripla arm has grown so much is that it's one pill, once a day. It's got a side effect profile, but most of our patients tolerate it. It's as customized as we can get. This is our optimization. This is the best that we have. We don't use inferior agents. We go right to the best we have because they last the longest and patients tolerate them the best.
This is a clinic for people who don't have insurance. Where could they go for a generalist to get free HIV care?
Our clinic is a mixture: We have some insured [patients], some uninsured. The idea here is that if we have HIV clinics that are designed to take care of patients, let's take care of the patient. Let's take care of their HIV care. Let's address the rest of their needs. Let's give them a primary care home, a place where they can get all of their care and needs met. The question is not, "Do we have to build something else?" but rather, "How can we incorporate general practitioners into this model? How do we create a place where patients can get care in one location for what they need, and not have to go to 16 different clinics?"
Is this model used elsewhere?
I just met today with Andy Catanzaro from Unity Health Care, a really exciting gentleman to meet with. They've developed this model here in Washington, D.C., whereby they have four or five infectious disease consultants that travel to each of the general medicine clinics and provide HIV care. He focuses all of his efforts on these subsequent regimens. He's the gentleman that makes all the treatment regimen switches, but he doesn't take care of the day-to-day management. He doesn't do the cholesterol. He doesn't do the diabetes. He's already adopted that model. I would love to find the opportunity to look at that and look at his outcomes, compare his outcomes on a course of measures. But the issue here is that you need to make sure the patients are getting comprehensive, complete care that fits in their lives. You can't make them bend to what you want. You have to provide them with what they need.
How many patients did you look at?
All told, the entire enrollment spanned about eight years. The entire initial sample was 482 patients, so it's a pretty decently sized sample. For 482 treatment-naive patients, that's a serious experience. It's essentially 10 providers' worth of treatment-naive patients. For the subsequent regimens, obviously, it's a subset, so the subsequent regimen analysis is only 205 patients.
Great. Thank you very much.
This transcript has been lightly edited for clarity.
References
McKinnell J, Willig J, Westfall A, et al. Contemporary antiretroviral therapy: is it time for the generalist to return? In: Program and abstracts of the 48th Annual ICAAC/IDSA 46th Annual Meeting; October 25-28, 2008; Washington, D.C. Abstract H-1260.
View poster: Download PDF
Willig JH, Abroms S, Westfall AO, et al. Increased regimen durability in the era of once-daily fixed-dose combination antiretroviral therapy. AIDS. October 1, 2008;22(15):1951-1960.