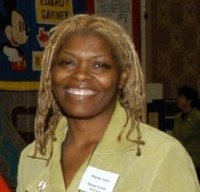 Jones speaks out about lack of immediate deadline for National AIDS Strategy.
One AIDS advocate is speaking out about a glaring flaw in the organizing around the National AIDS Strategy that could jeopardize the burgeoning effort to compel the next U.S. president to take a serious stand against the epidemic.
The National AIDS Strategy Transitional Document committee released its "The Framework for Developing a National AIDS Strategy for the United States" this week. Marsha Jones, Campaign to End AIDS national secretary and a member of the National AIDS Strategy transition document team, expressed disappointment that the Framework didn't include a demand that the next president create a plan for a National AIDS Strategy within the first 100 days of office. The Framework will be given as part of the transition memo to the next presidential administration.
"The fact that the President would have to address the National AIDS Strategy during the first 100 days, is an important part of the whole drive for the National AIDS strategy," Jones said. "Otherwise that plan can very easily be put on the back burner. If the 100 days is not there, there's nothing pushing it." Jones sent an e-mail to the National AIDS Strategy listserv expressing her dismay. Jones has served on the Transitional Document work group since Spring 2008, when there was a call for more grassroots effort in the National AIDS Strategy planning.
Advertisement
A
major criticism
of the National AIDS Strategy is that there is not enough grassroots input regarding its inception. The National AIDS Strategy was originally conceived last year by eight big-name AIDS organizations and is funded by the Ford Foundation. Only later on in the process was more community input sought.
The Nitty-Gritty
The nine page transition document calls for the National AIDS Strategy to be fully developed no later than January 20, 2010, and be operational until December 31, 2014. The document doesn't specifically address what the Strategy would entail. The document states why a plan is needed, "guiding principles" and how it should be developed.
Judy Auerbach, the cochair of the Transitional Documents committee, said that the Framework didn't include a specific start date because, "we're trying to emphasize principles. We chose not to get into the timeline."
She also said the call for the Strategy to be planned was included in the "AIDS in America: First 100 Days" transition document, which is not yet publicly available. "We've been working in concert with those working on the First 100 Days document. They're very complimentary," Auerbach said.
The 100 Days Committee is a group of mostly Washington, D.C.-based advocates, and although Jones has been on the National AIDS Strategy conference calls, she never heard this mentioned.
"I was under the impression that what the National AIDS Strategy team produced was going to be conclusive," Jones said.