Recent Report Highlights Past Puerto Rico Problems, Which Haven't Gotten Much Better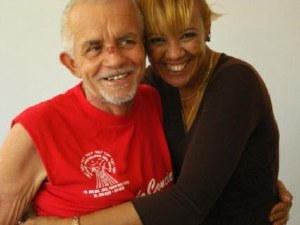 Residents of a shelter for people with AIDS in Loiza, Puerto Rico.
No one was surprised last month when the
U.S. Office of the Inspector General
released a blistering report demanding that the Puerto Rico government return $24 million in misused AIDS funds to the United States government. Mismanagement of such money has been going on for years on the island.
What has Puerto Rican AIDS advocates wringing their hands are the reforms that Puerto Rico attempted, which actually jeopardized the health and the lives of Puerto Ricans living with HIV/AIDS.
OIG's $24 million slap won't actually take money from Puerto Rico's AIDS Drug Assistance Program (ADAP) or from the underfunded community based organizations -- the island's taxpayers will pay this bill. The danger comes from the fact that the Health Department failed to verify that Ryan White dollars were being used as the payer of last resort from 2002 to 2004, providing AIDS Drug Assistance Program (ADAP) medication to people who had private insurance or Medicaid. Since an earlier reports on this problem was released, the Health Department has gotten more stringent about using ADAP as a payer of last resort, but observers say there's no system in place to make sure those who are cut from the ADAP rolls have adequate treatment. And no one trusts the DOH to do so without verification.
Advertisement
Because of these complaints, DOH has gotten more stringent about who gets ADAP, but observers say there's no system in place to make sure those who are cut from the rolls have adequate treatment. And no one trusts the DOH to do so without verification.
This process of taking people off the ADAP rolls makes it impossible to know who is eligible for medication and who isn't. And there have been kinks with the transition. One person with AIDS interviewed was kicked off the ADAP rolls then was unable to afford the $2,000 copay for antiretrovirals. And although there have been some minor improvements, many believe there needs to be a system-wide overhaul.
"We should be doing a case-by-case review of who should receive ADAP," said a recent health department employee, who asked to remain anonymous. "We need a new team within the Department of Health who can say, 'Here's what you're doing wrong,' but the Department of Health is so corrupt they all cover up for each other."
Raymond Rodriguez has been HIV-positive since 1992. He always got his medication like clockwork from a clinic, and because he has private insurance, he never questioned who was paying for it. Then one day in 2006, his prescription for Norvir stopped. "No one informed me about the change in medication. I stopped taking my entire regimen because I knew I shouldn't take the other medications with part of the treatment missing," Rodriguez said.
It turned out his health insurance would not pay for Norvir, and once ADAP stopped paying, Rodriguez was on his own. Because Rodriguez advocated for himself, he was able to get ADAP to continue to pay for his Norvir prescription. But, Rodriguez said, "This never should have happened."
When the Update asked Gabriel Santiago, a person living with AIDS in San Juan, about his problems receiving antiretrovirals, he said accessing mental health care was an even greater concern. "I've had problems in the past where my medications are rationed. But the biggest problem is with mental health. There are no psychiatrists who are available in San Juan," said Santiago, who suffers from depression.
How It Got This Way
Puerto Rico's troubles are a perfect storm of bureaucratic ineptitude and U.S. government cowardliness.
In 2006 Puerto Rico received $22 million for ADAP, and the DOH says that 8,000 people currently receive medication through the program, though there could be more. Likewise, earlier this year there were reports of 300 people who couldn't access antiretrovirals, but there is no way to verify that.
The Health Department, like much of Puerto Rican bureaucracy, is plagued with ineptitude that goes beyond just distribution of AIDS medications. (Puerto Rico representative Luis Fortuño is running for Governor on a platform that Puerto Rico needs to better manage all U.S. funds.)
Community-based organizations, that went years without being paid, said that all funds that had to go through the Department of Health, such as Ryan White and SAMHSA, have been incredibly slow. "Every year the laws are changing," said Iniciativa Comunitaria Executive Director José Vargas Vidot.
Another major problem is that Reforma -- Puerto Rico's Medicaid program -- is bankrupt. Although it supplies health insurance to more than 30 percent of Puerto Ricans, unlike Medicaid, it receives no federal matching dollars. As such, even if someone qualifies for both Reforma and Ryan White "it's to Puerto Rico's advantage to get all of the patients covered under ADAP to keep Reforma funds," said Hispanic Federation Director of Advocacy James Albino. The U.S. government argues it doesn't want to provide more money to Reforma until the Health Department can show it can handle the federal funding it has.
And thanks to an ugly history of colonialism, the U.S. is simply reluctant to take any direct control of Ryan White funding despite a December 2006, FBI raid of four San Juan Health Department offices. The FBI seized 400 boxes of documents in a criminal investigation into possible misuse of Ryan White grants. AIDS advocates have put pressure on HRSA to take control of Ryan White funds, (including a "die in" in Manhattan last year). U.S. Reps. Fortuño and José Serrano cosponsored a bill calling for direct HRSA intervention, but the bill was largely symbolic and hasn't gained any momentum in the House.
Meanwhile, Puerto Rico continues to have extremely high rates of new infections, 50 percent among injection drug users.
"It feels like we're going back to how it was in the 80s, with people are getting opportunistic infections," said Angelica Segarra, director of Fortaleza al Caido, an organization that houses people living with AIDS in Loiza, Puerto Rico.
One of the residents at Fortaleza al Caido (shown above) said that he spent years being homeless and without taking antiretrovirals, and at one point weighed 80 pounds, though he is now up to 126 pounds. "I didn't know who I was," he said.
Puerto Rico Responds
The Puerto Rico Department of Health told the Update in reference to the OIG report, that any funds spent on ADAP were spent "exclusively on much needed medications for medically indigent HIV/AIDS patients" who had difficulty accessing medication from other sources, particularly Reforma.
The PRDOH said it has started correcting the use of Ryan White as payer of last resort as a corrective action plan.
So far the "corrective action" has failed to impress advocates. The DOH did apply for a Pharmaceutical Benefits Manager to manage ADAP funds. However Puerto Rico's Office of the Controller revealed that it has no record of a Pharmaceutical Benefits Manager. The selection of the PBM did not go through the normal bidding process. Municipalities hire a PBM to control costs of medications.
The controller's revelation contradicts information that the Puerto Rico DOH told the President's Advisory Council on HIV/AIDS (PACHA), the U.S. Department of Health and Human Services, Congressional Hispanic Caucus members and the Senate Health Education, Labor and Pension committee that it has a contract with McConnell Valdes, LCC. That contract may violate rules against no-bid contracts and flout a federal drug pricing policy called 340B that gives deep discounts to agencies that purchase medications in bulk.
"The Department of Health is in a state of denial," Albino said.
Albino said there have been some improvements, such as the recent removal of Rosa Pérez Perdomo as Secretary of the Department of Health, and bringing back Dr. John Rullán on September 16, 2008. Rullán was on medical leave and is considered more experienced and competent than Perdomo.
Still, the original problems happened under Rullán's watch.
A former health department official said, "When Dr. Rullán was Secretary of Health, they said 'We received the federal funding and distributed to all necessities' like a motto. They don't consider the correct use of the funding. I think the situation is cultural."
Meanwhile, Jorgé Delgado Rivas, a health department official tapped to handle AIDS last year after the AIDS crisis gained nationwide attention, is widely dismissed as a yes-man who relays information from the community to the health department, but has no real power.
"At first I was so impressed by him, but he's just another person in the room," Vargas Vidot said.