Hi Everyone,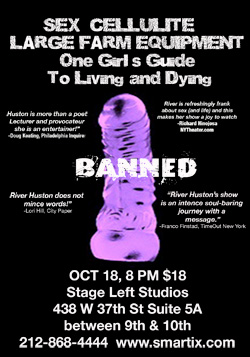 I created this show as a way to bring out the story of a woman coping with challenges and overcoming them with humor and a little grace. I also did it so people could understand that AIDS is just a disease and hopefully give people another perspective on what it is like to be diagnosed HIV positive and cope with it for half your life. (Do you believe it?! Half of my life!)
I did the FRINGE Festival this summer and it kicked my ass! My director asked if I would be interested in performing in her Women at Work Festival and my 12-step training had me saying yes before I realized what I was doing! No matter if it's one night or three months, it's an endeavor to put up a show in NYC. I usually perform around the country at different conferences, colleges and benefits. The only thing I have to do is send a press kit and show up. For these festivals I'm responsible to get an audience. So if you have ever wanted to see me perform or have not seen me in a while, come on down! I have added music and video as well as more props! It is a very small theater so if you are interested please buy tickets in advance; the info is below. Hope to see you Oct. 18!
River Huston
River introduces herself -- and her chickens.
Sex, Cellulite & Large Farm Equipment: One Girl's Guide to Living & Dying
(The formal press release)
Stand-up comic, award-winning poet, sex columnist, public speaker, former aerobics instructor, cabbie, musician, pot farmer, dominatrix, armed robber, there is more but she only has an hour to put it together in a hilarious performance.
The former poet laureate of Bucks County is taking these experiences and musings as a part of The Women at Work Festival, October 18, 8 PM, at Stage Left Studios, 438 W 37th Street, Suite 5A, NYC, between 9th and 10th Aves.
River opened Sex, Cellulite, and Large Farm Equipment: One Girls Guide to Living and Dying March 2004 at the Society Hill Playhouse in Philadelphia to rave reviews. "Huston's well-timed delivery, sharp observations and her physically manic demonstrations are continuously humorous and often hilarious," says Doug Keating of The Philadelphia Inquirer. "This is not a show for the easily offended," says Tammy Poglino of The Courier Post. Her New York debut in 2007 garnered an impressed audience. "Huston is a fantastic performer and my gaze never strayed from her larger than life presence on stage," said Richard Hinijosa, NYtheater.com.
For the last two years she has taken the show on the road to theaters around the country, fine-tuning her material in hundreds of towns and cities from Miami to Los Angeles and everywhere in between.
Described as blunt and irreverent, River Huston has been giving performances around the world for the last 18 years to audiences ranging from 40,000 in Japan to sorority and fraternity brothers across the nations to little old ladies at a Unitarian Church. She decided to morph her stand-up comedy and lectures into a theatrical performance that takes a hard and humorous look at her life experiences, including an arrest for obscenity, running a marathon, dating, marriage, financial ruin, living with AIDS, surviving an unpronounceable bleeding disorder and several unexplained rashes.
Directed by Cheryl King, the director of Stage Left Studio, the only solo show repertory in New York City. After a 13-year career in comedy, she created her own solo show, the internationally acclaimed "not a nice girl." This led to the formation of Cheryl King Productions and Stage Left Studio in midtown Manhattan. She is also the Artistic Director of Sola Voce: Estrogenius at ManhattanTheatreSource, and resident acting coach at the acclaimed daytime drama All My Children at ABC. Her television credits include ABC's 20/20 and Oprah!, as well as Faking It on TLC. Ms. King is an advisory board member of ARIA and a member of the Dramatists Guild.
Music by Scaribari.
Cheryl King Productions presents the second annual Women at Work Festival, a festival of solo shows by and/or about women. Performances will be nightly at 8 PM, Oct. 16-20 and 23-25, at Stage Left Studio, 438 W 37th Street, Suite 5A, NYC, between 9th and 10th Aves.
Each evening's show will run from 60-90 minutes. Fourteen women from all over the country will perform over the eight nights of the festival, in shows featuring comedy, drama, cabaret, monologues, and improvisation. The performers featured in the festival are Richard Ballon, Christine Renee Miller, Maiken Wiese, Michelle Vest, River Huston, Cheryl Harnest, Marlene Nichols, Michelle Ramoni, Alithea Howes, Chelsea Gregory, Myla Pitt and Toni Silver.
Preview
River performs a poem from her show.
Tickets are $18 and available through Smart Tix, www.smarttix.com, 212-868-4444. Discount of $3 is available with discount code 3OFF. Seating is limited, so advance ticket purchase is recommended. For more information, visit www.stageleftstudio.com and click on the festivals tab.
This article was provided by River Huston.