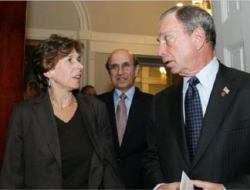 Can Weingarten convince Bloomberg to stave off cuts for everyone?
In the face of another potentially devastating round of budget cuts, more than 100 advocates for New York City's poor gathered Monday for the first meeting of a historic new coalition called One New York: Fighting for Fairness.
One New York will hold a press conference at noon today, October 10, on the steps of City Hall, where it will announce its plans to send a letter to Mayor Michael Bloomberg and Council Speaker Christine Quinn that in its original draft warns, "The prospect of additional reduction to core and social safety net resources is untenable and defies the reality that poor children and families require more, not less, help in these difficult economic times."
At the One New York meeting, which took place at the United Federation of Teachers' Manhattan headquarters, advocates discussed goals is to halt cuts to New York's poor, possibly through tax increases. But many present, particularly public health and homelessness advocates, were skeptical to sign on too quickly for a coalition they feared might not consider all stakeholders' interests equally.
Advertisement
"Our hope is that this coalition is more than just a front for a few constituencies, and actually protects all low-income New Yorkers," said Sean Barry,
New York City AIDS Housing Network
co-executive director, who attended the meeting. "There's such a disparate set of issues, and what traditionally happens is some groups come out ahead and some don't. The union members in New York have a lot more power than poor New Yorkers who rely on HIV/AIDS Services Administration (HASA) benefits. Preachers have a lot more say than families on welfare."
Most recently during the June 2008 city budget cuts, Bloomberg cut education spending, but after lobbying by the UFT and other groups, the City Council chose to hold education spending harmless at the expense of more cuts to social services, including $6 million in AIDS spending.
Politics Makes Strange Bedfellows
All sectors of the city are expected to take a massive hit in the mayor's next round of budget cuts, about 2.5 percent for the rest of this fiscal year and five percent for the next fiscal year. While the new coalition is immediately focused on the city budget, the group also wants to send people to lobby Albany legislators when the state government starts slicing programs in November.
"The drumbeat for cuts is going to be enormously loud," Dan Kantor, executive director of the Working Families Party, told the Update. "We have to make the case both on economic grounds and moral grounds that we can't fight our way out of the crisis."
The invitation for Monday's meeting was signed by the United Federation of Teachers, 1199SEIU, New York ACORN, Keep the Promises Coalition, the Legal Aid Society, Coalition for the Homeless, the Working Families Party, Citizens Committee for Children of New York, United Neighborhood Houses, New York Immigration Coalition and the Citizen Action of NYC.
While people in attendance were supportive of the call to action, many advocates were wary of the organizers' motives, with tensions running deep between the larger unions and smaller community-based organizations. UFT President Randi Weingarten, without apologizing for her union's role in the last round of city budget cuts, apologized for the "perception" of it.
"Wait and See" Situation
"It was a good thing that Randi Weingarten apologized for the perception that cuts to city services were taking place when the education budget getting an increase, but I was disappointed she didn't say this back in June," said Housing Works Vice President of New York Public Policy and Organizing Terri Smith-Caronia. "They caved in and pit the schoolchildren against everything else."
Housing Works hasn't yet decided if it will sign on to One New York's letter to Bloomberg and Quinn. "All of these recommendations are good in principle, but I think groups should continue with their own individual work fighting the budget. It's more to me a 'wait and see' situation," Smith-Caronia said.
José Calderón, vice president of the Hispanic Federation, also said his group is undecided if it will sign on to the letter, but added that he had no reservations about working with the larger unions. "Having powerful voices in the room could help everyone out," he said.
But as Darryl Ng, Community Health Care Association of New York State said, "The devil is in the details. We've all got to hang together or hang separately, but we have to make sure there's transparency in the coalition's decision-making."