Gene Copello, 1959-2008
AIDS Community Mourns Passing of Pioneering Washington, D.C., Advocate
October 9, 2008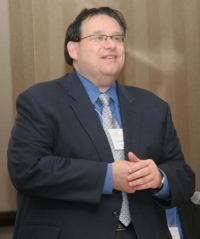 Copello, AIDS advocate who worked to unify AIDS community
AIDS advocates mourned the death this week of Dr. Gene Copello, founder and executive director of the Washington, D.C. advocacy organization
the AIDS Institute
. Copello died Monday after a long battle with kidney problems. He was 49.
Those who knew Copello remember an intelligent, genial workaholic who was passionate about unifying often-divided AIDS advocates to reach consensus.
"What was most remarkable about Gene is how he brought the community together," said Carl Schmid, AIDS Institute's director of federal affairs. "We hope what he did, we can continue to do."
Advertisement
Copello founded the AIDS Institute in 2003 as a Washington, D.C. outgrowth of Florida AIDS Action, a Tampa-based AIDS organization. Copello and the AIDS Institute soon became a respected voice on federal AIDS advocacy issues.
"Most of us were just wondering where the AIDS Institute came from! Gene made a place for himself in Washington relatively quickly and recognized the importance of new voices in HIV and AIDS advocacy," said Bill Smith, SIECUS vice president of public policy who served as co-chair of the Federal AIDS Policy Partnership (FAPP) with Copello and National Minority AIDS Council executive director Paul Kawata.
The three of them enjoyed monthly brunches at the Mayflower Hotel, where over eggs, bacon and lots of coffee they would discuss AIDS advocacy as well as their own lives. "Gene always made it a priority to be a good colleague and be a good friend," Smith said.
Smith described Copello as a mentor and said he was originally ambivalent about becoming FAPP co-chair since his group deals with comprehensive sex education. "Gene said to me, 'We need to expand the voices if we're going to end the epidemic.' I wouldn't have done it if it wasn't for Gene saying their voice is important in the mix," Smith said.
Copello was involved in AIDS advocacy for 25 years. Before joining Florida AIDS Action, Copello served as Chief of HIV Services for the City of San Francisco and as Executive Director of the San Mateo County AIDS Program in California. He began his career as a faculty member at the Vanderbilt University School of Medicine, where he also founded and directed the Vanderbilt AIDS Project.
"As an educator, Gene particularly supported the need for housing for people with AIDS, and made it a priority for the AIDS Institute," said Nancy Bernstine, executive director of the National AIDS Housing Coalition, of which Copello was a longtime board member.
In addition, Copello served as co-chair of the Federal AIDS Policy Partnership, and on the boards of American Academy of HIV Medicine, Caucus for Evidence-Based Prevention, and many other organizations. He also was an appointed member of the United States delegation to the 2008 United Nations General Assembly High Level Meeting on AIDS.
Big Shoes to Fill
"Gene was on so many committees and facilitated so many groups, and it's going to be a major loss to try to fill those shoes," said Housing Works Vice President of National Advocacy and Organizing Christine Campbell. "He knew how to build relationships with everyone and find commonalities so we could move forward together."
Although Copello long battled health problems, only those close to him realized how serious they were. "It was not easy for him, but he didn't want people to know how much pain he was often in," Smith said.
Services for Copello will be held at St. Thomas' Episcopal Church, 1772 Church St. NW, Washington, D.C., at 1 p.m.. on Monday, October 13. Following this, a reception will take place at 2:30 pm at the residence of Copello and Frederick Wright. In lieu of flowers, donations can be made to the AIDS Institute in Copello's honor.
---

This article was provided by
Housing Works
. It is a part of the publication
Housing Works AIDS Issues Update
. Visit
Housing Works' website
to find out more about their activities, publications and services.
---
Comment by: Tom
(NY) Tue., Apr. 12, 2011 at 11:37 pm UTC
Gene was in my freshman orientation class at Eckerd College and became a friend. Such a warm and kind human being. He is missed...
Comment by: natalie
(Tampa) Sat., Sep. 19, 2009 at 2:36 pm UTC
I miss your heart, Gene.
Forever in my prayers
Comment by: Gene Copello
(Washington D.C) Thu., Oct. 16, 2008 at 8:27 am UTC
Friends are for life.
Friends are whom we like.
Friends are for now.
Friends bring forth hope.
Friends are the beginning.
And never the end.
Friends are to mother.
Friends are to father.
Friends are to care.
Friends are of honor.
Friends are of integrity.
Friends are of most value.
Friends are of God.
Friends are forgiving.
Friends are seen.
Friends are heard.
Friends are Love.
Friend, thank you for being my friend.
Merry Christ to you, Gene, for being a friend.
Frederick Wright
Advocate and Member GNP+USA
GNP+USA2010@aol.com
Your Christian Brother whom is learning to love and be loved
Comment by: Michael King
(Anchorage, Alaska) Tue., Oct. 14, 2008 at 4:55 pm UTC
As a board member of the AIDS Institute, I am truly grateful for having had the privilege of working with Dr. Copello. A man of the highest character and strength, he truly was an exceptional individual. He brought out the best in people and the best in me and his example always encouraged me to give my best and do my best for the AIDS institute and in life as well. He will be truly missed and his contribution to end HIV/AIDS in America and around the world is exemplary.
Comment by: Stephen Zollman
(San Francisco) Tue., Oct. 14, 2008 at 11:58 am UTC
I worked with Gene back in the old CA Life Lobby Day ... He was amazing, so very nice and a real mentor to me and so many others .. He will be deeply missed but his work will continue...
Comment by: Paula
(Washington, DC) Tue., Oct. 14, 2008 at 11:26 am UTC
Gene was a longtime and dear friend, who really knew how to bring people together and focus on a common goal. He always did his work with humor and grace, and it was a pleasure knowing him and being his friend. We had lost touch in recent years, but I will still really miss him.
Comment by: toad
(ireland) Mon., Oct. 13, 2008 at 9:40 am UTC
thank you for your work in hiv/aids
Add Your Comment:
(Please note: Your name and comment will be public, and may even show up in
Internet search results. Be careful when providing personal information! Before
adding your comment, please
read TheBody.com's Comment Policy
.)