Stand Against AIDS Caps Off With Somber Funeral; The Inside Scoop on Why McCain Committed to a National AIDS Strategy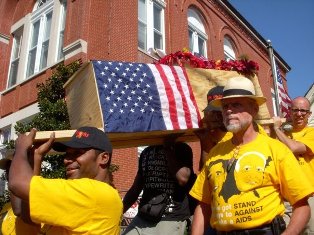 Funeral procession through Oxford
As McCain and Obama were preparing to debate on the University of Mississippi campus last Friday, a mile down the road, AIDS activists from the Stand Against AIDS solemnly carried a casket around Oxford's pristine town square, with mourners holding black umbrellas walking behind. The dramatic memorial commemorated the 268 people in the United States who died of AIDS last week.
"At Housing Works, there were five funerals this month. And that's just one organization in one city. This is a completely preventable disease but people are still dying," Housing Works President and CEO Charles King told the tearful crowd after the march.
This somber event capped off a week of more festive rallies and protests in Oxford as part of the Stand Against AIDS, where some 100 activists arrived from around the country gathered to demand that the next president take meaningful steps to create a National AIDS Strategy in his first 100 days of office. Obama committed to a National AIDS Strategy back in October 2007 but has not given a time frame. On Wednesday, McCain pleasantly surprised the AIDS community by telling the Washington Blade that he too supported the creation of a National AIDS Strategy. "Let's roll up our sleeves and put together a National AIDS Strategy for more effectively addressing the domestic challenges," he stated in the article, an interview done via e-mailed questions. McCain also stated his support as abstinence as a component of sex education.
Advertisement
AIDS Institute Director of Federal Affairs Carl Schmid said that when the idea of a National AIDS Strategy was mentioned to McCain health advisor Jay Khlosa, he was originally ambivalent, since Khlosa was under the assumption that a plan was already written that McCain would have to sign onto. However, once Khlosa understood that a McCain administration was free to write its own plan, Khlosa reconsidered. "It's great McCain is supporting this, and frankly, it's about time," Schmid said.
A Media Moment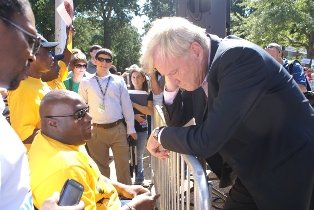 Greg Fordham speaks to Chris Matthews
On the day of the debate, Campaign to End AIDS members woke up at dawn to get a good spot at the Grove, the grassy area on the Ole Miss campus where media and partisans gathered for the debate, in order to stake out a good spot in their yellow AIDS t-shirts behind MSNBC's Chris Matthews. "We're trying to get the next president to support a National AIDS Strategy in the U.S.," Housing Works' Dennis Weakley told Matthews. Matthews, in characteristic pundit-fashion, only half-listened, and started talking about the need to fight AIDS in Africa.
To read about the rest of the Stand Against AIDS, check out the Update's story last week, or read standagainstaids.wordpress.com