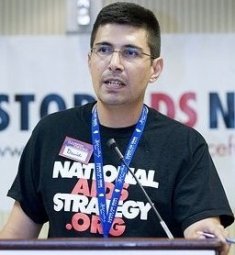 Munar: Let's focus on healthcare reform and National AIDS Strategy
Editor's note: This op-ed is responding to Housing Works National Advocacy and Organizing Vice President Christine Campbell's op-ed "Don't Wait Until 2012 To Reauthorize Ryan White." Campbell argued that we should not delay reauthorizing the Ryan White CARE Act.
As we approach another congressional deadline involving the Ryan White HIV/AIDS Treatment Act -- the nation's flagship HIV/AIDS safety net program -- people living with HIV/AIDS and our advocates have some difficult soul-searching to do. In order to be effective, we must pursue a path that is most likely to result in better and more accessible services for people in our communities.
Chief among the questions we must ask ourselves and others: What ails Ryan White? Reading Christine Campbell's excellent op-ed, I couldn't help but list a few of my own gripes.
Advertisement
First, there is not nearly enough money devoted to the program to meet the spiraling set of needs of the growing HIV-positive population in the U.S.
Second, support service access has been greatly reduced or constrained (largely related to my first point).
Third, a complex set of legal requirements and regulations make the program increasingly difficult to administer locally and nationally.
Fourth, wide variability in Ryan White eligibility criteria, service access, and quality persists across the country (not unlike health care in general).
Finally, and perhaps most egregious, the program has become the ONLY SOURCE of health care for hundreds of thousands of low-income people with HIV/AIDS, a role the program was never designed or intended to address.
So How Do We Fix These and Other Problems in the Program?
Some argue that Congress should legislate a set of fixes for all that ails Ryan White via authorizing legislation, which is required by law to continue the program past October 2009. I tend to disagree with this argument and believe that authorizing legislation alone cannot fix all of Ryan White's problems. There are at least three reasons why I believe achieving Ryan White improvements must go beyond the legislative work needed to address the September 30, 2009 deadline for the program to continue:
Larger federal appropriations could fix many identified problems, including inadequate support services access. Because appropriations are determined through a separate congressional track, more vigorous appropriations advocacy seems at least warranted to achieve many of our goals.
HRSA -- the federal agency running Ryan White -- has narrowly, and I would argue improperly, interpreted federal Ryan White law. In some instances, HRSA's interpretations are nothing short of artfully wrong (Can you say "lifetime housing cap?").
The need for continuous, uniform, portable, and high-quality HIV care and support services is likely better advanced through another program beyond Ryan White. Congress created the Ryan White program in 1990 to provide emergency financial assistance to communities devastated by HIV/AIDS. Now, nearly 20 years later, the framework of the program is ill-suited for the demands of the epidemic. The epidemic today is simply bigger, more complex, and of longer duration than anyone could have ever imagined in 1990. Some of these challenges are the result of powerful medications keeping us alive longer, a development we welcome and celebrate.
Unfortunately, the framework of Ryan White is struggling to accommodate the modern epidemic, and three rounds of extensive legislative changes have only served to make a complex program, ruled by a Byzantine set of local and national requirements, a colossal challenge to manage locally and nationally. We're spending too much time spinning our Ryan-White-requirement wheels and that energy could be more efficiently and cost-effectively spent serving additional people and advocating on behalf of increased services, through larger programs such as Medicaid and Medicare, and ensuring that HIV/AIDS treatment are part of national health care reform discussions.
While no one's crystal ball is very well calibrated, a groundswell of public support for wholesale changes in the nation's health care financing and delivery systems (essentially, serious health care reform) and talk of a coordinated, national plan of action-the so-called National AIDS Strategy-come to mind as potential vehicles to achieve lasting and meaningful changes around HIV/AIDS care services.
Asking Ryan White to fix our nation's fragmented and crumbling health care and support-services systems is, I believe, asking a lot of this relatively small and targeted program.
But there's one more critical and pragmatic consideration: The utter lack of time left to achieve meaningful changes in our HIV service sector.
Once Congress gets past the November election, the inauguration in the New Year, hearings on cabinet appointments, work finalizing FY09 appropriations, work beginning on FY10 funding, and hearings and legislation to address the on-going economic crisis, the war, and the new president's priorities, they will likely have no time left for Ryan White deliberations. Moreover, after a contentious two-year struggle to broker the 2006 Ryan White reauthorization, members of Congress (including many of our champions and allies) are simply tired of the fragmented and divided AIDS community. I would not be surprised if Congress mustered, at most, just one Ryan White hearing next year.
So The Prevailing Opinion of Many Advocates, Which I Support, Is:
Let's make sure Ryan White continues without interruption for those who rely on it. While we can agree there are deficits in the framework of the program, too many people with HIV/AIDS rely on it every day as a lifeline and cannot tolerate even one day's gap in essential services.
Since we need an act of Congress to continue the program past October 2009, let's clean up the worse and unintended messes of the 2006 language but, for the sake of expediency, not try to fundamentally rewrite the authorizing framework, at least not yet.
Let's apply pressure to the next occupant of the White House to sensibly interpret and implement the Ryan White laws as they are written and intended. In addition, we must ramp-up appropriations advocacy and demand that Congress respond to changes in the epidemic with new funding to serve the growing HIV population in need.
Let's not fight over ultimately small victories, like Ryan White funding formulas and hold- harmless provisions, but rather invest our movement's robust passion and energy in the big battles that could ultimate transform the landscape for millions of people in our country: national health care reform and a national AIDS strategy.
If neither track is fruitful in the next two years, then yes, I agree that we in the AIDS movement should have a traditionall reauthorization fight and go another round of tearing each other apart over a $2.2 billion pittance in Ryan White resources.
David Ernesto Munar is Board Chair of the National Association of People with AIDS, AIDS Action Council's Policy Committee Chair, and a Vice President at the AIDS Foundation of Chicago. You can reach David at DMunar@aidschicago.org