My Alter Ego: Anita Mann
By Mark S. King

October 2, 2008
6:03 p.m.
This is one of those weeks when my diseases -- HIV and addiction -- take a back seat to "real life" and the pleasures it can provide. Although, like a noisy passenger, sometimes the back seat is just as intrusive.
My brother Dick is visiting this week. He's also gay, in recovery, and we share a healthy sense of humor as perfectly as our shared DNA. He's here to rehearse and perform a show we've written for a conference this weekend for gays and lesbians in recovery. It's a silly show with serious undertones, and that's an apt description for our time together.
Dick somehow escaped becoming HIV positive himself, but lost a lover of 13 years to the disease. Memories of that terrible time have faded but stubbornly remain. His subsequent drug addiction raged terribly until he found recovery and has been clean for 14 years now. What an inspiration he is to me.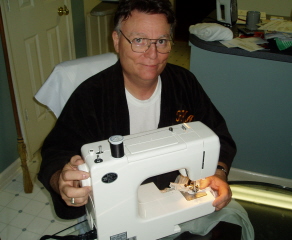 My brother Dick, sewing a costume for a show
I'll be taking video of our conversations, rehearsals and even the performance as the week progresses. With a little luck, you'll get a taste of how two AIDS warhorses blend past tragedy with current joy. Until then, here's a picture of Dick sewing a costume for the show. What gay brother doesn't travel with his own sewing machine and colorful fabric swatches?
Meanwhile, I'll give you a look at one of the numbers in the show, at the risk of ruining any hope of finding a date through this blog. It's Anita Mann, my alter ego in the show, performing her classic "TV Set" number. It takes a real man to roast his own masculinity, right?
In the meantime, please be well.
Mark
To contact Mark, click here.
---
Add Your Comment:
(Please note: Your name and comment will be public, and may even show up in
Internet search results. Be careful when providing personal information! Before
adding your comment, please
read TheBody.com's Comment Policy
.)