Harm Reduction Advocates Struggle to Reach Drug Users, Who Account for Half of PR's Yearly HIV Infections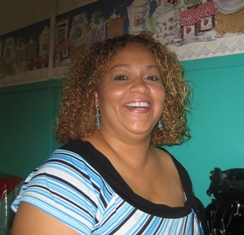 Rodriguez founded two syringe exchange programs
As part of Housing Works Harm Reduction month, the
Update
is spotlighting harm reduction efforts and advocacy in Puerto Rico. "Harm reduction" is any program or policy that promotes the reduction of harm that individuals may do to themselves or others through substance use and/or unsafe sexual practices.
In Fajardo, Puerto Rico, a small city on the east coast of Puerto Rico, a dozen people hang out in a shooting gallery behind projects. These men and women search for a vein that's not dead so they can shoot up heroin. Then along comes Gloria Gonzalez, with clean needles and lollypops. Gonzalez, a 2008 Keith D. Cylar awardee, is treated warmly by the group, most of whom are chronic drug users. "It's hard to get methadone, but I want to quit," one man explained to the Update. Another searched for a vein in his leg since he was out of veins in his arms. One place he wouldn't go was his groin. "I don't want to kill my penis," he said, chuckling.
Because of Gonzalez, a former drug user herself, these people have access to clean needles, which help prevent the spread of HIV and hepatitis C. Yet Gonzalez receives no government funding for her syringe exchange (or "punto fijo" in Spanish) and does the distribution and outreach on her own time. She is laying the groundwork for harm reduction housing and a community center where syringe access will be provided in Fajardo.
Advertisement
"The mayor of the City of Fajardo believes that all is needed is detox," Gonzalez said. "He thinks he has a done a great job by establishing an agreement with an agency in Philadelphia to which he ships injection drug users who are homeless. Fajardo has an equestrian park, beautiful beaches, ferries which depart for Culebra and Vieques. So, he cleans the streets. He sends them to Philadelphia."
According to estimates, 50 percent of new HIV infections in Puerto Rico are transmitted through injection drug use. Most drug users are chronic drug users, and 17 percent of chronic drug users on the island are women. The statistics are extremely unreliable, but according to the 2008 CDC report, in 2006 there were 2,371 new reported cases of HIV and AIDS.
It's not that the Puerto Rican government is openly hostile to harm reduction -- a 1993 law allows people to openly carry syringes. The main problem is that the government is unlikely to put its money where its mouth is. The federal ban on syringe exchange prohibits U.S. dollars going to this and the state provides little of its own funding for syringe exchange and harm reducation programs. The majority of drug treatment programs are faith-based, abstinence-only programs which don't provide harm reduction to patients.
In addition, groups that provide harm reduction and AIDS care are dealing with a parallel crisis of the ineptitude of Puerto Rican buraucracy. Puerto Rico receives more than $53 million in Ryan White Care Act funds but activists have documented numerous cases of people living with HIV/AIDS who are unable to access medication. In December 2006, the FBI raided four San Juan Health Department offices, seizing 400 boxes of documents in a criminal investigation into possible misuse of Ryan White grants. (Look for an in-depth story in the Update in October about the government's role in the crisis).
Working With What They've Got
Despite these obstacles, there are individuals and organizations trying to provide harm reduction to drug users. "If someone's using 15 baggies and then they start using five, we go 'Yay! That's great,'" said Priscilla López Jaime, director of clinical services for the Iniciativa Comunitaria, a San Juan-based AIDS Service organization founded in 1990. The organization provides assistance to drug addicts, sex workers, homeless people, youth at risk and persons at risk of and affected by HIV. The Initiativa Comunitaria provide detox and rehabilitation for women, and detox for men, because they don't have enough funding for both. Condoms are distributed, and they work with sex workers. "If a client doesn't want to protect themselves, we work with them to think of strategies," Jaime said.
As part of its harm reduction program, Iniciativa Comunitaria has a syringe exchange program, exchanging needles one to one, and providing education and outreach in the process. However Iniciativa Comunitaria's executive director José Vargas Vidot criticized Puerto Rico for not funding syringe exchange in rural areas. "It's hypocrisy," he said. "They keep on funding needle exchange but put different community-based organizations to compete in the same places, when there are rural areas that need to be funded."
Drug users outside of the cities have few options to remain safe. Ivette Rodriguez founded El Punto en la Montañ, which created the first needle exchange program for people in Cayey and Cidra, two towns in the mountains near San Juan. Both areas have poor public health systems where many people rarely receive medical care. There aren't shooting galleries, so Rodriguez and volunteers go door-to-door in public housing units bringing clean syringes, clothing and snacks. Most of the people Rodriguez sees are chronic drug users, but most don't have access to public health. A clinic closed in the 1990s and nothing replaced it, and buses and public transportation are horrendous. "People needing care need to travel to receiving it, but many don't." Rodriguez hopes to get more funding to be able to provide rapid testing. She receives no government funding.
Despite the stigma surrounding drug use, Rodriguez said she has gotten a positive reception from the community, including the police and the families of the drug users. Rodriguez recalls one time when she arrived at the home of a man she regularly visited. His grandmother answered the door, and Rodriguez was at first unsure if she could go. But the grandmother said, "Don't go, he will be back before you leave.'" She wanted to make sure her grandson was safe.