In New York, Mississippi, and New England Massive AIDS Advocacy Effort to Demand National AIDS Strategy Underway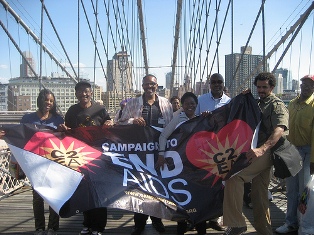 Standing against AIDS on the Brooklyn Bridge
"Obama or McCain, will you stand against AIDS?"
More than 500 people walked across the Brooklyn Bridge yesterday, one stop on the itinerary of the Northeastern caravan of the
Stand Against AIDS
. The Northeastern caravan is one of nine caravans converging in Oxford, Mississippi on Sept. 26 at the first presidential debate between Sens. Obama and McCain. Their aim? Obtain commitments to from both presidential hopefuls to take meaningful steps toward the creation of a National AIDS Strategy in the first 100 days of occupying the Oval Office.
Activists from up North weren't the only ones making a ruckus: Last Saturday, a "walking" caravan of folks marching 172 miles from Jackson, Mississippi to Oxford kicked off, with a little help from civil rights hero James Meredith. Check out our reports on both the Northeast caravan and the walking march below, and for all the juicy insider info on the progress of the caravans visit standagainstaids.wordpress.com
Monumental March
Advertisement
Staff and clients from Harlem United, GMHC, Housing Works, NYCAHN, Bailey House and CitiWide
Harm Reduction
all gathered at a park near the foot of the Brooklyn Bridge on an exceptionally beautiful morning. They carried banners and signs, and wore T-shirts demanding not only action on AIDS from the next president but from New York City officials as well. Once the 400-strong crowd hit the westbound lane pedestrian lane of the famous bridge, tourists, bikers and New Yorkers headed east cheered and gave them the thumbs up.
The marchers poured into City Hall Park for an upbeat but no-nonsense rally. "As we stand outside City Hall we have to remember we have some serious battles in our own backyard," said GMHC's Kristin Goodwin. Some of those battles, which many speakers highlighted, include overturning the $6 million cuts to AIDS funding in this year's City budget and implementing HASA for All, which would provide HIV-positive asymptomatic people with housing and other benefits already provided to people diagnosed with AIDS.
"There's a whole community of people who have HIV but aren't able to access services before they get sick. That ain't right," said Shirlene Cooper, NYCAHN co-executive director and participant on the Northeastern caravan.
"Why is it the Department of Health always takes from us first?" asked Derrick Starr of VOCAL. "Is it because they think we're the weakest link? Well, I've survived 23 years with this virus because I'm strong."
For Carmen Rodridgez, a peer educator with CitiWide Harm Reduction, the latest cuts hit close to home. She was diagnosed with HIV in 1996. She buried her 5-year-old daughter 11 years ago and her husband four years ago. "That's why I'm a peer educator and why I'm still fighting. It's gotten better because of medication, but we're still losing a lot of children and a lot of people."
Before hitting the Big Apple, the Northeastern caravan had successful events along the way, including its launch in Portland, Maine. Seventy people turned out for a rally outside City Hall, among them nine political candidates. State Representatives Anne Haskell and John Hinck attended, as was the Portland DOH and every media outlet in town. Andrew Bossie of Maine AIDS Alliance and Jeannemarie Celentano of the Frannie Peabody Center were the brains behind the launch. "This was a great opportunity to get HIV and AIDS talked about in the public arena," Bossie said. "This epidemic is the modern most-deadly epidemic of our time. It's 100 percent preventable. To not have a strategy for all of the U.S., rural and urban, is unacceptable. It's time for a plan not just sitting on a shelf, but one the government can implement to end this epidemic."
The caravan also made whirlwind visits to Boston and Albany. For a list of press coverage so far click here.
Walk, Walk, Walk
The Stand Against AIDS "walking caravan" from Jackson to Oxford, Mississippi, kicked off on a blustery morning last Saturday with an electric and emotional rally. Participants in the "Walk Against AIDS" are walking the entire 172 mile route to Oxford, partly as homage to the historic 1966 voter registration march led by civil rights legend James Meredith, from Memphis, Tennessee to Jackson.
Meredith was on hand Saturday, looking dapper in a gray suit and shocking-red Ole Miss hat. His presence energized the organizers and activists in attendance, as well as the press who swarmed him as soon as he arrived.
In comments to the press and in a speech during the rally, Meredith repeatedly called the Stand Against AIDS "potentially the single most important development in American history since the assassination of Dr. Martin Luther King Jr." because it was an effort to return America's focus to issues facing poor people. "The subject is AIDS but the real issue is the poor. Since Dr. King died, no one has raised that issue, but you can raise it!" he said.
Meredith also accused the organizers of the upcoming presidential debate in Oxford on Sept. 26 of changing the debates' subject from domestic issues such as health care and AIDS to foreign policy after hearing about the Stand Against AIDS. "I smell a rat," he said. "That rat is going to have to come out by Nov. 4!"
Meredith wasn't the only one to get the 30 or so AIDS activists and their supporters who attended the rally fired up about the Walk Against AIDS. AIDS Action in Mississippi's Eric Bailey, who is also the Stand Against AIDS Mississippi (AAIM) representative, earned a roar of applause for his comments about denial and stigma. "I'm HIV-positive and it doesn't get anymore good-lookin' than this!" he joked. "I'm not saying that to be vain, but to remind you that you can't tell who has HIV and who doesn't. Everyone should get tested."
Also participating in the rally were Housing Works President and CEO Charles King, who led the crowd in prayer; Pat Smith, who lifted spirits with her singing; and longtime Mississippi activist Robin Webb, who sang two original songs. The event's most emotional moment came when attendees were invited to write the names of friends and loved ones they'd lost to AIDS on a large pad as gospel music played in the background.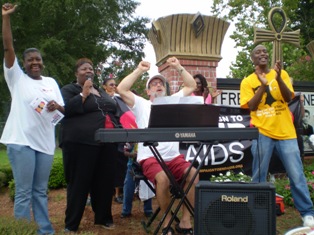 Singing against AIDS
That cathartic ritual gave the Walk a turbo boost. After showing the crowd the literal "message in a bottle" that Jackson activists would be sending along with the marchers about the demand for a National AIDS Strategy (something hundreds of cities will be doing), AAIM's Valencia Robinson picked up an American flag and led a crowd of some 20 walkers on the first steps of their 172 mile journey. At least one marcher was more than ready. "I've been training for eight weeks for this, walking 10 to 15 miles a day!," said James Bender. "I've been HIV-positive for 22 years and seen too many people die. It's time to stop AIDS."
The marchers have been trucking along, though on Tuesday there was a bit of a speed bump. According to the Stand Against AIDS blog, "The group started towards Greenwood, Mississippi. Got about 6 miles down the road and realized they were going in the wrong direction! Oops."
For more on all the details of the rally, the media coverage and the subsequent adventures of the marchers, check out the Stand Against AIDS Blog at standagainstaids.wordpress.com.